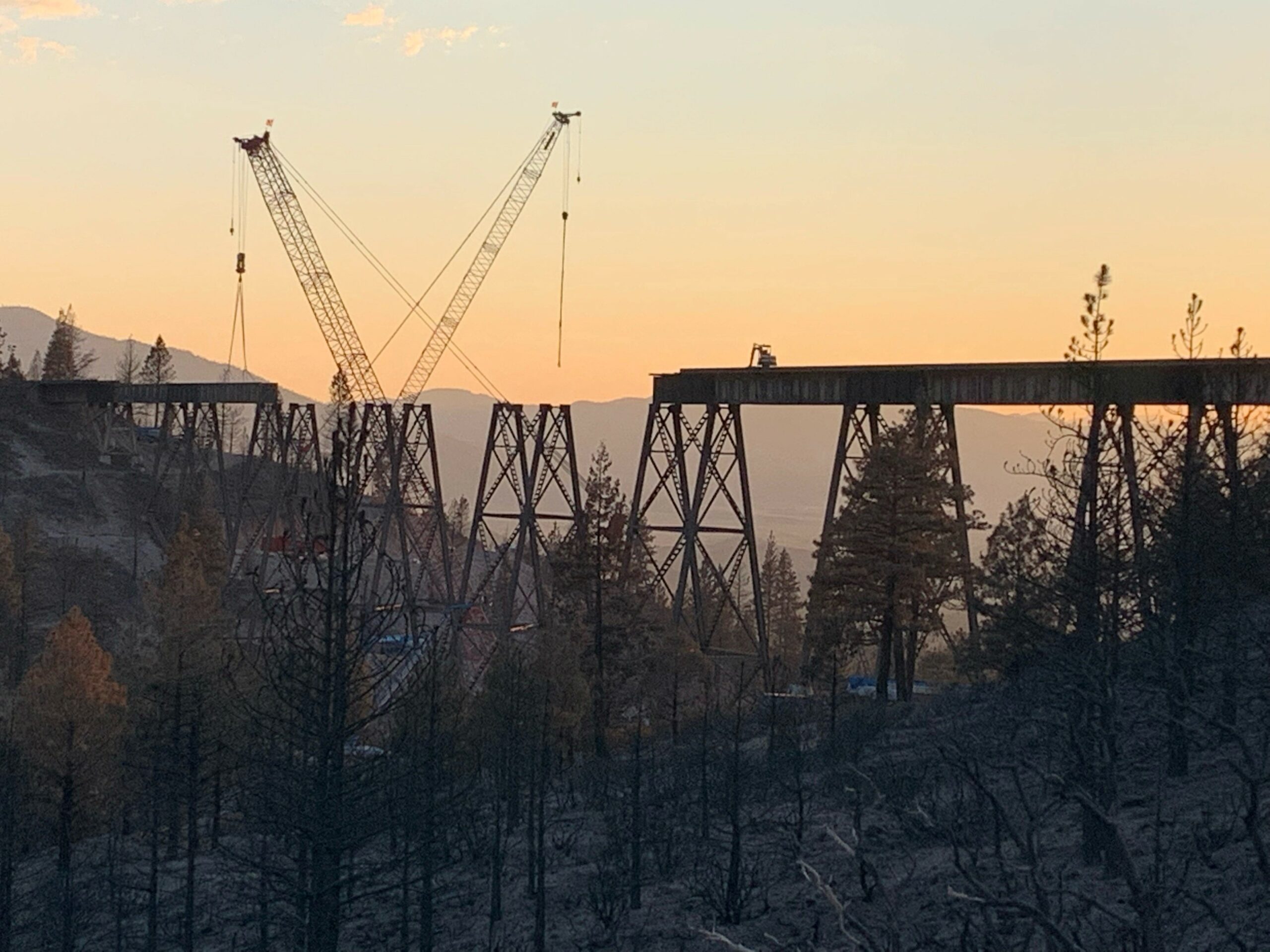 ---
Few years pass without railroads facing disruptions from natural disasters. This year was no different, with events including flooding that caused a Union Pacific derailment in Utah in July, Hurricane Ida hitting rail operations from New Orleans to New England in August; and devastating tornadoes in December, including one that derailed a CSX train.
But the challenges this year in the western U.S. and Canada were exceptional.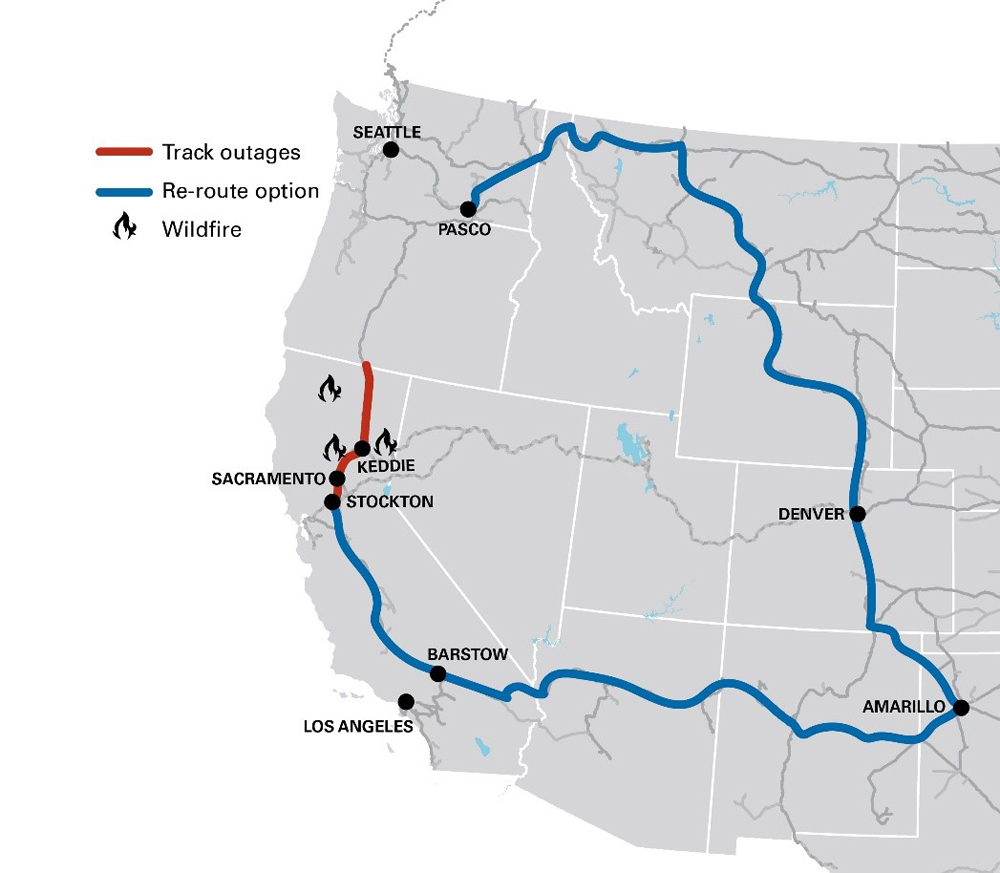 Wildfires in California shut down routes between California and the Pacific Northwest for both Union Pacific and BNSF Railway. UP had to rebuild the 1,200-foot-long, 150-foot-high Dry Canyon Bridge near Weed, Calif., after it was damaged by a fire on June 28; in a remarkable reconstruction effort, the bridge was reopened Aug. 1, a full month ahead of the original estimate. UP's Feather River Canyon route was also shut down for a shorter period because of the massive Dixie Fire, which burned more than 960,000 acres (more than 1,500 square miles) and took more than three months to be fully contained.
The Dixie Fire also shut down BNSF's Inside Gateway on July 21, damaging a 470-foot tunnel and the decks of 120-foot and 510-foot bridges. It took until October to restore service; in the meantime, trains bound for the Northwest were forced onto a roundabout detour via Barstow, Calif.; Amarillo, Texas; and Denver, or between Northern California and Denver on UP trackage rights, adding several days to transit times.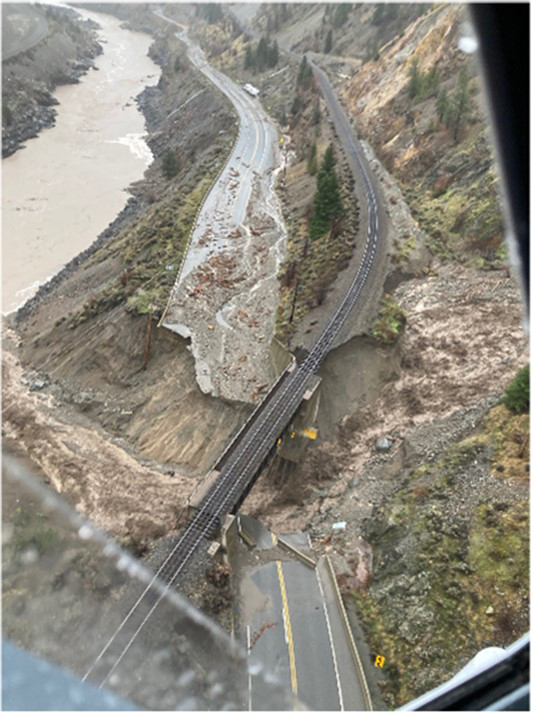 Hit doubly hard, however, were the paired Canadian National and Canadian Pacific lines in British Columbia, along the Fraser and Thompson canyons between Vancouver and Kamloops. First, they were hit by wildfires — including one that essentially wiped out the small town of Lytton — shutting down the vital link between the Port of Vancouver and the rest of Canada. Fires initially shut down the lines on June 28; service wasn't fully restored until July 17, although there were some brief periods when one or both of the lines were reopened.
The same area then was hit by record rains in November — up to 7.8 inches in a two-day period — and the combination of rain and mountainsides denuded by the earlier fires led to mudslides and other extensive damage that shut down both railroads on Nov. 14. CP reopened its line Nov. 23, an effort requiring repairs in 30 locations, movement of more than 150,000 cubic yards of earth, and hundreds of workers. CN, which said it had outages in more than 50 locations, restored service the first weekend in December. The line closures led to massive backups of inbound intermodal traffic and grain for export; it may take until February 2022 to fully address the backlog.
Additional News Wire reading:
— "Union Pacific reopens Dry Canyon Bridge," Aug. 2, 2021, and "Analysis: Union Pacific bridge repairs show how railroads get the jobs done," Aug. 10, 2021.
— "BNSF Railway hopes to reopen fire-damaged Northern California main …," Oct. 7, 2021.
— "Canadian National main line remains closed …," July 8, 2021.
— "CN main line in British Columbia to reopen …," July 13, 2021.
— "CP line in British Columbia expected to reopen …," Nov. 23, 2021.
Previously:
News Wire Top 10: The runners up.
News Wire Top 10, No. 9 (tie): The STB and Wall Street.
News Wire Top 10, No. 9 (tie): Amtrak sidelines equipment, turns away revenue.