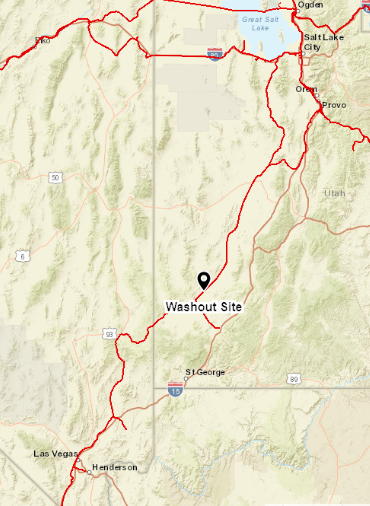 MILFORD, Utah — A derailment caused by flooding has added to the operational issues being faced by Union Pacific.
The railroad informed customers on Friday that washouts resulting from flooding south of Milford, Utah, have shut down its route between Los Angeles and Salt Lake City — washouts that led to the derailment of a train late Thursday night in Lund, Utah, approximately 40 miles southwest of Milford.
The Cedar City News reports three crewmen on the train were injured when the train derailed at the site of a washed-out bridge about 10 p.m., but had to wait almost three hours for rescuers because of the remote location and flooding. During that time, they remained stranded atop their overturned locomotive because of flood waters. The three crew members were eventually transported to a hospital, where two were reported in good condition and one was stable.
The derailment came after the area received 4 to 5 inches of rain in a 4-hour period. The Cedar City News reports Iron County Sheriff's Lt. Del Schlosser, who viewed the remote accident site by helicopter, estimated the rail line had been hit by a wall of water roughly a quarter-mile wide that had been funneled into a canyon area. The train was traveling approximately 60 mph when the derailment occurred; roughly a dozen cars of the 96-car train derailed. The National Transportation Safety Board is investigating.
The railroad has no estimate on the duration of the interruption, it told customers, "as access to the site is challenging due to local road closures. Our Engineering forces will assess the damage as waters recede and make the necessary repairs."
The washouts will further affect the railroad's ability to serve customers in the Pacific Northwest, as the Los Angeles-Salt Lake route was being used for some reroutes of traffic unable to use the railroad's I-5 Corridor route. That line is out of service because of fire damage to the Dry Canyon Bridge near Weed, Calif.; current estimates are that repairs will not be completed until Sept. 1 [see "Union Pacific's I-5 corridor route to be closed …," Trains News Wire, July 12, 2021]. The former Western Pacific Feather River Canyon route was also shut down because of fires as of Thursday.
— Revised and updated with information on derailment.