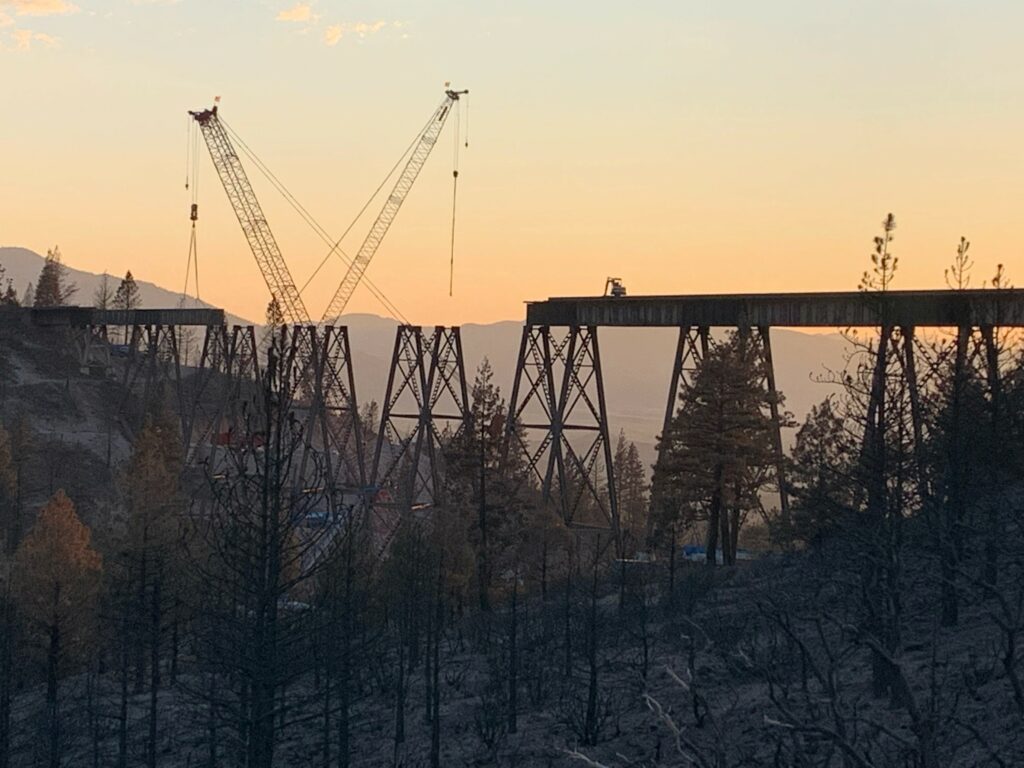 Independent analyst Anthony B. Hatch is fond of saying that one of freight railroads' enduring advantages is owning and maintaining their own infrastructure. Nothing could drive that point home better than the repair blitz that Union Pacific launched after its 1,200-foot Dry Canyon Bridge sustained heavy damage from a wildfire.
The 150-foot-tall span in Hotlum, Calif., in the shadow of Mount Shasta, was caught in the path of the Lava Fire on June 28. The inferno put the bridge out of service, and UP estimated its I-5 Corridor linking California and the Pacific Northwest would be severed until around Sept. 1.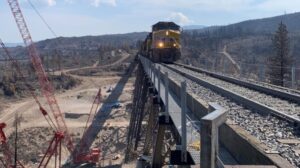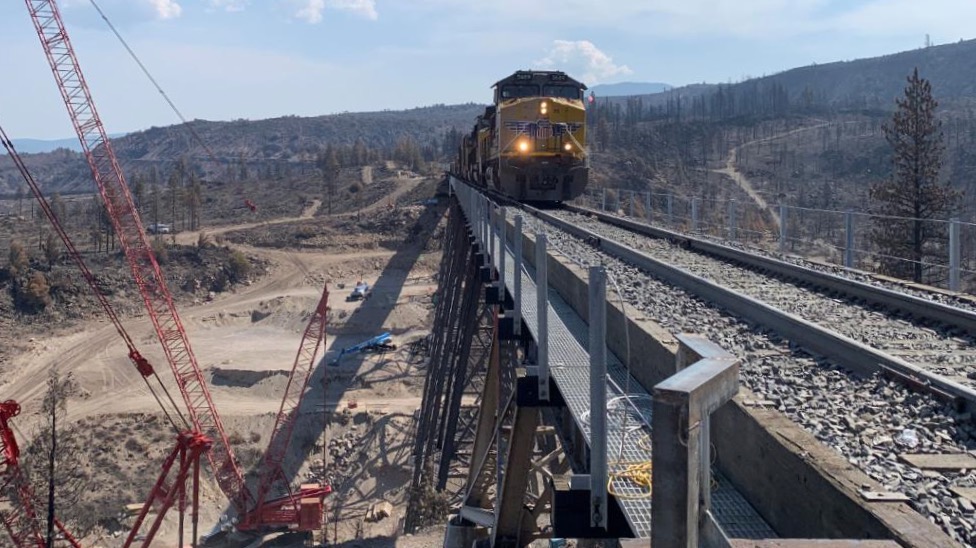 Instead, UP Engineering Department employees and an army of contractors rebuilt the bridge in 34 days, allowing trains to resume rolling on Aug. 1 – and ending a roundabout detour via Salt Lake City. In all, UP detoured 221 trains, which added more than 200,000 train miles and lengthened transit times by 48 to 72 hours during the closure.
You have to be impressed by how crews were able to rebuild the bridge quickly and safely. By any measure it was a Herculean task. They had to build roads to the floor of the canyon so three massive cranes could be set up. Only one of the bridge's 19 spans escaped damage, so crews installed nine new spans and heat-straightened another nine to repair warping caused by the fire. Ballast deck pans were added, along with 700 new ties and new rail. Some 58 tons of new steel were used to rebuild the bridge.
DOT does not stand for 'Done On Time'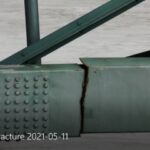 Now compare UP's response to the sad case of the Hernando DeSoto Bridge, which carries Interstate 40 over the Mississippi River at Memphis. A May 11 inspection of the bridge revealed what inspections going back to 2016 had not: A large crack in the bottom of a critical steel support beam. The bridge was shut down immediately and officials from the Tennessee and Arkansas departments of transportation began drawing up repair plans.
Some 82 days later, the I-40 bridge was reopened to traffic — coincidentally on Aug. 1, the same day as UP's Dry Canyon Bridge. Yes, state highway crews and contractors took more than twice as long to make repairs that seem a lot less involved. (Don't take my word for it. See this Tennessee DOT video with oddly cheerful music.)
Freight railroads get high marks
Compared to Class I railroads' main lines, all other U.S. infrastructure seems to be a shambles. The American Society of Civil Engineers 2021 Report Card for America's Infrastructure ranged from a high of B in rail to a low of D- in transit.
Not all railroads are created equal, of course. The report card points out the stark differences between the strong freight rail system and the threadbare publicly financed passenger and commuter networks. The passenger and commuter lines require $45.2 billion to bring them into a state of good repair. Exhibit A would be the backlog of repair projects on Amtrak's Northeast Corridor, including the need to build new tunnels beneath the Hudson River.
Roads earned a D, indicating that they are in fair to poor condition, mostly below standard, and carry a strong risk of failure. This should surprise no one. The only thing more gridlocked than some interstate highways is Congress. Lawmakers have not raised the federal gas tax since 1993, maintenance costs have risen, and the Highway Trust Fund has been in the red for more than a decade. The infrastructure bill that just passed the Senate is a drop in the bucket. Meanwhile, trucks continue to pound highways into oblivion without paying their fair share.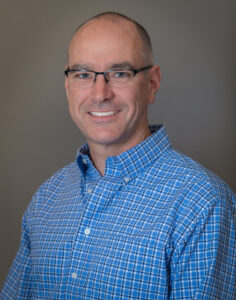 As highway congestion increases, the freight railroads' self-financed infrastructure will become even more of an advantage than it is today. Unlike highways, main lines have never been in better shape. It doesn't take an act of Congress to add a siding or double track, meaning railroads can expand capacity virtually at will. Building new intermodal terminals remains challenging due to local opposition, but that same NIMBY effect clouds highway projects, too.
This summer's wildfires, which damaged track and bridges at several locations in the western U.S. and Canada, illustrate the importance of being nimble.
Rick Paterson, a railroader turned analyst at Loop Capital Markets, says climate change means railroads will have to be even better prepared in the years ahead. "It's important to remember that railroads are not just transportation companies, but also very good engineering companies," he says. "Unfortunately, the engineering components are going to have to raise their game from 'very good' to 'great' as they increasingly play whack-a-mole with damaged infrastructure on the back of extreme weather events."
You can bet that the Class I railroads will be up to the task.
You can reach Bill Stephens at bybillstephens@gmail.com and follow him on Twitter @bybillstephens