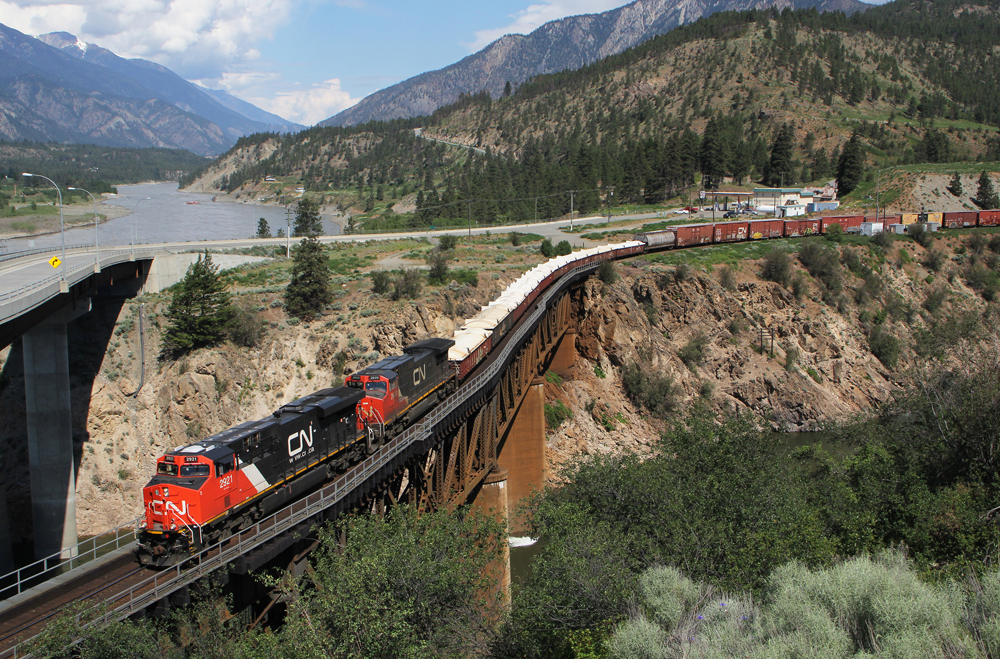 Canadian National's busy main line through the rugged Thompson and Fraser river canyons, which was damaged by a June 30 wildfire that leveled the town of Lytton, British Columbia, is scheduled to reopen this evening (Tuesday, July 13).
"In coordination with local authorities and First Nations, CN staff have inspected the area and carried out repairs on a bridge that is vital to the passage of railway traffic through southern B.C.," CN spokesman Mathiew Gaudreault says. "The repair work has progressed safely, and we expect the track to be ready for the resumption of traffic by 1900 PT today, July 13."
The blaze, which killed two people in Lytton, damaged CN's bridge over the Thompson River and occurred in the directional running zone where westbound traffic runs on the single-track CN main line and eastbounds move over CP's single-track main.
The two-week closure of CN's line created a major bottleneck as CN and CP were forced to rely on CP's line, which cut capacity on Canada's busiest freight corridor by more than half. Both routes were shut down for a time after the fire, which remains under investigation.
"Following the Lytton wildfire, CP resumed operations through the area on July 5," spokesman Andy Cummings says. "On July 9, train traffic in the corridor ceased for 48 hours in compliance with a Transport Canada order. CP resumed operations again on July 11 and is reducing the traffic backlog."
CP today lifted embargoes that had been placed on traffic moving through Western Canada, with the exception of trains moving to and from the CN-served North Shore of Vancouver.
Both railroads are following strict operating and inspection protocols established under the ministerial order that went into effect on Sunday and are designed to prevent fires in the tinder-dry area [see "Safety board to examine if train caused Lytton fire …," Trains News Wire, July 12, 2021].
"Moreover, we are increasing patrols that precede and follow trains," Gaudreault says. "These patrols are equipped with fire suppression equipment and keep a constant lookout for any signs of fire risk."
Due to speed restrictions and stepped up inspections, the ministerial order is likely to limit capacity through Southern British Columbia when temperatures are above 86 degrees Fahrenheit and fire danger is listed as "extreme."
Bob Ballantyne, past president of the Freight Management Association of Canada, says it's too early to tell what the impact of the ministerial order might be on railroad shippers. But the lengthy outage in the directional running zone is the latest wrinkle facing the railroads and their customers.
"We continue to go through a period of supply chain disruptions going back to late 2019," Ballantyne says. "There was a strike on CN in late 2019, followed by First Nations blockades of rail lines, then the impacts of the pandemic on ocean container service and now the fire dangers.  Many shippers are being forced to look at different ways of addressing their supply chain disruptions and to deal with the escalating costs of ocean container service."
The Port of Vancouver, Canada's busiest, said earlier on Wednesday that the railroads continued to process a backlog of traffic via CP's line. The disruption, however, has delayed inland movement of imported containers and caused a backup of ships waiting to discharge or take on cargo.
The annual tonnage handled on the paired track — more than 100 million gross ton miles per route mile for CN and more than 90 million for CP, according to their latest density maps — rank the directional running zone among the top freight lines in North America.
The railroads have contributed to a relief fund for Lytton, with CP contributing $1 million and CN contributing $1.5 million.
— Ballentyne title corrected to past president, July 14 at 7:30 a.m.