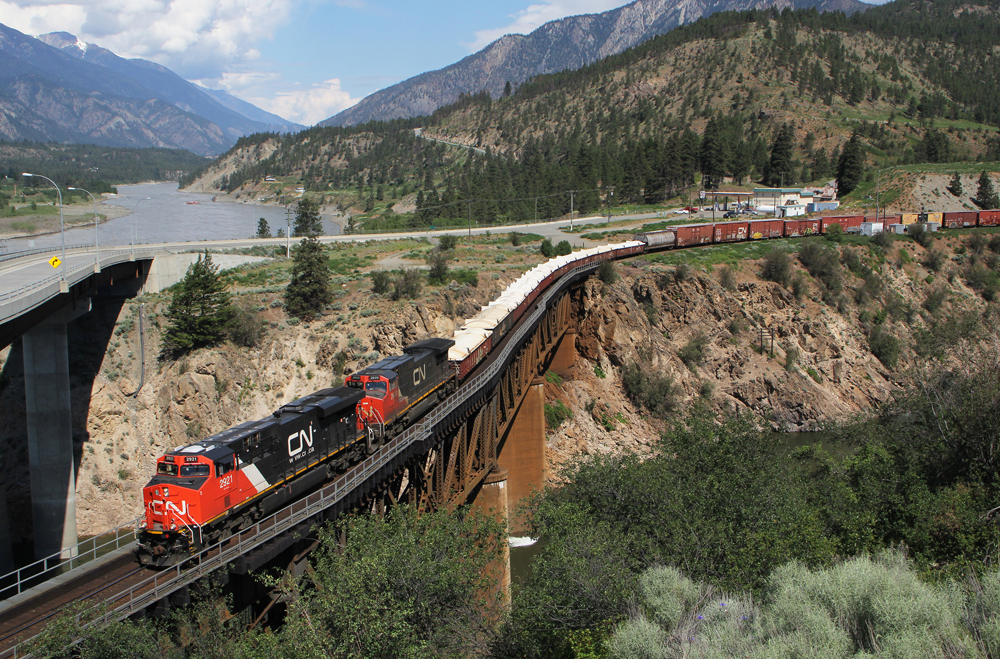 Canada's busiest railroad corridor remains hobbled nine days after a devastating wildfire in Lytton, British Columbia.
Lytton, which was virtually destroyed by the June 30 fire, is in the heart of the directional running zone Canadian National and Canadian Pacific use in the rugged Thompson and Fraser river canyons. Westbound traffic flows over CN's single-track main, while eastbounds run via the single-track CP line.
The annual tonnage handled on the route – more than 100 million gross ton miles per route mile for CN and more than 90 million for CP, according to their latest density maps – rank the directional running zone among the top freight lines in North America.
Although CP's main line opened on Monday afternoon, CN's main remains closed and its span over the Thompson River in Lytton sustained heavy damage from the fire. In a Monday service advisory, CP told customers to expect delays of three to four days as its service resumed. CN does not yet have an estimate for when its line will reopen.
"The staggering damage of the wildfire on the village of Lytton and the nearby Lytton First Nation is devastating. An investigation and a relief effort are under way, and CN is fully engaged in both," CN spokesman Mathieu Gaudreault says. "Intermodal and carload traffic northbound and eastbound from Vancouver, as well as traffic inbound to Vancouver from east/north of Kamloops continues to be affected by this situation. CN has been working with the local authorities and First Nations to allow authorized CN representatives to inspect the area. Once the scope is further established, CN will be in a better position to estimate the time needed for repairs. In the interim, CN is also working to detour limited traffic where possible to decongest the network."
With CN's line out of service, imports are backlogged at the Port of Vancouver, Canada's busiest, while exports of bulk commodities such as grain, coal, and potash are affected.
The Port of Vancouver yesterday said it was out of anchorage space for large vessels, while shippers said intermodal terminals were clogged.
"Due to the fires and impact to rail car supply, port terminals in Vancouver are congested and working at limited capacity," container line Hapag Lloyd told customers in an advisory on Wednesday.
"CNR will be able to detour slowly over CPR tracks, effective Tuesday, July 6th," Hapag-Lloyd said. "The plan is to run two trains east & west today – pending confirmation on timing. However, until further notice, CNR is not accepting exports or providing reservations … at their inland rail ramps for westbound cargos."
Maersk, in a Tuesday advisory, said CN had not sent any intermodal loads west from its inland terminals. "It is anticipated that regular flow in and out of port of Vancouver will be impacted for at least one week," its advisory said. "We will see increased congestion at terminals and expect vessel delays.
Canada's Ag Transport Coalition warned agricultural shippers who export through Vancouver that a return to normal could take weeks.
Teck Resources, which mines metallurgical coal in southern British Columbia, said on Tuesday that it was diverting some exports to the Ridley Terminal at the CN-served Port of Prince Rupert, B.C. CP handles the Teck traffic from four mines to the CN interchange at Kamloops, B.C., where CN takes over for export moves to Vancouver and Rupert. The route to Rupert remains unaffected by the fires.
"At this time, based on guidance provided by the railways with respect to the timeline for repairs, Teck's third-quarter steelmaking coal sales are expected to be reduced by 300-500 thousand tonnes," the company said. The reduction amounts to about 5% of quarterly volume, based on Teck's forecast for overall sales this year.
CP announced this morning that it has pledged $1 million to support wildfire recovery efforts in Lytton, where two people were killed and about 1,000 residents fled the fire last week. This afternoon CN said it would contribute $1.5 million to relief efforts.
In addition to direct monetary donations, CP has offered to work directly with the Village of Lytton, Lytton First Nation, Thompson-Nicola Regional District and other agencies to provide resources and logistics support in the development of temporary housing facilities for families that have been displaced.
"Our thoughts are with all those affected by this devastating fire, including the CP employees who lost their homes," CP CEO Keith Creel said in a statement. "So many lives have been impacted. We hope that this support will help the community and the team of responders as they begin to recover and rebuild."
"The communities and First Nations along the CN network are our neighbors, and in Lytton, our neighbors are in crisis," CN CEO JJ Ruest said in a statement. "Our employees are a part of these communities, and we will continue to be there helping rebuild and recover when this story has disappeared from news headlines. It's going to be a big job."
CN staff have been on the ground, cooperating with investigators and assisting authorities, since the wildfire struck. The railway has offered electrical generators, refrigerated containers, electronic tablets, groceries, food and other necessities to residents sheltering in temporary accommodation.
CP and CN are matching employee donations to the relief effort.
— Updated at 11:05 a.m. CDT with statement from Canadian National; updated at 6:10 p.m. CDT with CN donation, additional details on donations by both railroads.