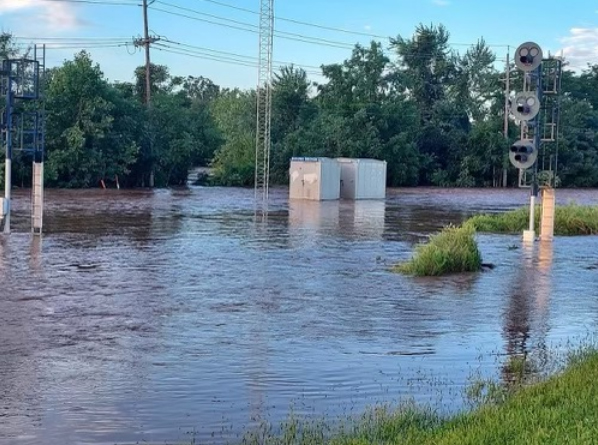 Rain from the remnants of Hurricane Ida is causing major havoc with travelers in the Northeast, with Amtrak service halted between Philadelphia and Boston, major disruptions to New York subways and commuter rail service, and NJ Transit cancelling almost all rail service.
Amtrak has now cancelled all Northeast Corridor service between Washington and Boston for the remainder of the day, according to a messsage posted to its NEC Alert Twitter feed at 11 a.m. EDT. Earlier, in an advisory posted at 4:30 a.m. EDT, the passenger railroad had cancelled service between Boston and Philadelphia until at least 9 a.m., then extended that to noon.
New York's Metropolitan Transportation Authority reports impacts to all subway lines, with seven suspended, 11 (including the Staten Island Railway) partially suspended, and eight others experiencing delays. All Metro-North operations are currently suspended; on the Long Island Railroad, service to Far Rockaway and Port Washington is suspended; all other lines have service changes or are experiencing delays. Check the MTA website for updates.
NJ Transit suspended all rail operations as of Wednesday night, except its Atlantic City Line and the River Line, which is experiencing significant delays. Buses are operating but face delays and cancellations because of flooding and stranded vehicles on roadways. Watch the NJ Transit Twitter feed for updates.
In Connecticut, CTrail service is suspended until further notice; updates will be available at the Twitter feeds for Shore Line East and the Hartford Line.
In the Boston area, the MBTA's Orange Line service is suspended by flooding between Ruggles and Jackson; a majority of commuter lines are experiencing delays or service interruptions. Check the MBTA website or Twitter feed for information.
In the Philadelphia area, SEPTA service is operating with delays and cancellations. Check SEPTA's website for more information.
— Updated at 10:30 a.m. CDT with Amtrak cancellation of Northeast Corridor service for the day.