Here are some personal recollections of 12 notable model railroaders who died in 2022.
Don Ball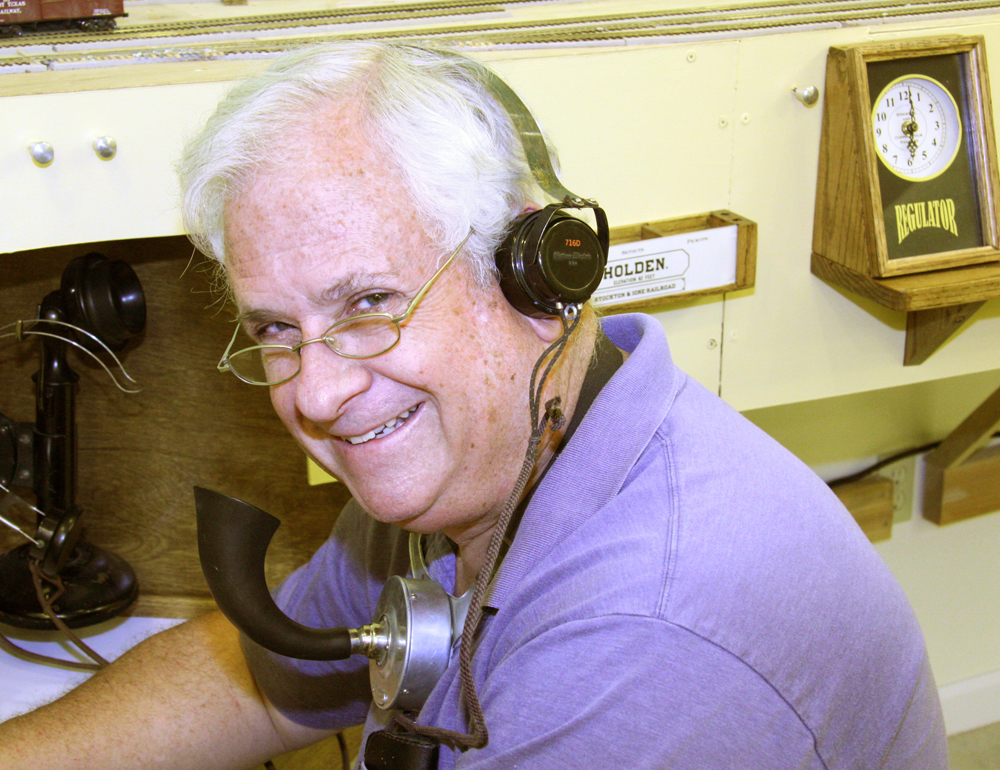 For many years, Don Ball was a regular contributor to Model Railroader. I worked with him on several stories, including his big feature in Model Railroad Planning 2011 about building his Stockton & Copperopolis HO layout. I visited Don and his layout in 2014. The railroad was a massive undertaking, not only in its size, but in the fact that he modeled a little-known short line in the 1890s. His choice of subject matter meant that he had to scratchbuild a lot of the structures and rolling stock, as little was available.
I was also impressed by how he was using vintage telegraph keys for sending train information along the line. Instead of making his operators learn Morse Code, he had cards at each location, indicating the appropriate signals and responses, and even I could figure it out quickly, just by doing it once.
I was also impressed by his rec room/crew lounge decked out as a 1950s soda shop – not quite a match for the 1890s layout, but a fun place to relax all the same. Don was an excellent modeler, a solid author, and a very kind and helpful person. He also had a great sense of humor, as evidenced by his modeling weather article in the April 2011 issue of MR. And, as I write this, I'm using the information in his July 2015 article about modeling horses and wagons for rigging them on my own Olympia layout.
You can read his obituary at https://www.trains.com/mrr/news-reviews/news/in-memoriam-don-ball/  — David Popp, Trains.com
Dick Elwell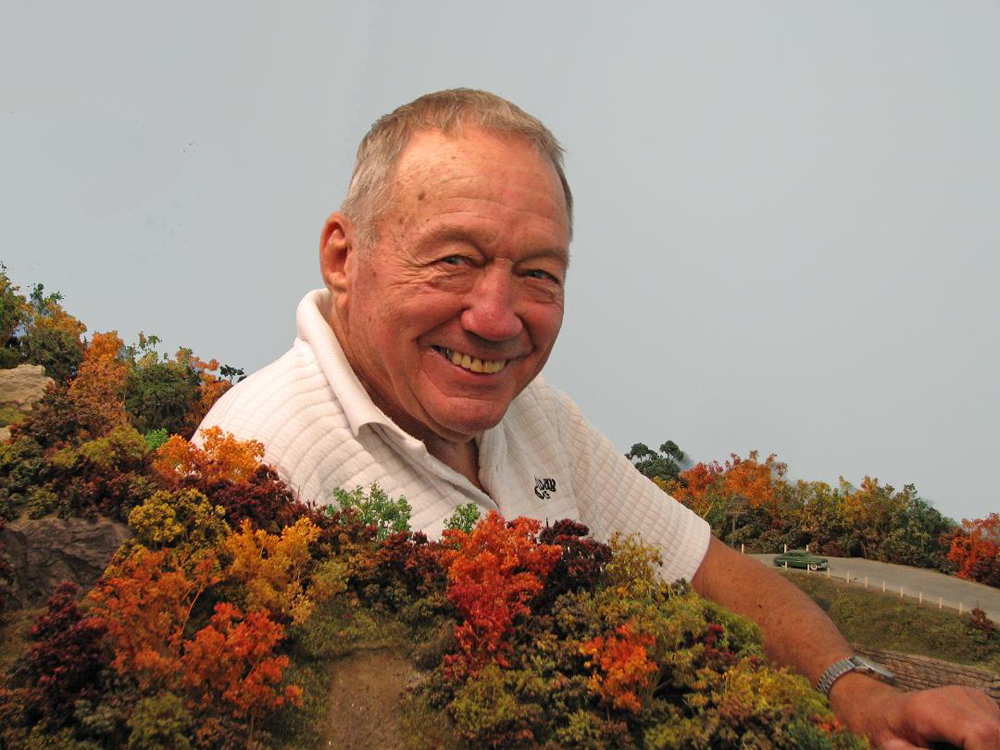 If there's one word that comes to mind when I think of the model railroaders in New England, it's community. A shining example of that was Dick Elwell.
Dick was an accomplished modeler, working on his HO scale Hoosac Valley for more than 50 years. The original layout was featured in Great Model Railroads 1996. The second version was in GMR 2008 and the August 2017 Model Railroader.
In addition to his own layout, Dick generously shared his hobby knowledge with others. His name regularly showed up in other articles. In the March 2015 issue, Dave Miller wrote, "Among my mentors, Dick Elwell and the late Jimmy Smith have been enormous influences."
Jason Fontaine shared a similar sentiment in the July 2010 issue. "[He] wants to thank friends Marshall Sommer, Bill Duffé, and Dick Elwell for all their help and support." You can learn more about Dick Elwell in contributing editor Lou Sassi's tribute to his longtime friend. You can read his obituary at https://www.trains.com/mrr/news-reviews/news/in-memoriam-dick-elwell/  — Cody Grivno, senior editor
Gil Freitag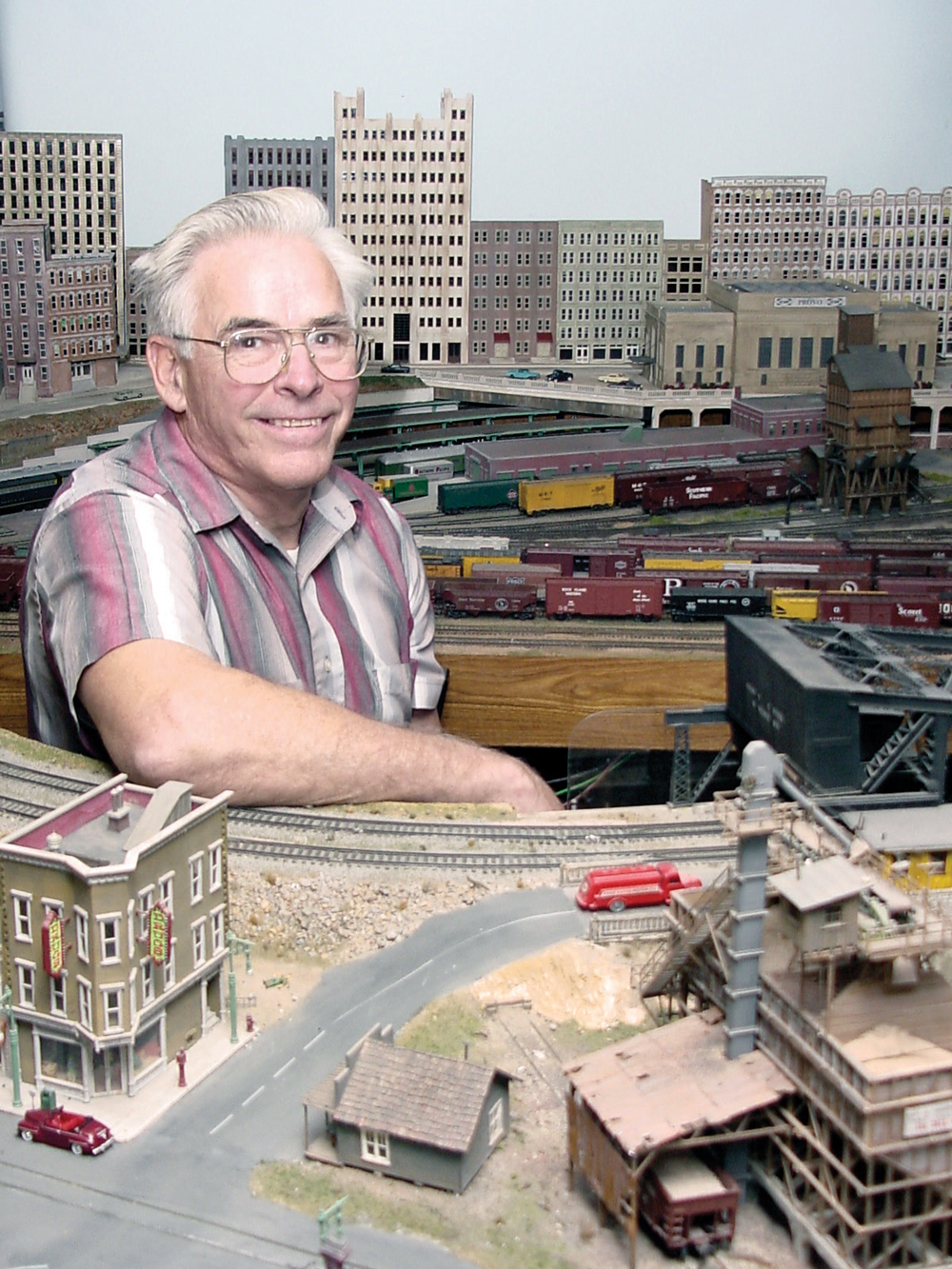 While I never met Gil Freitag, his HO/HOn3 Stony Creek & Western made a strong impression on me when I saw it in the April 2003 issue of Model Railroader. The layout took up a large portion of the second floor of Gilbert and Virginia Freitag's Texas home. From the 2003 story, I learned the layout started in a garage attic, then got its own space when Gil added a second floor to his home, then began expanding throughout the second floor, including an addition above the garage, then expanding into the Freitag's children's rooms when they flew the next.
The idea of expanding through the house has always appealed to me, and it isn't lost on me how understanding Virginia Freitag must have been.
Gil was an operator, with bi-weekly operating sessions augmented by sessions for local clubs as well as semi-annual open houses. He operated so frequently that he wore out his brass steam locomotive fleet, and discovered the metal trucks on his rolling stock had worn their journal boxes to the point the sideframes were rubbing the rails and causing short circuits! Plastic sideframes on the trucks and diesel locomotives for motive power allowed the operations to continue, and that was to support the point of the model railroad: making model railroading accessible to as many people as possible.
It was the people Gil found to be the most important part of his railroad, and by all reports, he touched many lives through his layout and his hospitality. While I never got to meet him, his personality shined through that April 2003 story, and from the letters and emails we received at his passing, it's clear those who knew him cherished the opportunity. You can read his obituary at https://www.trains.com/mrr/news-reviews/news/in-memoriam-gilbert-gil-a-freitag/  — Eric White, editor

Don Heimburger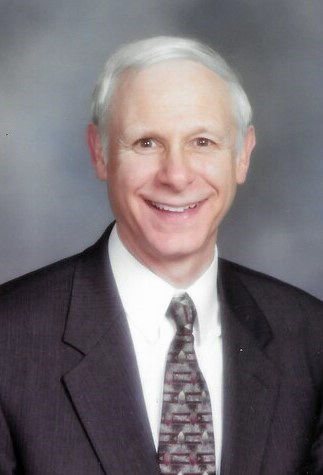 Don was best known to many in the model railroading world as the founder, editor, and publisher of S Gaugian magazine, as a proponent of S gauge, and as the author of a variety of hobby articles. Those in the railfan world know him for his company's broad range of books on prototype railroading, especially those in the classic era of railroads.
It was always a pleasure to talk to Don at various shows and events, and I was fortunate to be able to work with him on Kalmbach's Guide to North American Cabooses (which Don co-authored with Carl Byron). Don's major contribution to the book was his extensive photo collection, and that – and his knowledge of railroading – made him a great author to work with.
More than that, Don was a great guy. He was a gentleman who was always willing to share his knowledge and materials to further his hobbies. We had talked about doing another book project together, but unfortunately it was not to be.
Railroading and model railroading will both miss Don greatly.

You can read his obituary at https://www.trains.com/trn/news-reviews/news-wire/railroad-author-and-publisher-don-heimburger-75-dies/  — Jeff Wilson, author
John Kunzie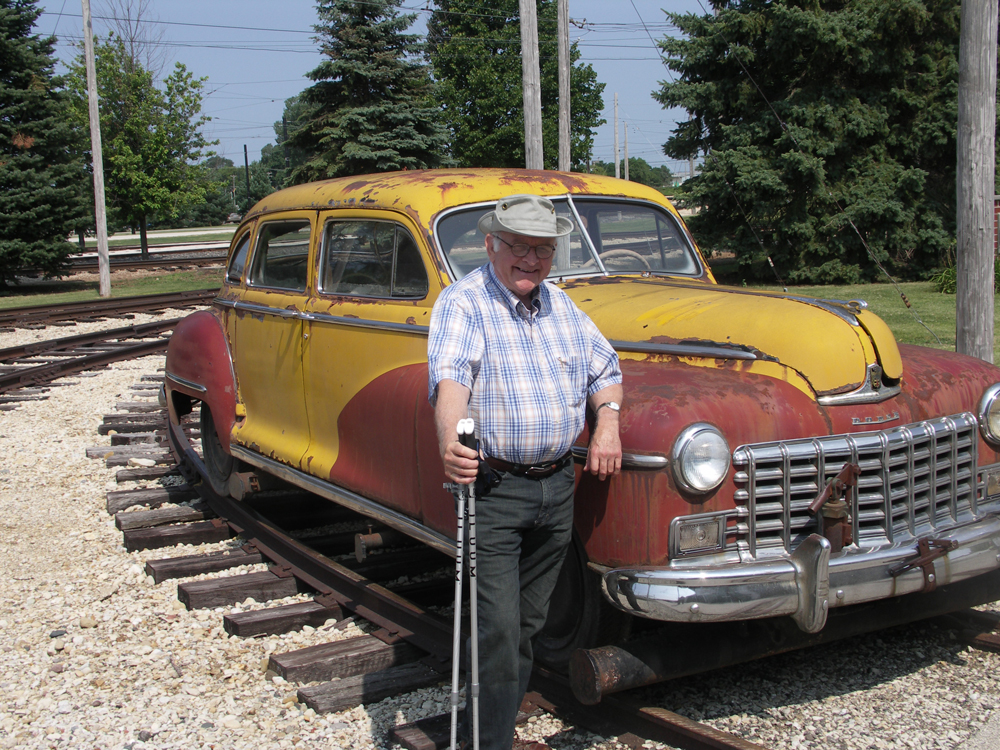 A booming voice and a big cowboy hat startled me  … "You need John's Ballast for your model railroad, son!!!" It was John Kunzie, of John's Lab and the Castolite Co. at a Chicago Model RR show and the beginning of my dear 40+ year relationship with a gregarious and most creative man.   Beginning with the C&NW RR, then printer RR Donnley, John created businesses to serve both modelers and artists worldwide.  His color accurate ballast was used on the Chicago Museum of Science and Industry layout and his generous mentoring lead me and others to use Castolite materials for thousands of projects.
No conversation with John was short and often floated from adventurous stories about his full size Baldwin RF-16 "Shark" locomotives to resin chemistry to a profound history of Chicagoland railroading, much from personal experience.
His devotion to family and community included the Presidency of the Model Railroad Industry Association and 25 years as Woodstock IL Fire District Trustee among much more.  With failing vision he was a voluminous photographer so he could study the magnified prints later.
John leaves a happy 50 year marriage with Judie, seven children with grand and great grandchildren.
"Green board!" my friend. – Wayne Wesolowski, PhD
While I never met John Kunzie in person, I used his Castolite resin products on several projects. Castolite Inc. produced a full line of resin casting and plastic coating products for commercial use. However, there was a time when Castolite, as distributed by his hobby company, John's Labs, was the "go to" product if you wanted to model realistic looking water on a layout. I grew up in Woodstock, Illinois, which was also John's home for many years. His house was easy to spot, as it had a full-sized caboose in the back yard – something I always admired and thought was very cool, both then and now. In his obituary, published in the Woodstock Independent, his children had a few quotes about their dad.
One of my favorites was, "Anything can be fixed with duct tape, super glue, or clothes pins."
And the other was, "It's completely reasonable to have a full-size caboose in your backyard." I agree with both statements whole heartedly.
You can read his obituary at https://www.trains.com/mrr/news-reviews/news/john-kunzie-founder-of-johns-lab-dies-at-87/  — David Popp, Trains.com
Stephan Lamb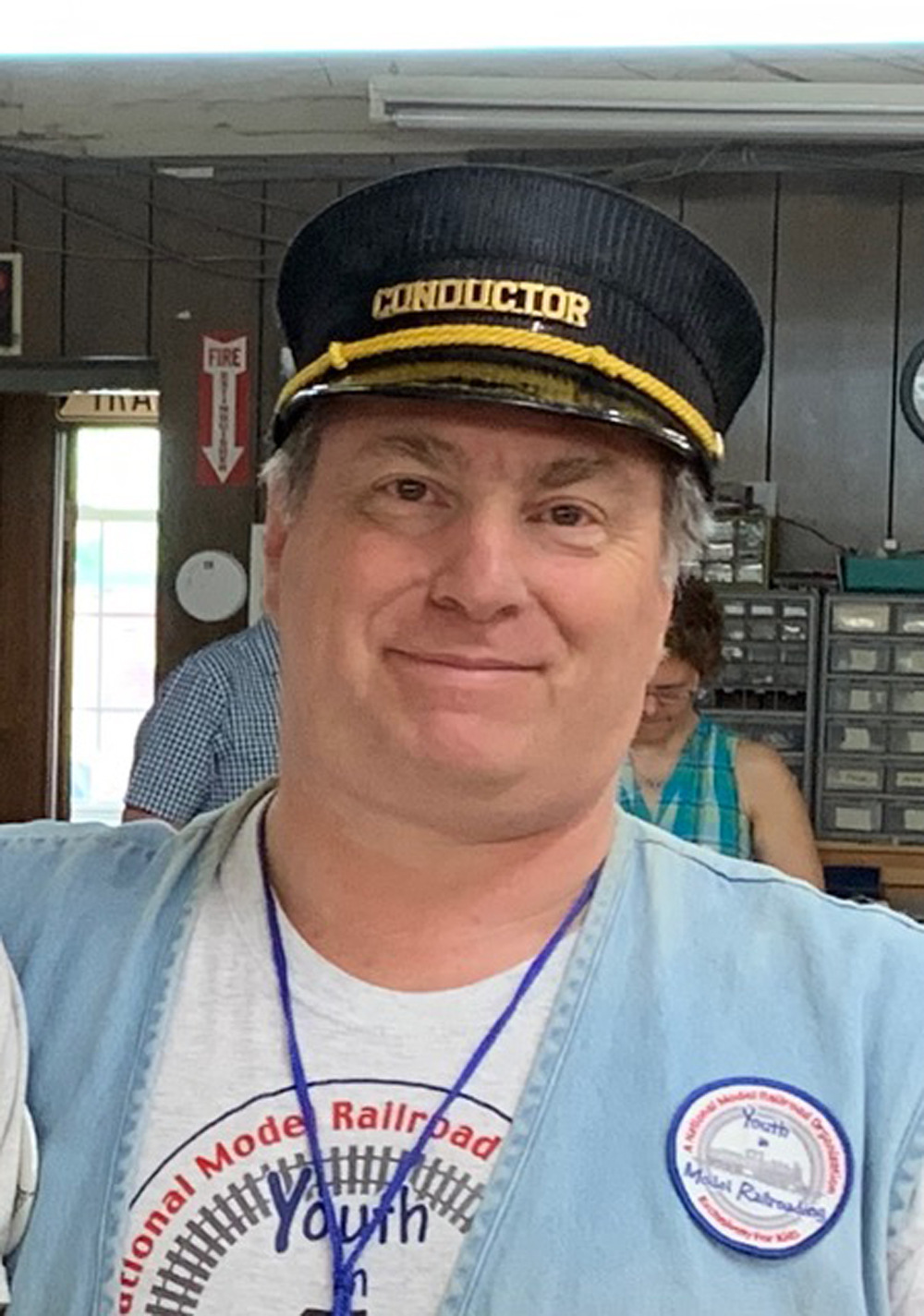 Inspiring the next generation of modelers. If there's anything that Stephan Lamb was known for, it was just that. The founder and owner of Stephan Lamb Associates was a dedicated craftsman and built so many professional ready-to-run layouts, one of which is particularly special to me. Stephan Lamb Associates built a Milwaukee Road-inspired modular layout for model railroader Richard Griggs.
Griggs' family donated the layout to Discovery World, a science and technology museum in Milwaukee, Wis. Lamb traveled to Wisconsin to assist in the moving and setup of the layout. According to Keith Schmidt who helped install the layout, it was very well designed and built, perfect for daily museum operations for days to come. You can read more about the layout in the September 2022 issue of Model Railroader.
Stephan also founded the Lowell, Mass. Division of Youth in Model Railroading. As someone who grew up modeling without an immediate family member who also modeled, I know how important something like this is. Stephan left a legacy, building professional layouts for dedicated clients, teaching and inspiring countless young modelers, and gaining many close friends over the years.
You can read his obituary at https://www.trains.com/mrr/news-reviews/news/in-memoriam-stephan-lamb/  – Bryson Sleppy, associate editor
Allen McClelland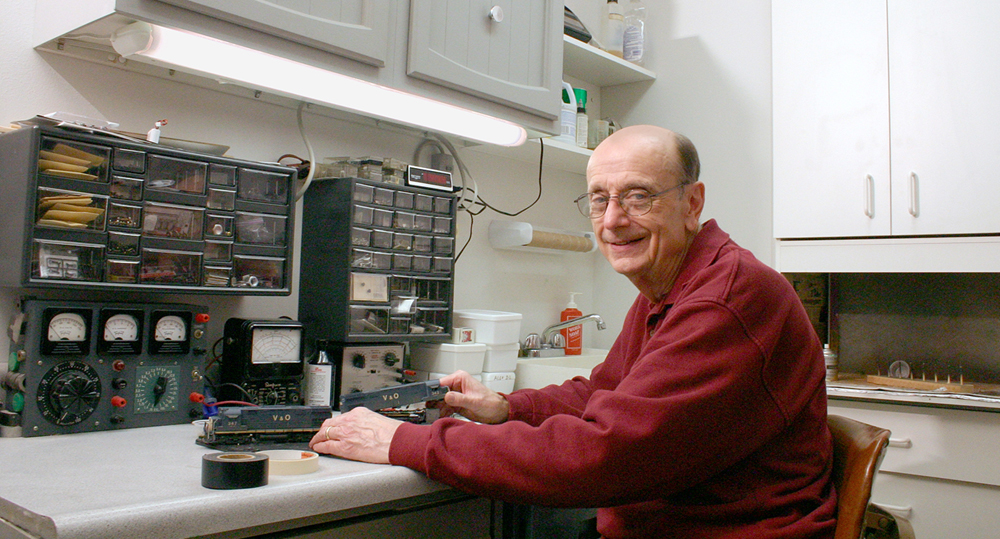 Though I never met W. Allen McClelland personally, his work put an indelible stamp on my own modeling style. I still have my paper copy of the January 1998 Model Railroader, whose cover announced the expansion of his iconic Virginian & Ohio. I also still remember the impact that cover image, of a white-nosed V&O diesel emerging from a soot-smudged rock tunnel, had on me. Though I was still an armchair modeler at the time, and had been reading MR for a few years, I recognized next-level modeling when I saw it. The realism in his photos made me realize that model railroading wasn't just a fun hobby, it could be art. And Allen's devotion to realism extended not just to his modeling, but also to the way he designed his layout and how he operated it. The concept of interchanging cars with the V&O's Appalachian Lines partners, Tony Koester's Allegheny Midland and Steve King's Virginia Midland, blew my mind.
And I wasn't even aware yet of Allen's many other contributions to the hobby, including walkaround command control, the importance of staging, beyond-the-basement operation, and so much more. Allen passed away from a stroke on Oct. 28, 2022, but his influence on this hobby will live on. His good friend, Tony Koester, wrote a touching tribute for him. You can read his obituary at https://www.trains.com/mrr/news-reviews/news/in-memoriam-allen-mcclelland/ — Steven Otte, senior associate editor

Bob Phelps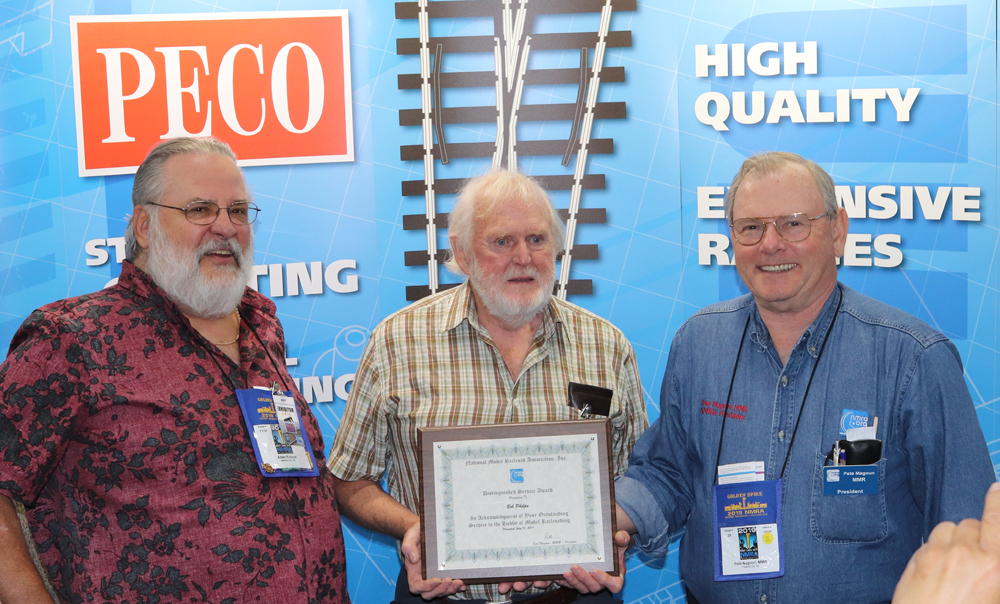 Bob Phelps spent 52 years as a product design engineer for British model railroad manufacturer Peco (Pritchard Patent Product Co. Ltd.), but his impact on North American modeling will continue for years to come. Among the products credited to Bob was the Peco Streamline HO code 83 track line.
I typically saw Bob, his colleague Steve Haynes, and other Peco employees during the National Train Show, held in conjunction with the National Model Railroad Association (NMRA) national convention. After the convention, Bob and Steve would often spend some extra time in the United States, several times visiting the MR offices. It was always a pleasure to talk shop with Bob and Steve and show them our latest modeling efforts. It was fun to point out to Bob that the Streamline HO code 83 track he developed was being put to good use on our Milwaukee, Racine & Troy staff layout.
Bob retired in 2016 as Peco's principal product design engineer and moved to France with his wife, Liz. At the 2019 National Train Show in Sandy, Utah, Bob was presented with the NMRA's Distinguished Service Award.Bob passed away on March 24, 2022. Thanks to our friends at Continental Modeller magazine, we were able to showcase Bob's HO scale Union Pacific Green River, Wyo., layout in our October 2022 issue. You can read his obituary at https://www.trains.com/mrr/news-reviews/news/in-memoriam-bob-phelps/  — Cody Grivno, senior editor
Iain Rice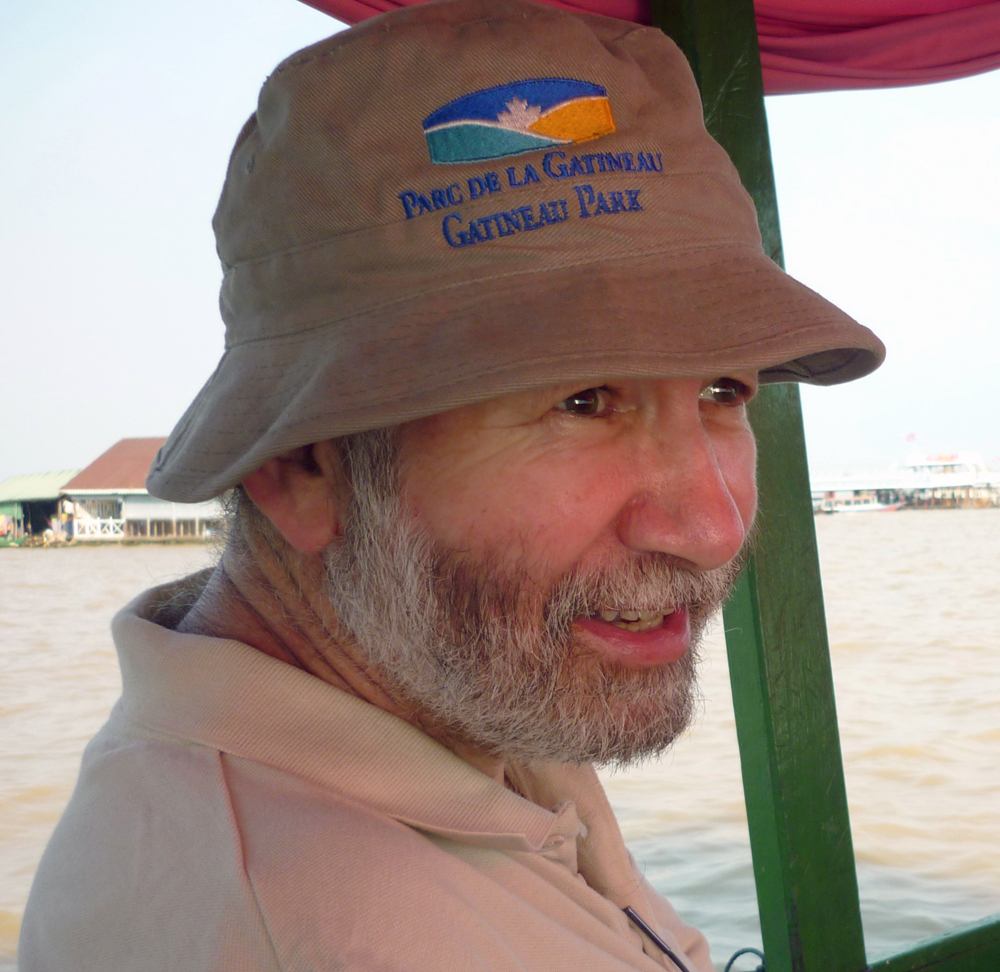 Few modelers I've worked with during my time at Model Railroader have had the universal appeal of Iain Rice. I've seen him publish articles on modeling endeavors of all sorts, usually building small layouts to explore a concept and a prototype to completion in the process. The tributes on the Internet to him after his passing have come from all over the world.
I first worked with him as the editor for his Roque Bluffs Proto:87 layout series. The series, running from October 2003 to May 2004 in MR, covered the construction of a 1.5 x 12-foot Maine Central layout built to the exacting standards of Proto:87. We hit it off right from the start.
Being a closet U.K. steam fan as well, when I got a copy of his book, Railway Modeling: The Realistic Way, published in 2007, we started a long email correspondence over many years about modeling British prototypes. He generously helped me in answering my questions about signal boxes, rolling stock, vacuum braking, and more. If I do manage to build a OO layout some day, it will be thanks to Iain's input.
One of the things I admired most about him was his artistic renderings track plans. His pen and watercolor plans are works of art, and while I handled many of them while working on MR, I'm sorry I never saved one and had it framed.
As a tribute to Iain, I designed and named MR's 2015 project railroad Rice Harbor, basing the concept on a story Iain had written for us several years earlier.  You can read his obituary at https://www.trains.com/mrr/news-reviews/news/in-memoriam-iain-rice/  — David Popp, Trains.com
Jim A. Sacco
I was a fan of City Classics products before I joined the Model Railroader staff in June 2002. When I became editor of the News & Products section early in my time with the magazine, I got to know Jim Sacco, the company's founder.
Jim successfully balanced being a model railroader and a manufacturer. Though City Classics is probably best known for its line of HO and N scale structure kits, Jim produced other items like building interiors, printed window glazing, rooftop details, and my personal favorite, corner braces. Any time we featured a City Classics product in the magazine or on a video, Jim would call, send an e-mail, or catch me at a show to say thanks. He was always a class act.
Some of my last interactions with Jim were when I edited the article "Two layouts in one" in Model Railroad Planning 2019. Though I'd seen the layout at shows, I never knew the full story behind it. The booth display also doubled as Jim's home layout, allowing him to run locomotives from his favorite railroad, the New York, New Haven & Hartford.
Jim passed away on March 6, 2022 after a multi-year battle with cancer.
You can read his obituary at https://www.trains.com/mrr/news-reviews/news/in-memoriam-james-jim-a-sacco/ – Cody Grivno, senior editor
Steve Stewart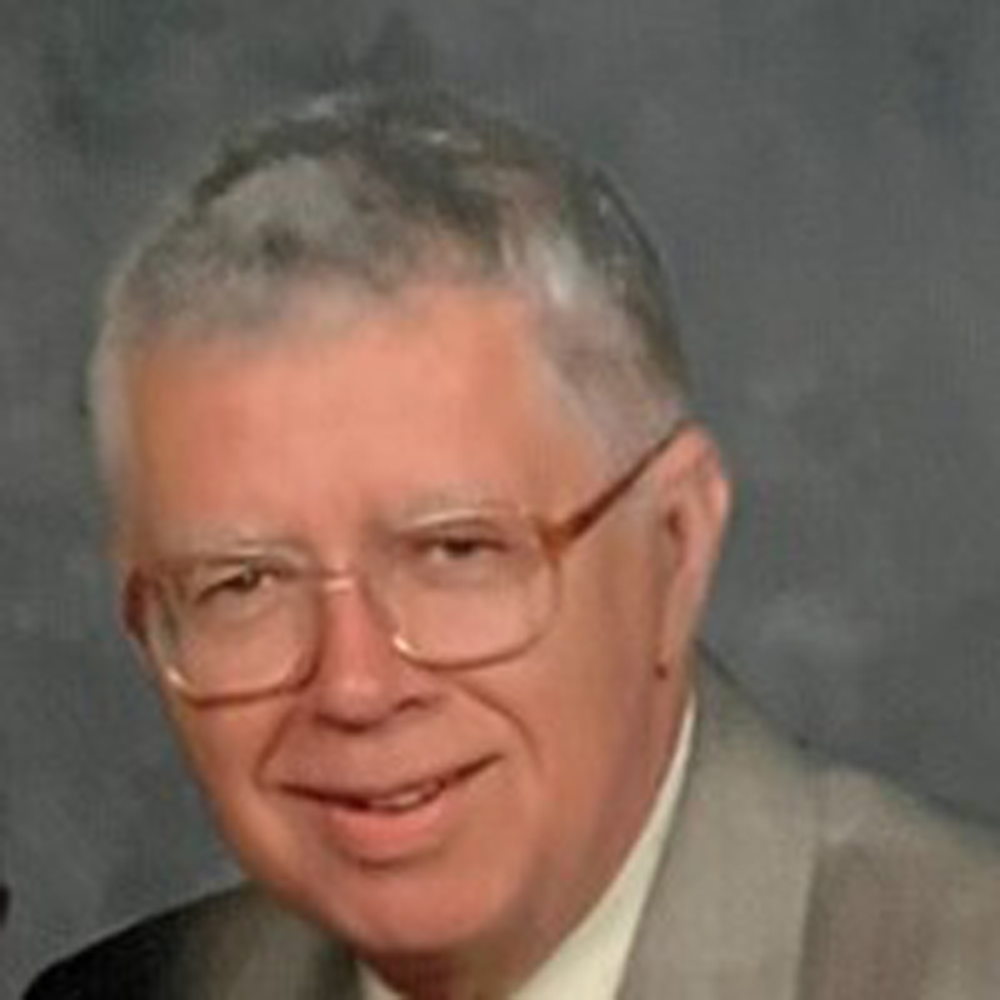 Ask a modeler to name an innovative manufacturer in the past few decades and there's a good chance that you'll hear about Stewart Hobbies. Steve Stewart, co-founder of Stewart Hobbies, passed away in November at 79 years old after living with Parkinson's disease for many years. After teaching in the public school system for almost 30 years, he co-founded Stewart Hobbies.
As a modeler first and businessman second, he produced models that had not been made before. Stewart's first locomotive, the Alco RS3, led to many, including their famous F-units and many freight cars. Jim Kelly used a Stewart Baldwin DS-44-1000 road switcher and a few PRR hoppers on the Turtle Creek Central project layout (read more about this in the April 2003 issue of Model Railroader).
Jim Hediger visited Stewart Hobbies in the May 2000 issue and reported that Steve's premise for the company is "Made by modelers for modelers." The successful business was sold to Bowser Manufacturing in 2004 after 20 years in operation. The legacy of quality and workmanship that Stewart created lives on in the products that Bowser continues to produce. Bowser even produces kits to add sound to Stewart locomotives.
There is no doubt that Steve Stewart made an impact on the model railroad manufacturing world. He truly accomplished his model railroading dreams.
You can read his obituary at https://www.trains.com/mrr/news-reviews/news/in-memoriam-steve-stewart/  – Bryson Sleppy, associate editor
Jim Wrinn
I first met Jim Wrinn at the 50th anniversary of the Clinchfield RR/CSX Santa Train in November 1992. The anniversary was a memorable one thanks to a guest appearance of Union Pacific's 4-6-6-4 Challenger steam locomotive, disguised as "Clinchfield 676" (one number higher than the Clinchfield's own fleet of Challengers). The big steam engine powered the train from Shelby, Ky. to Kingsport, Tenn., with volunteers distributing gifts along the way. Jim was there to report on the event for his then-employer, The Charlotte Observer newspaper. His subsequent story was complete, factual, and glowing with evident affection for the railroad, volunteers, and residents.
That was Jim: A gifted writer with a love for railroading and a rare talent for finding the heart of the story. He brought that craft to Trains Magazine as editor in chief, a post he would hold for 17 years. He liked to say no one had a better time in the job than he did. It was a great ride. Thank you, Jim, for taking us along.
You can read his obituary at https://www.trains.com/trn/news-reviews/news-wire/jim-wrinn-led-trains-magazine-with-passion/ – Carl Swanson, editor