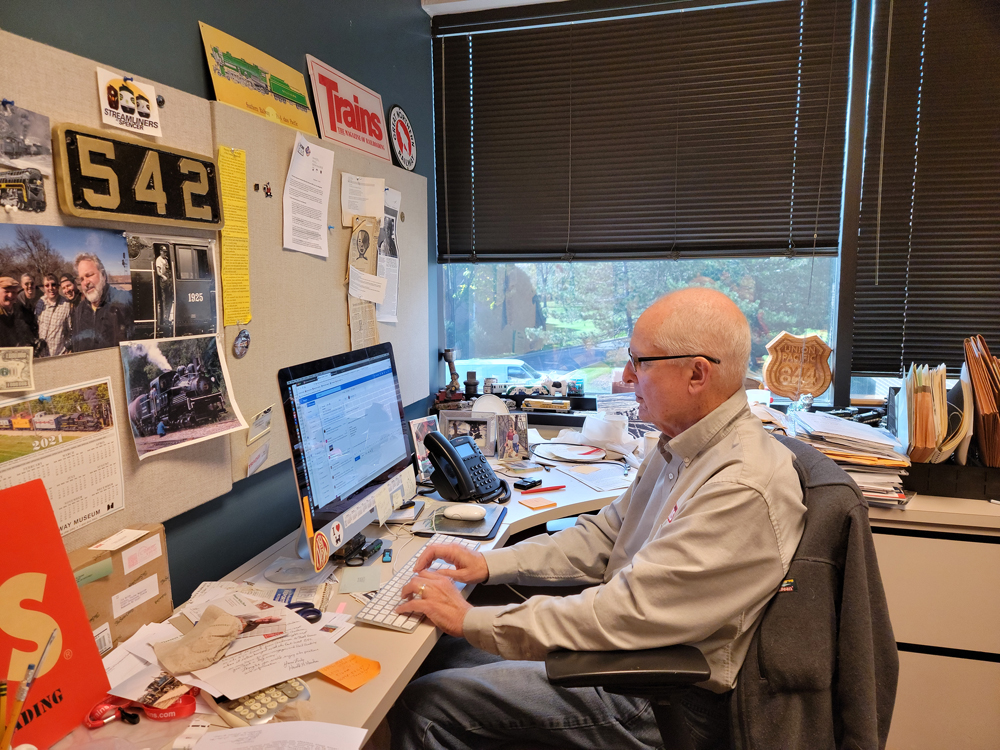 ---
WAUKESHA, Wis. — Jim Wrinn, who aspired since his youth to be the editor of Trains magazine and served in the role for more than 17 years, died at home on March 30, 2022, after a valiant 14-month battle with pancreatic cancer. He was 61.
Wrinn's longevity in the editor's role was second only to that of the legendary David P. Morgan, who led the magazine for more than 33 years and died in 1990 at age 62. Morgan's editorship and writings deeply influenced Wrinn, who began reading Trains in 1967 at age 6.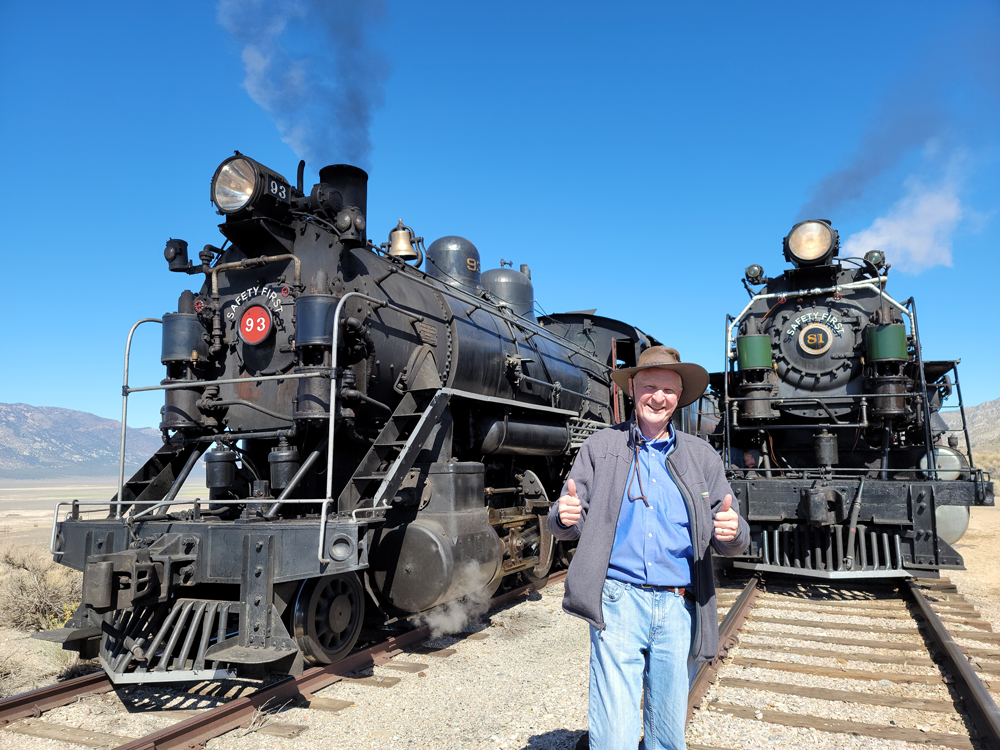 History left it to Wrinn to preside over a challenging, transitional era for Trains, which Kalmbach Media predecessor Kalmbach Publishing Co. launched in November 1940. As editor in chief, Wrinn was fortunate to serve generations of readers who grew up on the print magazine while at the same time broadening the magazine's appeal to a new digitally oriented audience.
Wrinn oversaw numerous initiatives that took Trains in new directions, including expanded online news coverage; a series of podcasts; a large catalog of digital video programing; a robust schedule of Trains-branded railroad tours, excursions, and events; and numerous projects to support railroad preservation. His tenure included a gala celebration of the 75th anniversary of the magazine in Milwaukee in November 2015, attended by hundreds of loyal readers.
Wrinn also showed a flair for the big moment, capitalizing on important news developments and effectively using a variety of media platforms. Case in point: the revival of Union Pacific 4-8-8-4 "Big Boy" No. 4014. Over the course of three years, Wrinn oversaw blanket coverage that included online reporting and numerous articles in Trains; two Big Boy special issues; live video updates from the field; and updates from the 4014's coming-out party at Ogden, Utah, in May 2019. It all culminated in the book "Union Pacific's Big Boys," published by Kalmbach that same year with an introduction by the editor himself.
Becoming the editor of Trains was an idea planted by Wrinn's first college advisor, who in 1979 asked the young journalism student what his dream job would be. Wrinn's parents had already encouraged his railroad journalism by giving him a 35mm camera in 1977 and supporting numerous trips to see, ride, and photograph railroads.
James G. Wrinn was born March 21, 1961, in the mountain town of Franklin, N.C., and spent his childhood there. He studied journalism at the University of North Carolina-Chapel Hill, where he worked for the college newspaper, the Daily Tar Heel. After graduating he worked at daily newspapers in Gastonia, N.C., and Fayetteville, N.C., before joining the staff at The Charlotte Observer, one of the South's leading newspapers, where he worked 1986-2004 in roles ranging from regional reporter to weekend city desk editor.
He also wrote or co-authored five railroad books, including "Steam's Camelot," a definitive history of the steam programs of the Southern Railway and successor Norfolk Southern, published in September 2000 by TLC Publishing.
Wrinn's first photo in Trains was published in the October 1982 issue, appropriately a news photo of Graham County Railroad Shay No. 1925, a touchstone locomotive throughout his life. His first byline appeared in December 1989, a news story about the effects of Hurricane Hugo on Southeastern railroads the previous September. He went on to write numerous features before joining the staff on Oct. 27, 2004, a significant date given Trains' (and Kalmbach's) celebrated address at 1027 N. Seventh Street in downtown Milwaukee.
His home state of North Carolina held a special place in Wrinn's heart, something he conveyed regularly to his readers. As a writer, he was never more touching than in his love letter to the former Southern Railway's famous Loops on the line between Old Fort and Ridgecrest, 13 miles of scenic but challenging railroad, now part of Norfolk Southern's Piedmont Division. His story "The Loops at Old Fort" appeared in the September 2006 issue.
"Because Old Fort grade is situated between Saluda and the Clinchfield, I often think of it as if it were a middle child," wrote Wrinn. "It doesn't demand attention like the daredevil, and it's not graceful like the athlete. Old Fort is somewhere in between, doing what it does without drawing attention to itself — even though it should."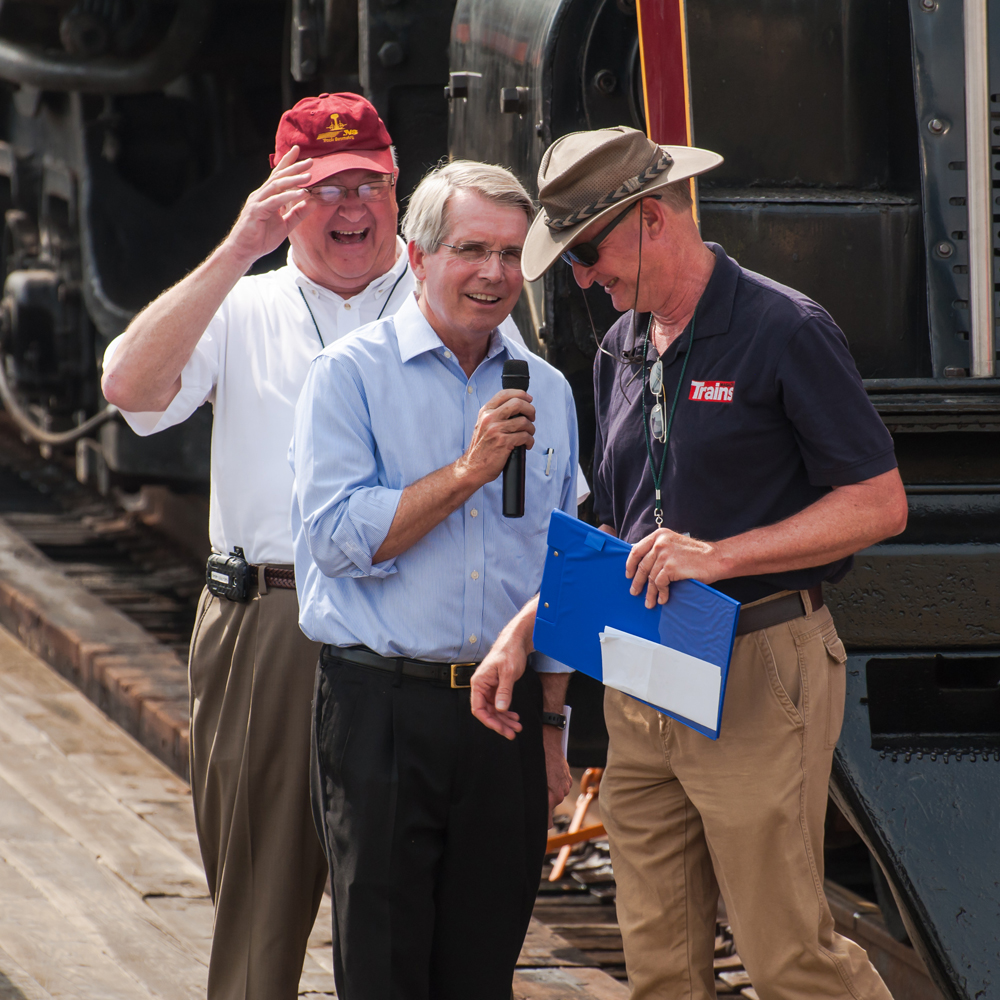 Never content simply to observe from the journalistic sidelines, Wrinn was actively involved in railroad historical preservation, especially at the North Carolina Museum of Transportation in Spencer, where he volunteered since 1986. He recently served as a vice president at the North Carolina Transportation Museum Foundation.
Wrinn's passing is being keenly felt across railroading, especially among the many writers, photographers, and professional railroaders with whom he collaborated. Theirs was a special kinship, born equally of a love of railroading and storytelling. One of them is Wick Moorman, former CEO at Amtrak and chairman of Norfolk Southern, as well as a longtime friend of Wrinn's.
"When I first met Jim years ago, we immediately hit it off, not only because of our shared interest in the railroad industry but also because of our strong affinity for the Southern Railway," said Moorman. "When Jim became editor of Trains, we all felt that he would do an excellent job, and, if anything, he exceeded those expectations. His passing is a loss not only to all of us who knew him, but also to everyone who has a passion, either personal or professional or both, for railroads."
From the writer's perspective comes this from Fred W. Frailey, for much of Wrinn's era a columnist and blogger for Trains: "Every writer wants an editor, a boss, who says yes," said Frailey. "Forget what 'yes' means — it can mean anything. Jim Wrinn always said 'yes,' even when it was no because he made it seem like yes. I love the guy."
Similar encomiums come from Ron Flanary, one of the magazine's most prolific contributors and someone with similar regional roots.
"Jim and I shared more than a passion for railroading, we were close friends and native Appalachians — a pedigree we shared with great pride," recalls Flanary. "Our verbal exchanges were always relaxed, as we shared an accent that dates to Shakespeare and was recognized by language scholars for its authenticity and wit. Jim was an exceptional writer, in the tradition of the late David P. Morgan."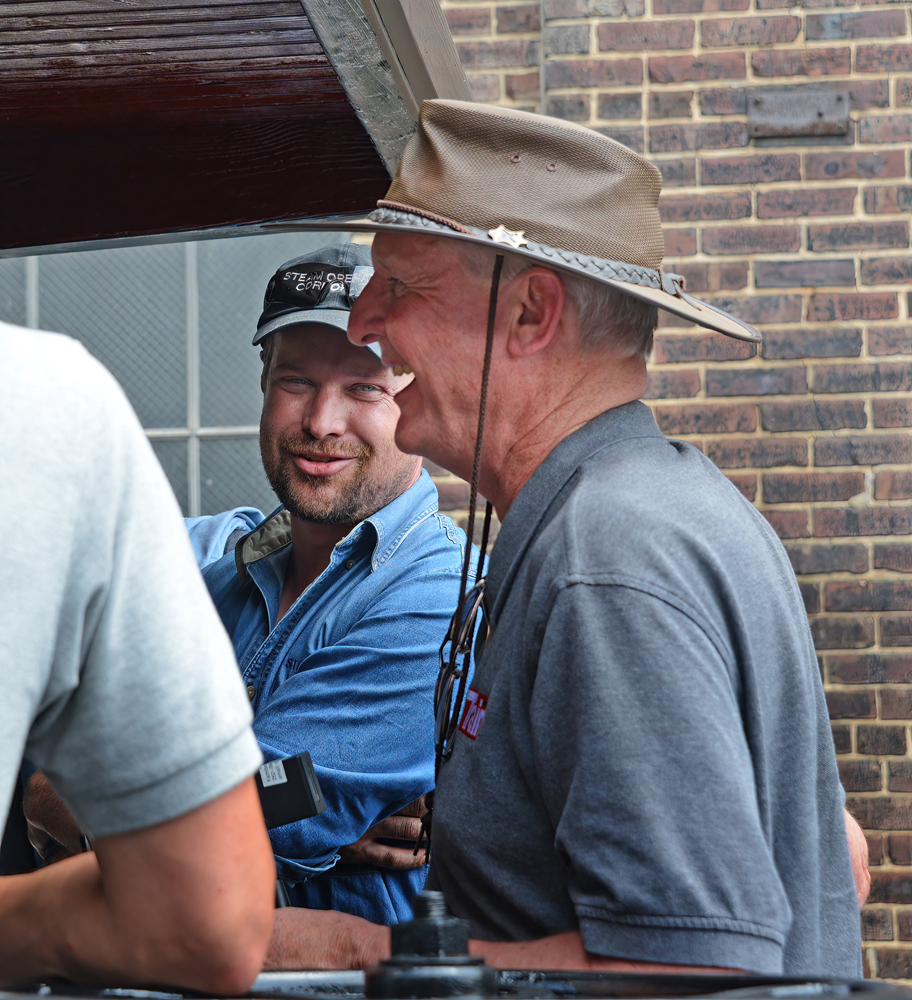 One of Wrinn's oldest friends is Jackson McQuigg, currently vice president-properties at the Atlanta History Center. "No one could make friends like Jim," says McQuigg. "With his slightly sideways smile and a folksy North Carolina mountains twang in his voice, Jim could befriend anyone — and he did, from Fortune 500 railroad bosses to dyed-in-the-wool devotees of the humblest of short lines. Throughout his life, Jim also proved that he could connect all of us through his approachable writing and energetic preservation work."
Jim Wrinn was proud to be part of a long line of Trains editors and said so in a candid self-assessment published in 2009. "I could not write like Morgan," wrote Wrinn. "I could not be a diesel locomotive expert like Dave Ingles, I could not write as eloquently as Kevin P. Keefe, I could not be an industry insider like Mark Hemphill. But I could bring great enthusiasm to the job, a great love for the subject, and the passion and curiosity of a journalist. The other guys put together fantastic issues of Trains, but nobody ever had a better time in this job than me."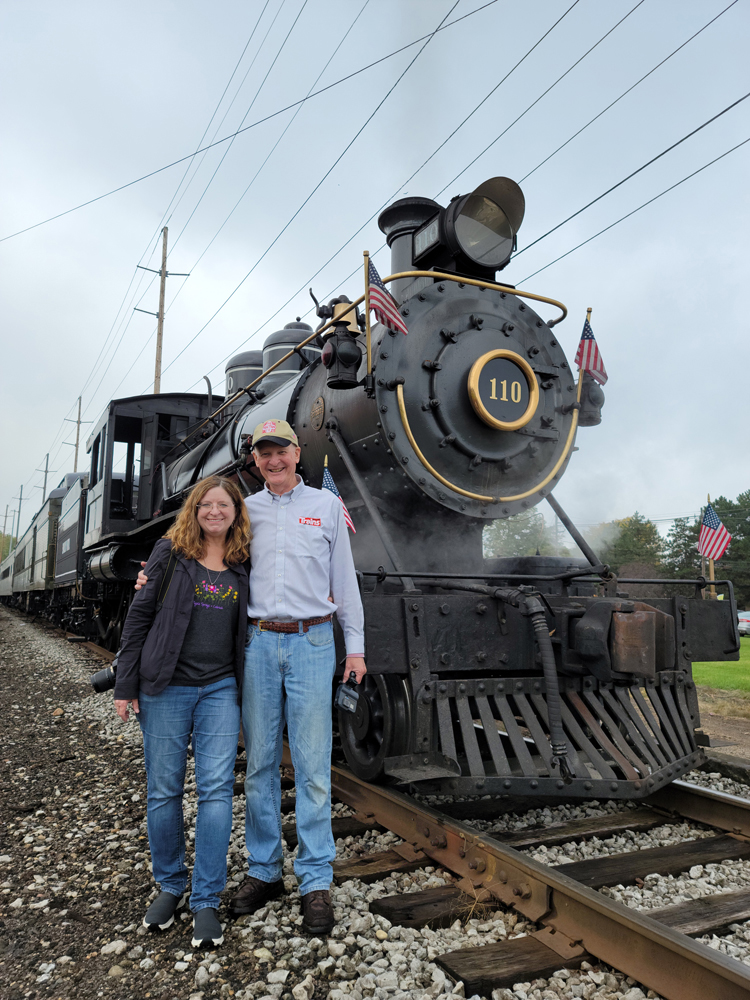 Wrinn was proud that fellow staff members were friends as well as colleagues, and he admired working railroaders for their tireless efforts. He was proud of his co-workers who graduated to work at other titles with Kalmbach Media, and those who went to work in the railroad business and other industries.
"I believe we have left Trains better than we found it, and in the hands of great journalists who will carry on the tradition and make it ever greater," Wrinn said. "Trains is a great brand for more than 80 years, and it will continue as long as steel wheels on steel rails fascinate."
Wrinn is survived by his wife, Cate Kratville-Wrinn, their "raildog" Millie, numerous cousins, and many close friends whom he often said he considered to be the brothers or sisters or children he never had.
Funeral services will be private.
— Updated March 31 at 9:40 a.m. CDT to include comment from Wick Moorman.