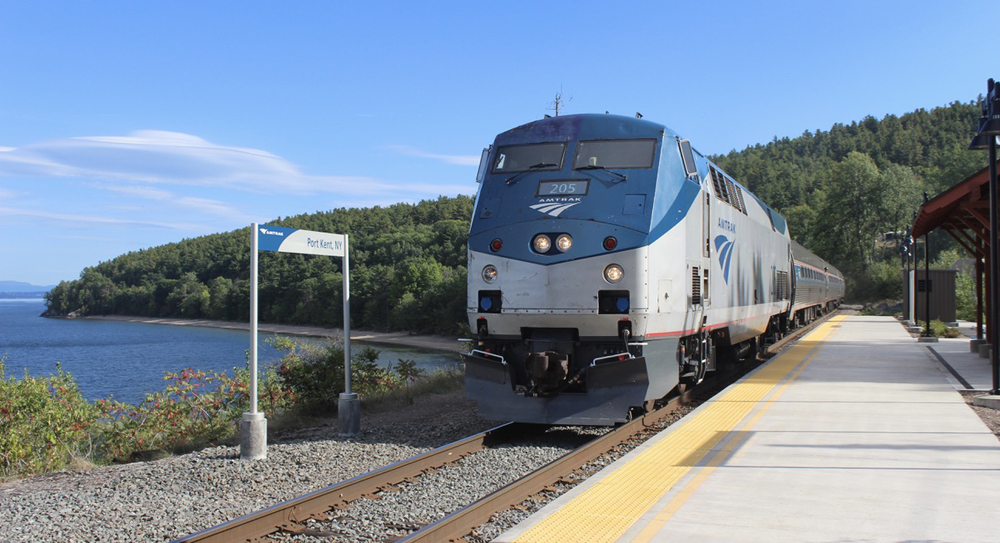 ---
Trains News Wire continues our review of the top stories of 2022. We'll count down the Top 10 stories of the year, as voted on by Trains editors, columnists, and correspondents, beginning Dec. 26. As a prelude, we'll be looking at major stories that didn't make that list. Today: Passenger rail.
Service expansion, VIA Rail Canada challenges, and continued Brightline progress preparing for a 2023 launch of Miami-Orlando service were among the significant passenger rail developments in 2022 that didn't quite make our Top 10 list.
New routes and a non-starter
The state-sponsored Ethan Allen was extended from Rutland to Burlington, Vt., on July 29. Federal grants with state matching funds upgraded Vermont Railway's trackage between the two cities, including the replacement of a circuitous route with a tunnel at Middlebury, Vt.
Across Lake Champlain, the New York-sponsored Adirondack remains the only Amtrak route cut in March 2020 that has failed to relaunch. Taking a "Montreal or nothing" approach, the state and Amtrak declined to operate it short of the Canadian-U.S. border, despite repeated calls for its reinstatement by U.S. Sen. Kirsten Gillibrand (D), and U.S. Rep. Elise Stefanik (R) [see "Adirondack's uncertain return …," Trains News Wire, July 21, 2022]. A round trip replicating the train's former schedule resumed between New York City and Albany-Rensselaer in December, with service to Montreal now promised for "Spring 2023."
Elsewhere, Virginia added a second daily Roanoke-Washington, D.C., round-trip in July. Minnesota and Wisconsin secured a $31.8 million federal grant for capacity improvements that will permit a second Chicago-Twin Cities train to augment the Empire Builder's once-daily departure. Construction of capacity improvements to Canadian Pacific's route are expected to begin in 2023, with service projected to start in 2024. Pennsylvania and Norfolk Southern also inked a $200 million deal for infrastructure upgrades providing for a second Pennsylvanian round trip between Harrisburg and Pittsburgh after construction is completed next year [see "Plan to allow second 'Pennsylvanian' includes …," News Wire, March 9, 2022]. The state also advanced track improvement funding for a possible New York-Scranton, Pa., Amtrak route.
Although tangible results are likely years away, passage of the Infrastructure Investment and Jobs Act unleashed renewed interest among states and passenger rail advocates seeking route expansion. It provides billions of federal dollars for planning and construction over the next five years for new and state-of-good-repair projects that the Federal Railroad Administration is evaluating through its Corridor Identification and Development program [see "FRA unveils Corridor ID …," News Wire, May 17, 2022]. The legislation also directs the FRA to study service resumption on discontinued long-distance routes, as well as daily operation for the Cardinal and Sunset Limited, Amtrak's only triweekly trains.
VIA Rail Canada's turbulent year
VIA Rail Canada developed what it called "High Frequency Rail," a plan for separate right of way, to escape the clutches of Canadian National Railway on its Toronto-Montreal corridor. But in March, Canadian Transport Minister Omar Alghabra announced the concept would instead become a venture seeking "expressions of interest" from private developers who would presumably bring financing to the table, rather having public investment flow through VIA itself [see "Transport Canada inches forward …," News Wire, March 10, 2022]. The move led to resignation two months later of VIA CEO Cynthia Garneau.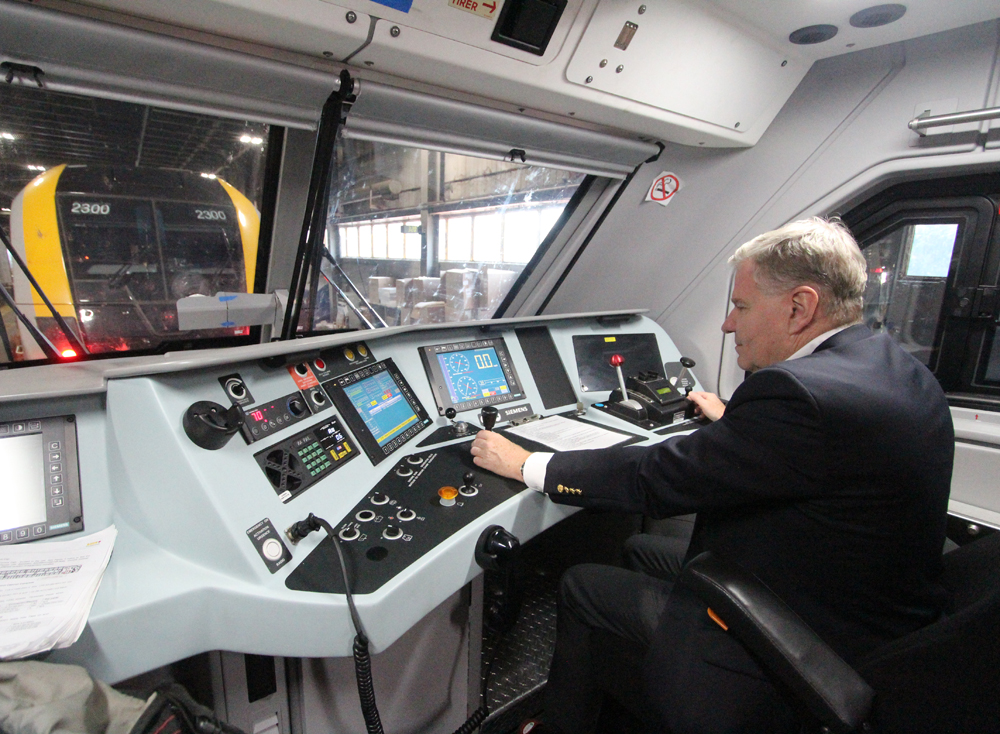 Meanwhile, once Canada began relaxing stringent COVID-19 restrictions that had made inter-provincial travel extremely difficult, VIA had enough equipment ready to capture post-pandemic demand. A second Toronto-Vancouver Canadian frequency each way was added in early May; the Montreal-Halifax, N.S., Ocean and remote service round-trips in Quebec, Ontario, and between Jasper, Alta., and Prince Rupert, B.C., climbed back to three per week by July.
In October, however, discovery of unspecified structural defects led VIA to add unoccupied "buffer" cars to both ends of any train operating with stainless steel Budd equipment originally built in the 1940s and 1950s. The requirement will remain in place through 2023 while the cars undergo tests [see "VIA: Need for 'in-depth' inspections led to buffer-car decision," News Wire, Oct. 19, 2022].
The following month, the Canadian carrier quietly introduced the first of 32 Siemens-built Venture trainsets in a revenue service debut between Montreal and Ottawa; the new trains are to begin replacing mixed LRC and Budd consists on VIA's Quebec City-Windsor, Ont., corridor over the next three years.
Brightline construction advances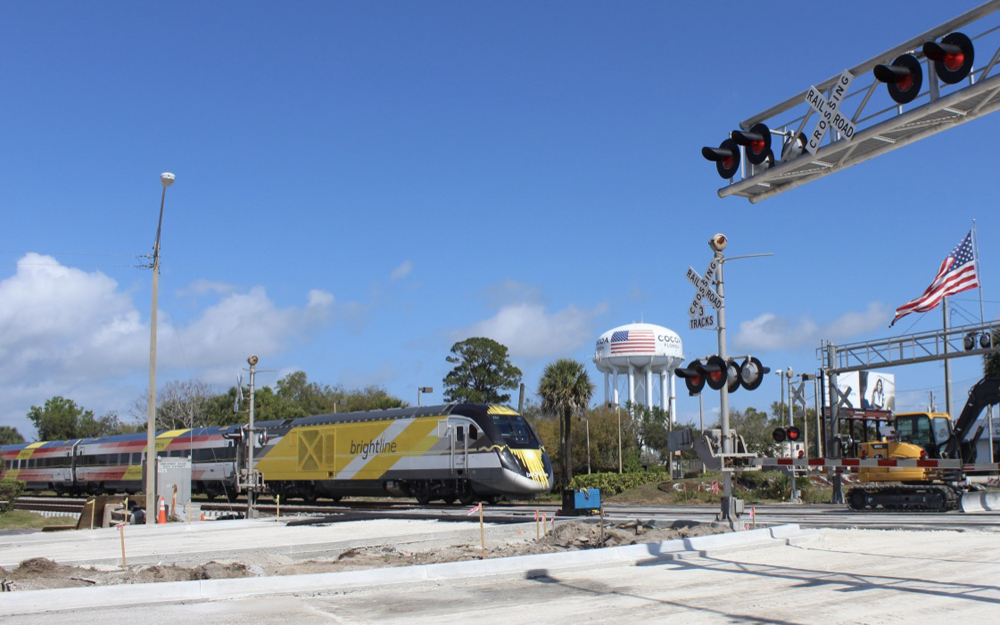 Double-tracking and associated bridge construction along Florida East Coast's West Palm Beach to Cocoa, Florida, north-south main line neared completion in preparation for Brightline service to Orlando International Airport to launch in 2023. As segments were finished, test trains began a series of Federal Railroad Administration-mandated braking and signal testing at 110 mph, the first U.S. application of that upper speed limit to Wabtec's IETMS positive train control system.
Plans for expansion west of the airport to Orlando-area attractions and on to Tampa down the median of Interstate 4 also moved forward with an agreement to build the route as a a joint Brightline-SunRail "Sunshine Corridor" that will provide frequent commuter rail service, and thus become eligible for local transit funding and federal public transportation grants [see "Brightline, SunRail 'Sunshine Corridor' project could cost $6 billion …," News Wire, Sept. 6, 2022]
With most heavy lifting completed, 2023 promises to be a groundbreaking year for Brightline.