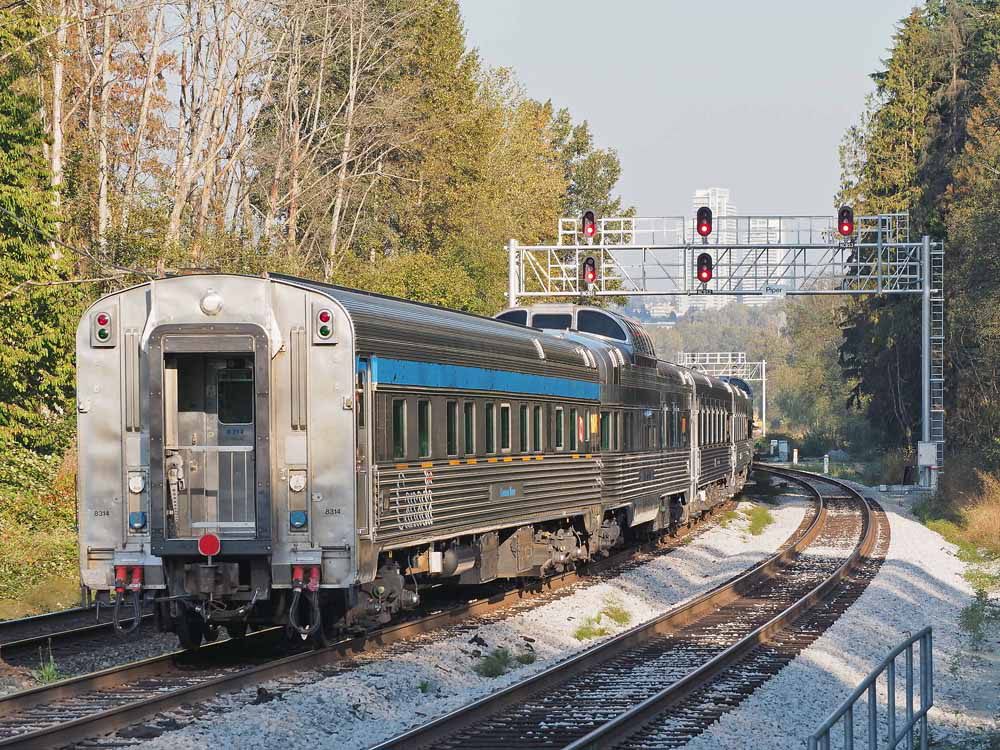 ---
MONTREAL — VIA Rail Canada says in a statement to Trains News Wire that the addition of unoccupied cars at the rear of trains with its heritage stainless steel equipment was recommended by the third-party engineering firm it hired to conduct inspections.
The move — to provide protection in case trains collide — was made abruptly as a precaution last week [see "VIA Rail Canada adds "buffer" cars … ," News Wire, Oct. 18, 2022]. It  will continue while the international consulting firm, Hatch, and VIA carry out a thorough inspection plan of the cars, known as HEP-1 and HEP-2 equipment to denote their rebuilding for head-end power operation.
A preliminary report "confirmed that our stainless steel (HEP) cars are safe to run under normal operating conditions," the statement says, adding that the company "implemented a plan to proactively address structural issues with its aging stainless steel fleet [to] ensure continued safe railway operations."
Hatch recommended the addition of the cars, VIA says, "at the front and back end of all trains with stainless steel equipment to reduce the consequences in the unlikely event of a train-to-train collision."
VIA shared its plan with Health and Safety Policy Committees, union leadership, and the Canadian rail safety regulator, an arm of Transport Canada (not the country's Transportation Safety Board, as News Wire originally reported).
The Toronto Globe and Mail reports Transport Canada issued a ministerial order requiring VIA to employ the safety measures even though the company had already taken steps to do so. That order is slated to be made public Thursday.
VIA says it "has also set up a joint technical task force (made up of current and former VIA Rail employees, and Hatch representatives) to assist in analyzing and implementing the engineering firm's recommendations, including:
— overseeing the measures,
— interpreting the results of an in-depth inspection process, and
— participating in the development of a potential repair program."
Sources tell News Wire that the focus will likely center on the structural integrity of each car's center sill, which must withstand horizontal forces that would be greater in a collision.
The most visible impact falls on VIA service featuring end-of-train Park-series dome-lounge-observation cars, which include the transcontinental Canadian, and the remote service operation between Prince Rupert, British Columbia, and Jasper, Alberta. Another train serving rural areas without other land access runs between Winnipeg and Churchill, Manitoba, which currently carries a Park observation car during the polar bear-watching season.
A ban was also imposed on accepting pets, since they are carried in baggage cars that may run at the front or rear of consists. VIA passengers are normally given the option to enter those cars to care for their animals. VIA's statement did not address if other arrangements are being made for pet carriage while the testing process continues or how long it is expected to last.
— Updated at 7:50 a.m. CDT on Oct. 20 with photo of Canadian with buffer car.