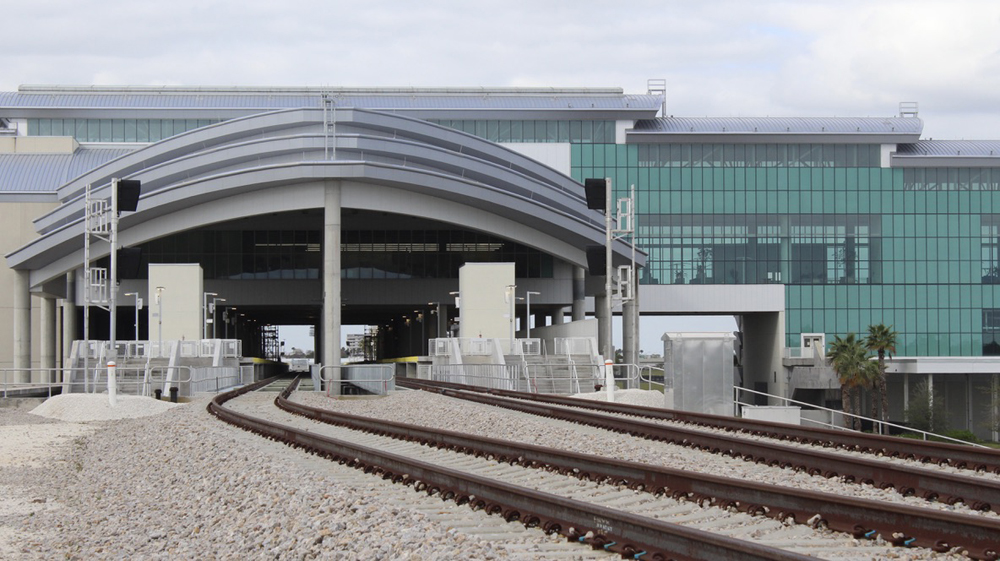 ---
ORLANDO — A new Florida Department of Transportation document details how a passenger and commuter rail extension west from Brightline's Orlando International Airport station could be funded and built with the help of federal infrastructure money — and that the project could cost $6 billion.
The "Sunshine Corridor" concept, announced in May, calls for public funds to help build a new right-of-way for Brightline, as well as commuter service SunRail, to reach the Orange County Convention Center and nearby attractions [see "Orlando businesses pledge $125 million …," Trains News Wire, May 6, 2022]. The partnership may have helped the state win a federal Consolidated Rail Infrastructure and Safety Improvement grant for Brightline's Tampa extension a month later [see "Florida receives $15.875 million engineering grant …," News Wire, June 2, 2022].
A paywalled Orlando Sentinel report provides details on the DOT "white paper" document, not yet available publicly, and other aspects of the project, including the price tag.
After winning the CRISI funds, Florida Department of Transportation officials, politicians representing the area in Congress, and the mayors of Orlando and Orange County decided to make sure U.S. Department of Transportation judges could see how all the pieces would fit together.
U.S. Rep. Darren Soto (D-Fla.) expects 10 years of funding prescribed in the infrastructure law to include 50% from the federal government and a 50% match — likely to be half from the state and half from Brightline and its local partners. It would be made available through multiple grants, not "one big announcement — like here is $3 billion," he told the Sentinel.
SunRail's involvement means various aspects of the project could qualify for grants from both the Federal Railroad Administration and Federal Transit Administration.
The willingness of Brightline and major attractions to contribute to the 50% match is a significant competitive selling point, but the mayors of Orlando and Orange County believe a one-cent increase in the area sales tax is necessary to ensure SunRail and expansion of the Lynx bus system remain viable. A referendum asking voters to approve that increase will be on the November ballot. Orange County Mayor Jerry Demings told the Sentinel that the time frame for expanding Lynx was one to five years, while completing all aspects of the rail component would be on an eight- to-10-year timeline.
The rail project will be developed in three phases:
— From the airport to a connection with SunRail's north-south corridor (also used Amtrak trains);
—  From that connection to the Convention Center and International Drive attractions area;
— On to Tampa, principally down the median of Interstate 4.