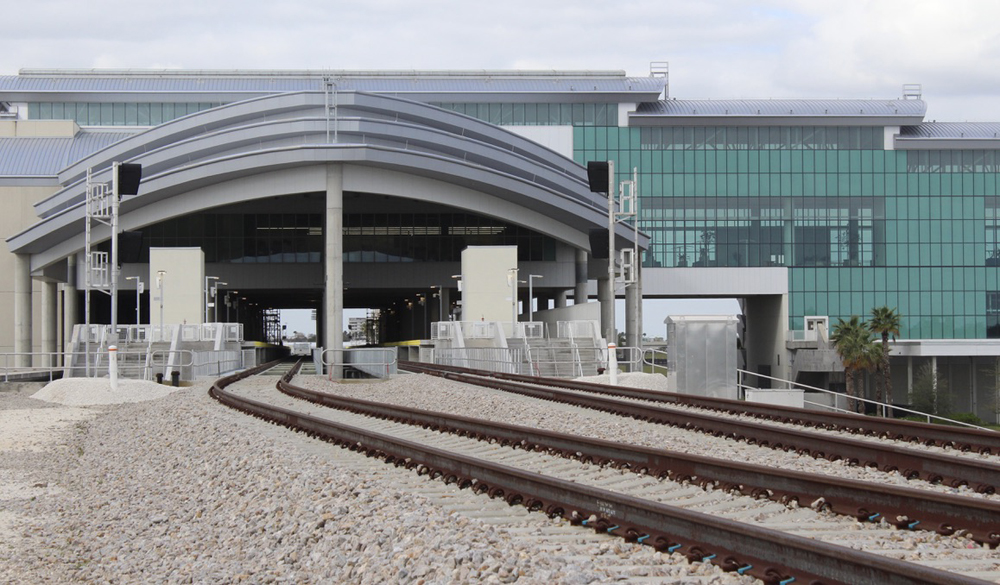 ---
ORLANDO, Fla. — Businesses who would have been bypassed by Brightline's original route between Orlando International Airport and Disney World have pledged $125 million toward a project which would serve them through a joint route used by both Brightline and commuter operator SunRail.
Accounts of the meeting were provided in a paywalled Orlando Sentinel report and from other sources.
The funding pledge and other details were revealed Thursday at a workshop following a meeting of the Central Florida Commuter Rail Commission, SunRail's parent organization. The concept of marrying Brightline and SunRail service was first disclosed last month [see "Orlando plan would extend SunRail to Disney World …," Trains News Wire, April 6, 2022].
Although the route's exact path and costs still haven't been determined, Universal Studios Orlando and International Drive businesses, including the Orange County Convention Center, today said they would support up to $125 million in bond funding and donate 13 acres for a station site to a public entity created for the project, as well as guaranteeing $13 million in ticket sales and fund track maintenance through that entity.
The new "Sunshine Corridor" would be used by both SunRail commuter trains on frequent headways and hourly Brightline service. Brightline will eventually continue on to Tampa utilizing tracks in the median of Interstate 4.
Currently, the only public transportation option between the airport and downtown Orlando is a Lynx transit bus that can take more than an hour; cab and ride-share fares are in the $50 range.
A consultant hired by the Central Florida Expressway Authority estimates the rail route serving the Universal and International Drive areas, instead of a direct route from the airport to Disney World primarily following Florida's Route 417 toll road, could cost more than an additional $1.2 billion. Much will depend on how much existing rail right-of-way is incorporated into the plan.
Although it would also be slower, the route would potentially serve more population centers and therefore generate more patronage. It would also funnel passengers to SunRail's north-south corridor, which currently is primarily a rush-hour-only operation.
But a public component that would help solve Orlando-area gridlock would also be eligible for federal funds as part of the Infrastructure Investment and Jobs Act. The Federal Transit Administration and Federal Railroad Administration will each administer their own pots of money requiring a local match, though the agencies have yet to release "Notice of Funding Opportunity" outlines of the competitive requirements.
In order to secure those funds, the counties and Brightline will have to work together to finance the match, but the collaboration of all parties will strengthen their case.
Ben Porritt, Brightline's Senior VP of Corporate Affairs, recently told News Wire, "This is the type of a big vision project that Central Florida needs, one that will ensure an economic advantage for decades."
— Updated at 11:55 a.m. CDT to clarify that Brightline will use I-4 to reach Tampa; updated at 7:55 a.m. on May 11 to correct details of pledge involving public entity.