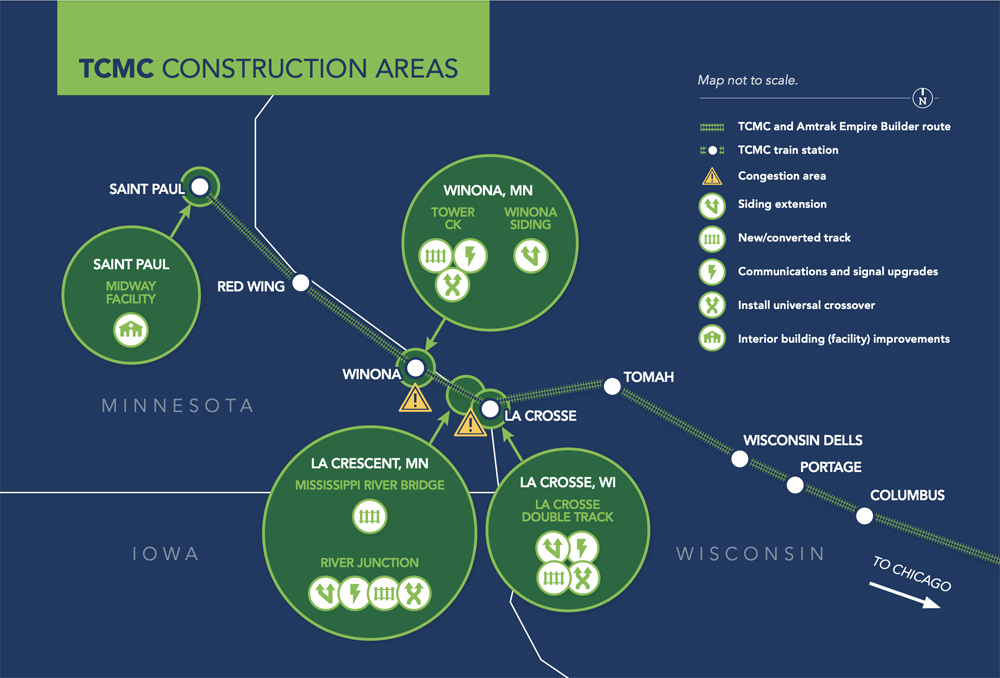 ---
LA CROSSE, Wis. — Departments of Transportation in Wisconsin and Minnesota will receive a $31.8 million grant for infrastructure upgrades to allow a second Twin Cities-Chicago passenger train, as well as improved freight operation, on the route through La Crosse, Wis.,  and Milwaukee.
Federal Railroad Administration Administrator Amit Bose, Amtrak CEO Stephen Gardner, and officials from the two states announced the grant Wednesday in a press conference in La Crosse. The project is expected to allow the second train to begin in 2024 or sooner on the 411-mile route already served by the Empire Builder. The first year of the expanded service is projected to serve more than 124,000 riders, while the improvements are expected to save $34.7 million in freight costs over the next 30 years.
"This vital rail project came together because the federal government not only recognized its importance to the region but the extraordinary collaboration among states, local economic groups and freight and passenger rail," Wisconsin DOT Secretary Craig Thompson said.
"MnDOT is proud to be a partner in this effort to expand service on the TCMC [Twin Cities-Milwaukee-Chicago] corridor," Interim Minnesota DOT Commissioner Nancy Daubenberger said. "This grant is an important piece in our shared goals to enhance our regional economies, from the Twin Cities metro area to our thriving small towns in Greater Minnesota."
Funding will come from the FRA's Consolidated Rail Infrastructure and Safety Improvements, o CRISI, grant program, which Bose noted has received increased funding over the next five years through the Bipartisan Infrastructure Law. "This funding means even more opportunities like this one to advance transformational rail projects going forward."
Gardner said the project was possible through the work of Bose, partnerships with officials in the two states, "and our productive relationship with Canadian Pacific … While we cannot announce a TCMC start date — yet — know all of us working together can make this happen in months instead of years."
More information, including details on specific improvements, is available on the Wisconsin DOT website.
— Updated at 9:45 a.m. CST with graphic showing construction locations.