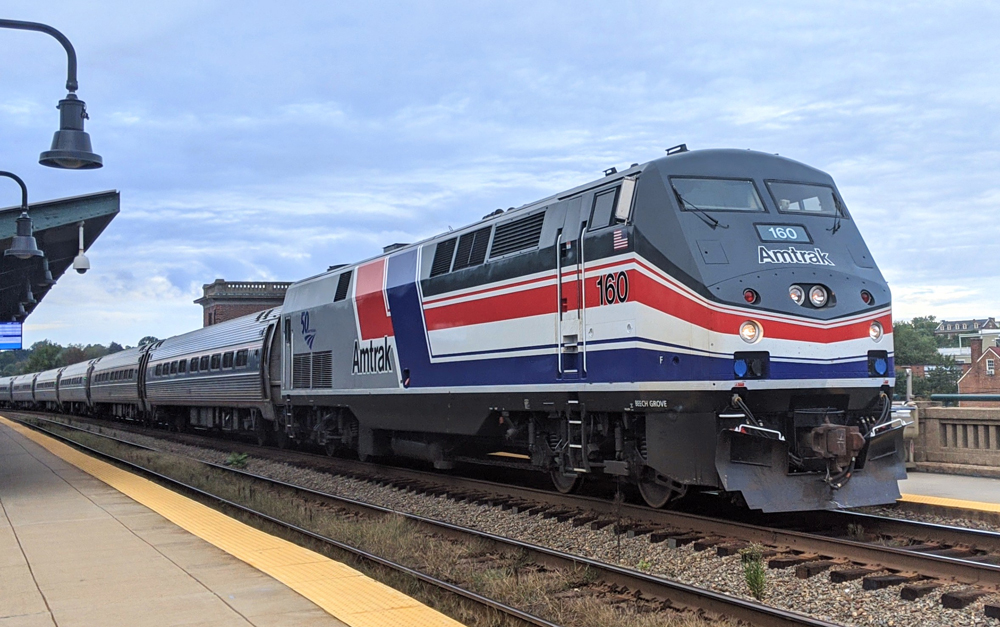 ---
FREDERICKSBURG, Va. — The last of Amtrak's 50th anniversary heritage-paint locomotives is now in service.
P42DC No. 160 wears the "Phase III" scheme — popularly dubbed the "Pepsi Can" — that was unique to the passenger carrier's P32-8BWH locomotives when delivered in 1991. It was photographed Saturday morning; photographer Nathan Richters said his understanding was the locomotive was only making its third revenue run since repainting.
The locomotive completes the debut of the six anniversary schemes announced earlier this year [see "Behind Amtrak's new locomotive designs," Trains News Wire, March 18, 2021]. Still to come is the not-yet-revealed "Phase VII" livery which will be applied to most of the 75-locomotive order for Siemens ALC-42 Chargers.
Previous coverage of Amtrak's anniversary paint schemes:
"News Photos: Amtrak 'Midnight Blue' unit debuts," April 26, 2021
"Amtrak shows off first long-distance Siemens Charger diesel locomotive," June 15, 2021
"News photos: 'Day One' Charger en route to delivery," July 19, 2021
"News Photos: Another Amtrak anniversary paint scheme hits the rails," Aug. 3, 2021