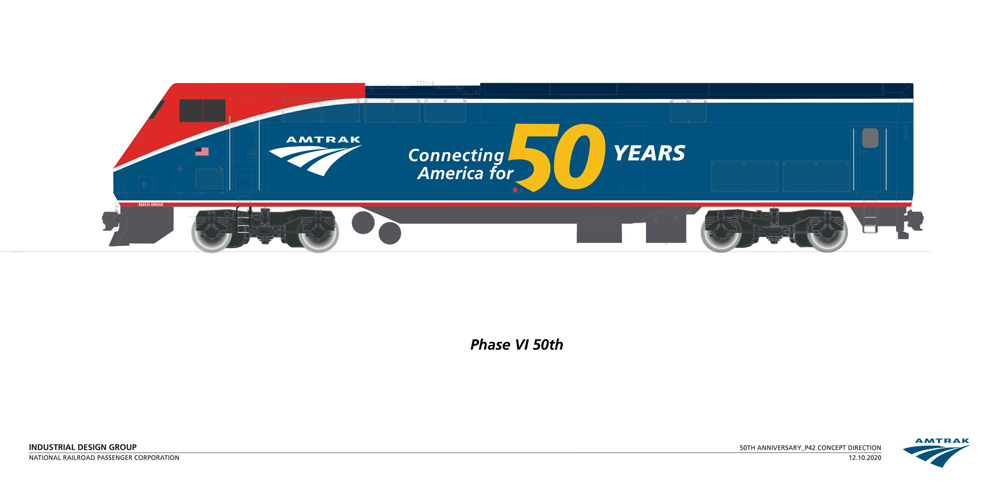 WASHINGTON — "If you're planning for a 50th anniversary, you've got to look at where you came from to see how far you've gone," Amtrak's Matt Donnelly tells Trains News Wire.
Donnelly, the company's lead brand communications specialist, and Devon Parsons, Blair Slaughter, John Skalski, John Dzedzy, and Seth Geist — equipment and rolling stock engineering managers and designers —collaborated on a series of six heritage locomotive designs unveiled Tuesday [see "Amtrak announces new paint schemes in YouTube video," Trains News Wire, March 16, 2021].
"We realized early on in the pandemic that it would likely be nearly impossible to plan events, so we thought locomotives are a good way to get the anniversary message out to all parts of the network," says Donnelly.
There are still locomotives roaming the system from the 40th Anniversary in many earlier paint schemes, so this is an opportunity to augment those one-off creations.
The designs unveiled are: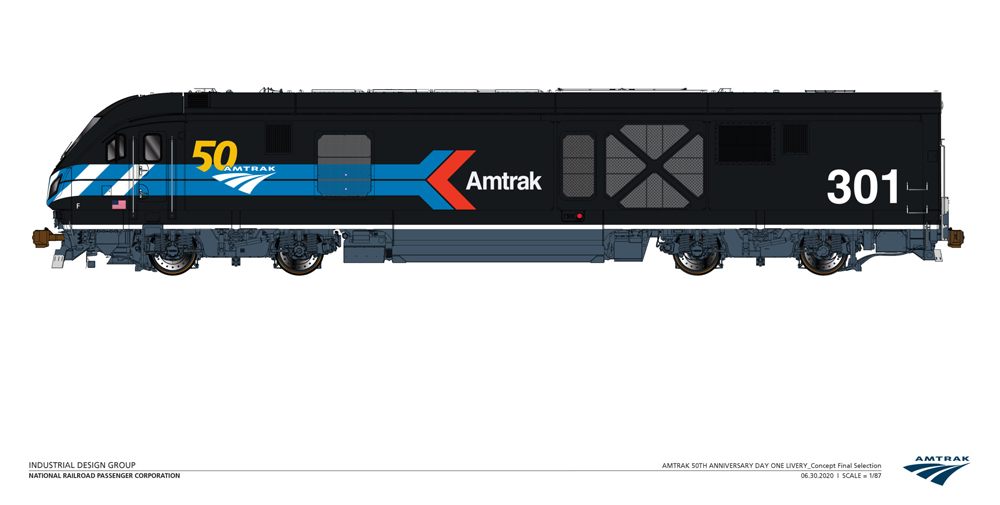 Day 1: Perhaps one of the most striking applications, the one to be featured on new ALC-42 locomotive 301 that Siemens is building for long-distance service to eventually replace GE's P42s, harks back to former Pennsylvania Railroad E-8 4316, which was hastily prepared for an Amtrak debut press event on May 1, 1971.
The elongated "arrow" logo on a black carbody design that New York agency Lippincott and Margulies, Inc.,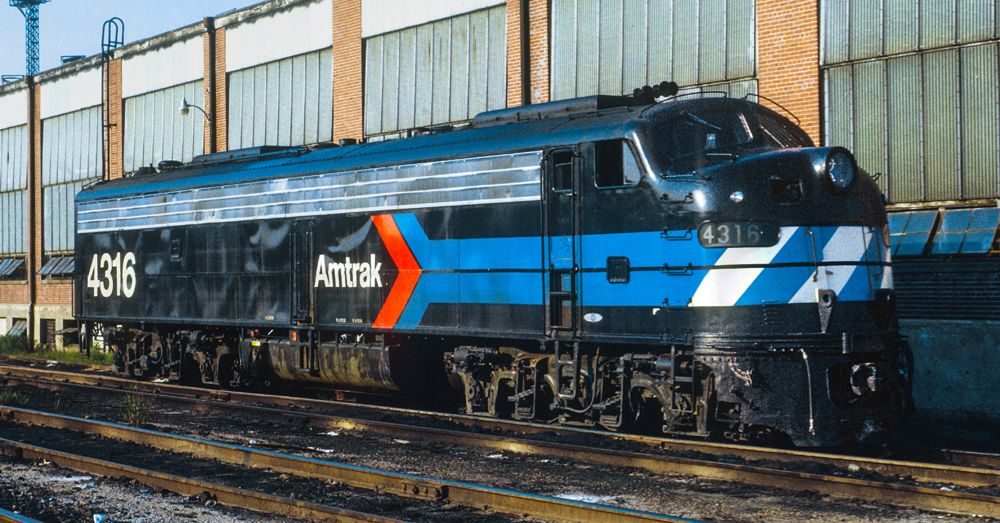 came up with lasted no more than a year before the unit was repainted in the first fleet-wide paint scheme of the 1970s, the red-nosed "Phase I." But the simple design lends itself to application on Amtrak's newest arrivals.
Although stripes have adorned virtually all passenger car treatments and many locomotives, they are difficult to execute on the new Siemens models with all the vents, grills, and doors, hence Day 1's lack of stripes. But it will only be applied to the 301.
Phase VI: (See above.) ALC-42 units 300 and 302 through 308 also have no stripes with the Phase VI blue scheme that reprises a partial red nose with a white divider, "designed to complement our phase VI passenger cars without using striping," says Donnelly.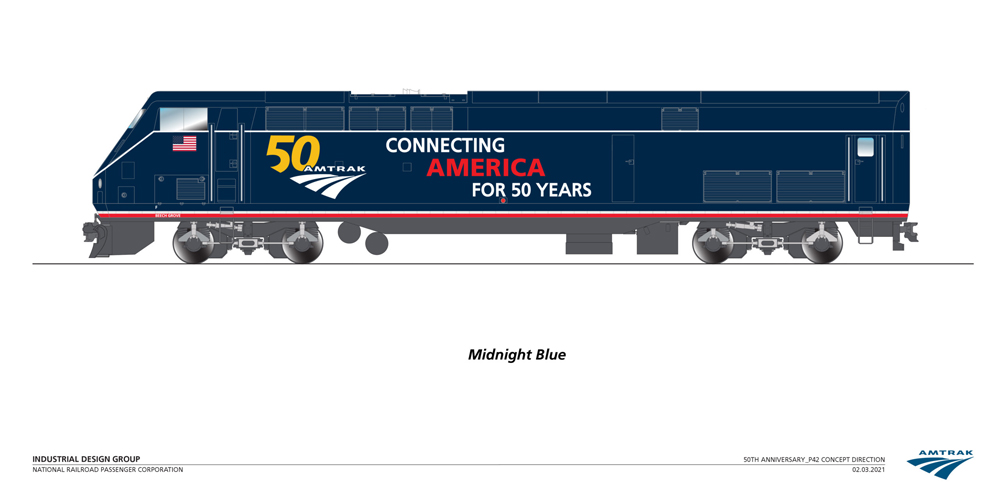 Midnight Blue: This is another one-off design that is being applied to P42 No. 100 that is meant to be a tribute to the many Amtrak employees running trains overnight.
Dash 8 Phase III: Originally applied to Amtrak's P32-8BWH locomotives from a design originated by Amtrak's Blair Slaughter and Cesar Vergara in 1991, the adapted scheme will appear on a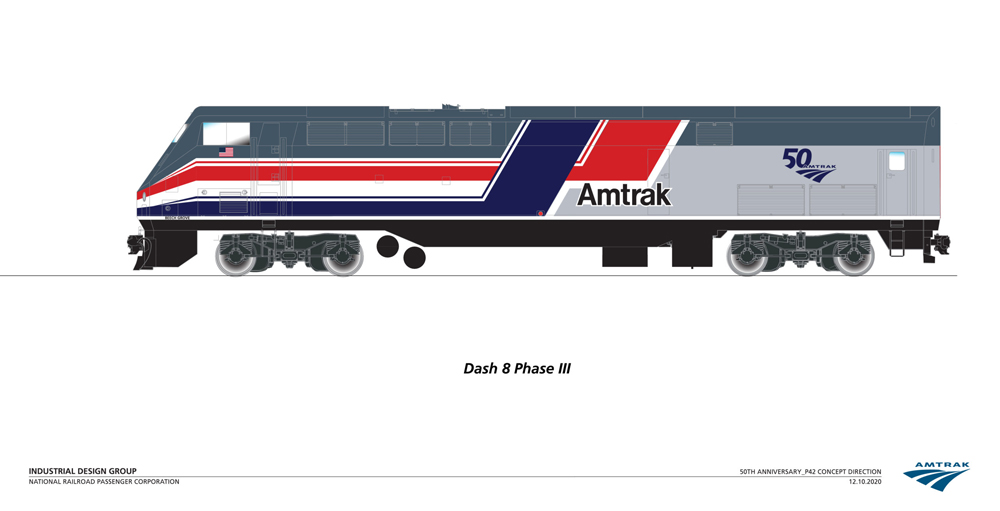 P42 scheduled for repainting.
Phase I: The red-nosed scheme, with a 50th anniversary logo, will be applied to a P42. Another P42, No. 156, which has worn the scheme since the 40th anniversary, is currently out of service after an an accident.
Phase V anniversary: P42 No. 46 wears a version of the current scheme with a large golden yellow 50 and the slogan "Connecting America for 50
years."
"A key part of the reason we've been able to do this is to take advantage of pre-budgeted life cycle maintenance for locomotives that were already slated to come out of revenue service to go through a programmed overhaul," says Donnelly. "The P42's that were going to get repainted anyway will be around at least for the next four or five years."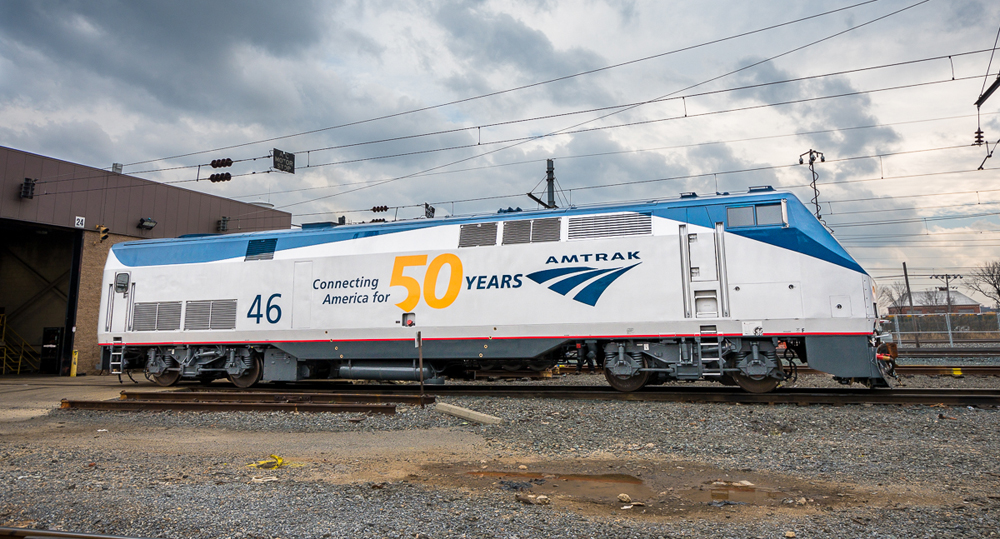 The "Day 1" design and other new patterns are also reflected in 17 merchandise items commemorating the 50th Anniversary available online at the Amtrak store.
Still under development is a Phase VII livery, shown as a "sneak peak" in the video that will be applied to the remaining ALC-42s and all rolling stock in the future.

— Updated at 11:15 a.m. CDT with status of "Phase I" locomotive No. 156; updated at 12:45 p.m. to correct comment on Phase VI design.