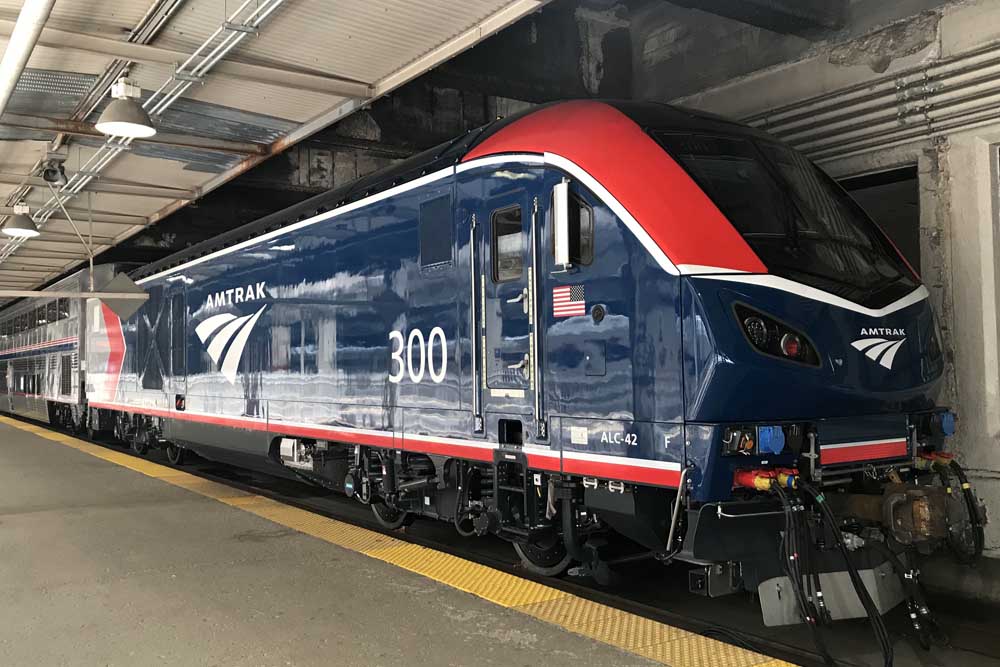 CHICAGO — While the locomotive is so new that Amtrak doesn't even have the keys yet, the passenger railroad showed off the first of its new long-distance Siemens Chargers on Tuesday at Chicago Union Station as part of a media event on upcoming improvements to long-distance service.
The first of the ALC42 locomotives is still two or three months from entering service. After taking delivery, it will be sent to Wilmington, Del., where it will test on Amtrak-owned tracks, then enter service on the long-distance trains that operate to and from Washington, D.C. — the Crescent, Capitol Limited, and Cardinal.
The locomotive wears what Amtrak is calling a "transitional" paint scheme that will be featured only on eight locomotives, with the blue on the carbody ending at a red chevron meant to harken back to the similar mark that was part of the "Phase One" paint scheme. (P42 locomotive No. 161, wearing the 50th anniversary version of that scheme, was also on display at Union Station's Track 2.)
The new 4,200-hp locomotive features a number of upgrades from the 4,400-hp SC44 Chargers used in Amtrak's state-supported services. Devon Parsons, senior manager of equipment engineering, says it features upgrades and newer technology for of a number of systems. "We've really been in close collaboration with Siemens; they've been great partners," he said. "We've made a lot of upgrades to the platform that Amtrak's kind of pioneered with them."
A revised front end features framed windows and a removable nose "to reduce our shop out-of-service from strike damage." It features a 2,200-gallon fuel tank rather than the 1,800-gallon tank of the SC44s
Amtrak and Siemens have tweaked the locomotive's computer program to address one reported problem. "We have seen some wheel-slip issues, and really, that's in the algorithm of the A.C. traction," Parsons says. "So we did make those changes with Siemens, sort of across the board."
Amtrak will be taking delivery of the initial 75-unit order for the locomotives through 2024, with Parsons saying deliveries are expected at the rate of roughly two per month. Up next will be locomotive No. 301, which will wear the predominantly black, one-off "Day One" scheme featured on a single locomotive when Amtrak was launched in 1971.