Summer has arrived, and so has the busy season for museums and tourist railroads! Mainline steam excursions were once a flourishing tradition around this time. While this summer's schedule is relatively slim, there are still opportunities to experience Big Steam in summer 2023. Here are eight mainline steam locomotives for you to check out.
Grand Canyon Railway No. 4960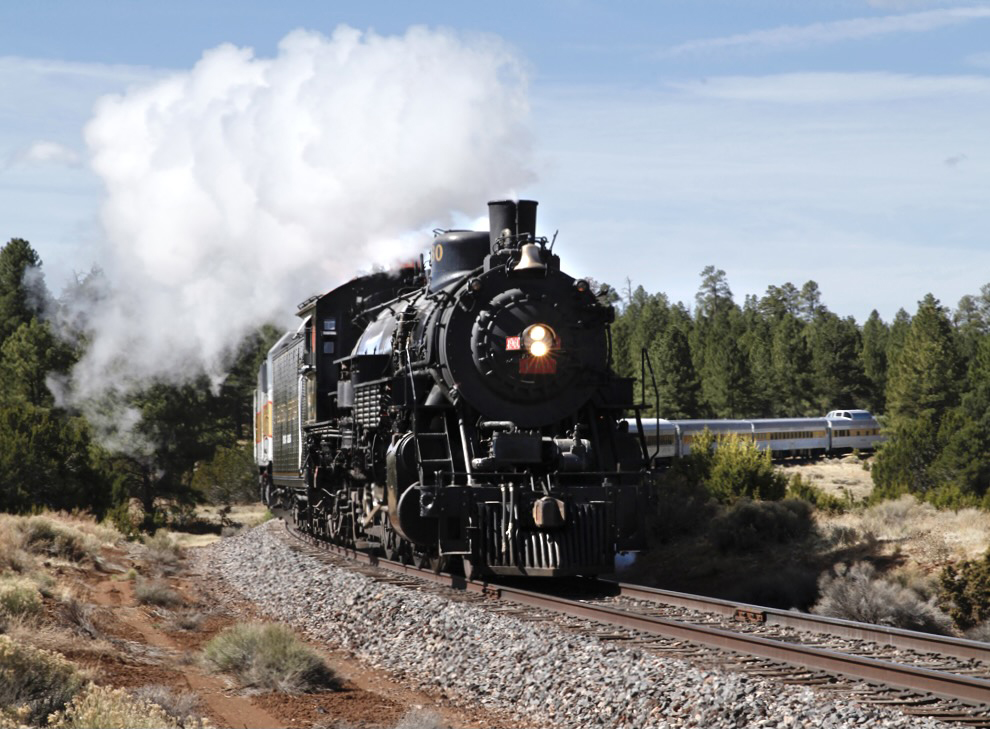 ---
Arizona's Grand Canyon Railway and Hotel operate their steam locomotives on select Saturdays throughout the year. No. 4960 of the former Chicago, Burlington & Quincy Railroad has the honor of heading the excursion trains from Williams to the south rim of Grand Canyon National Park in 2023. The ex-Santa Fe branch line may be full of twists and turns with steep grades, but the 100-year-old 2-8-2 is no slouch.
Summer Schedule
June 10: National Model Railroad Association charter
July 1
August 5
September 2
September 16: Grand Canyon Railway anniversary
Visit the Grand Canyon Railway and Hotel website for more information.
Southern Railway No. 4501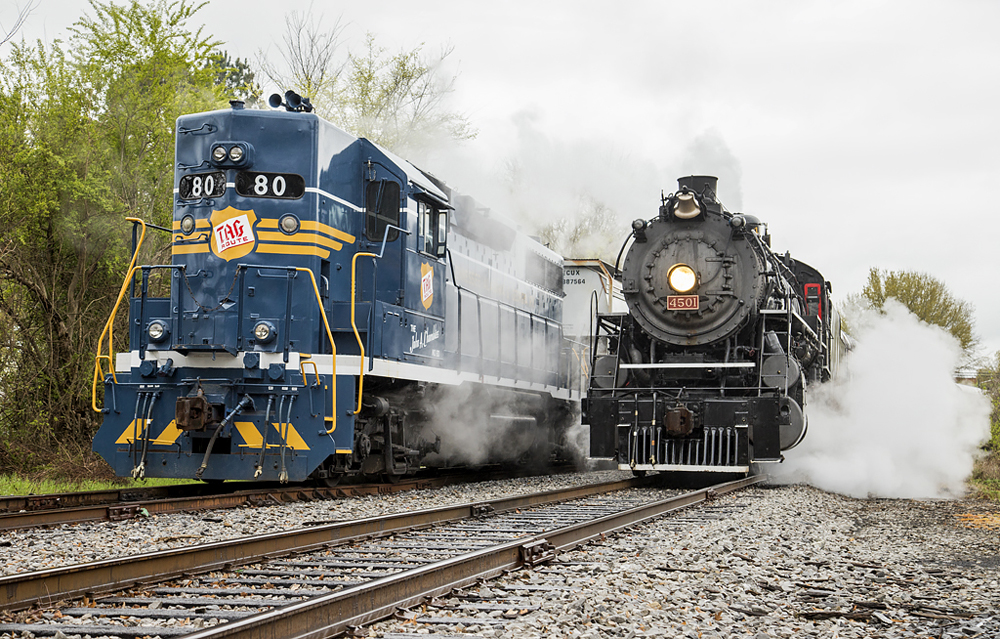 ---
Heading southeast is another 2-8-2 with star power. Southern Railway No. 4501 of the Tennessee Valley Railroad Museum in Chattanooga is a veteran of the original SR steam excursion program and later Norfolk Southern's 21st Century Steam program. While the locomotive's routine is a bit quieter these days on the museum's six-mile, round-trip Missionary Ridge Local and Evening Ridge Runner excursions, it's still a treat for visitors. The treat gets sweeter when cab rides are available.
Summer Schedule
Operations for No. 4501 include the Missionary Ridge Local on Friday afternoons and all day on weekends, while also heading the Evening Ridge Runner on Friday and Saturday nights. Visit the Tennessee Valley Railroad Museum website for more information.
Santa Fe No. 3415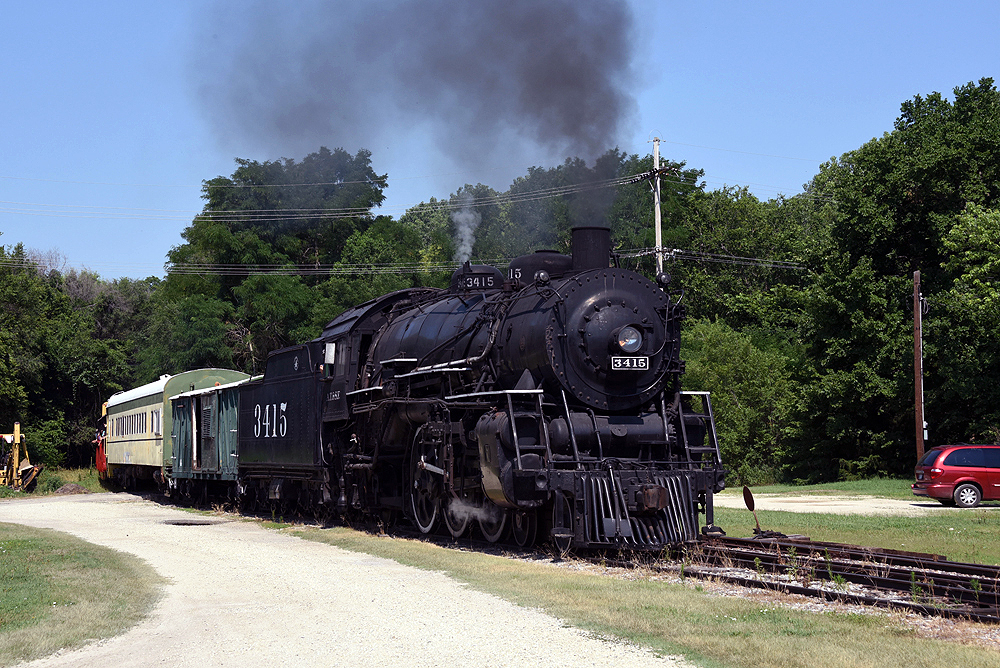 ---
The Abilene & Smoky Valley Railroad operates a former Rock Island branch line from Abilene to Enterprise, Kan. Pacific-type No. 3415 will star in the 2023 summer season with both the regular excursions and dinner trains. While the 4-6-2 speedster can look out of place to most at restricted speeds along the 11-mile, round-trip branch, keep in mind that this will be the final year of operations before the locomotive is taken out of service for its federally mandated 1,472-day inspection.
Summer Schedule
Beginning June 10, No. 3415 is scheduled to operate every weekend until the end of July. Steam-powered trips will resume Labor Day weekend after a month off in August. Dinner trains depart on Saturdays at 6 p.m. Visit the Abilene & Smoky Valley Railroad website for more information.
Western Maryland No. 1309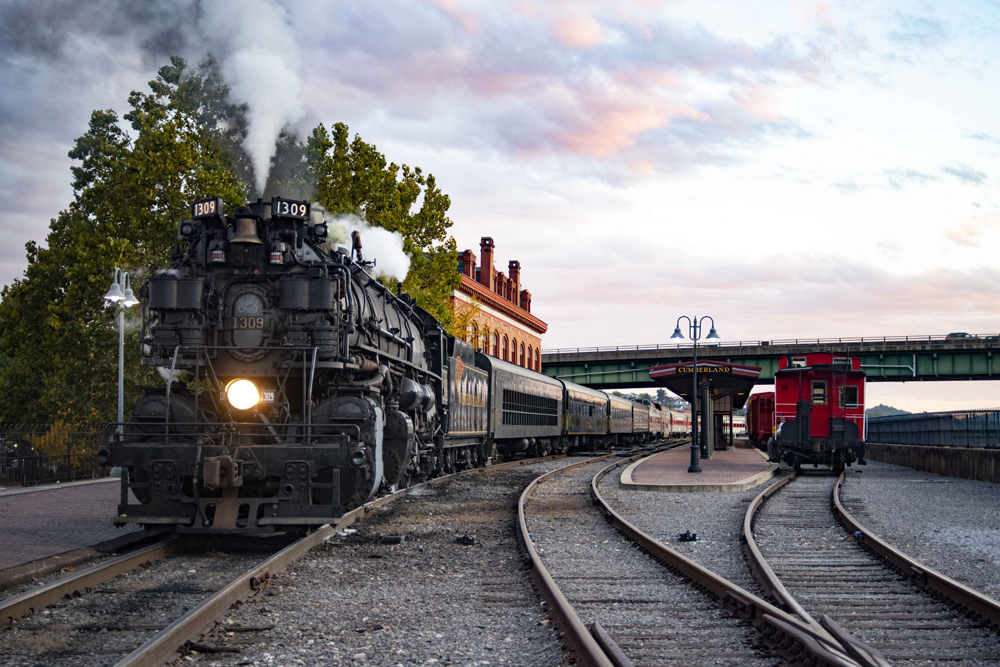 ---
Trains Magazine Editor Carl Swanson said it best: The former Chesapeake & Ohio Railroad 2-6-6-2 is a steam standout. A standout that's been leading a renaissance for the Western Maryland Scenic Railroad since the locomotive's 2021 debut. If you're looking for rugged mountain railroading on your steam-summer bucket list, then turn your attention to the "Beast of the East" when it returns for the 2023 season.
Summer Schedule
Beginning July 1, No. 1309 will operate on Fridays, Saturdays, and Sundays for the remaining summer months. Both the Frostburg Flyer and Moonlight on the Mountain excursion trains climb the Allegheny mountains from Cumberland to Frostburg, Md. Visit the Western Maryland Scenic Railroad website for more information.
Nickel Plate Road No. 765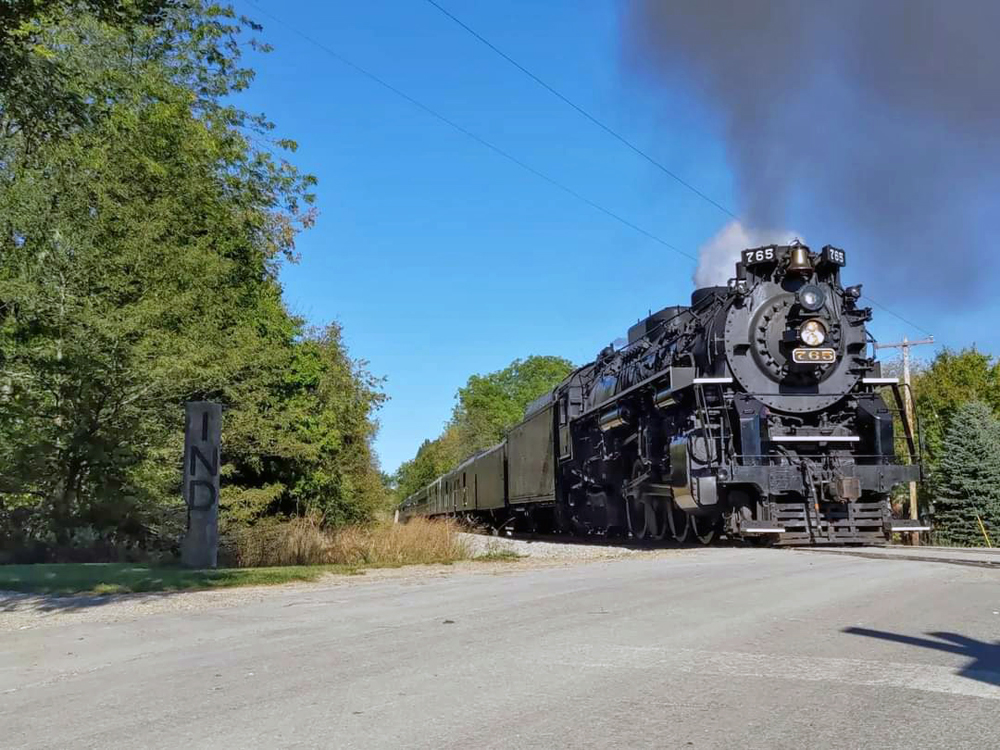 ---
Excursion veteran No. 765 returns to the Indiana Northeastern Railroad for the second year of the Indiana Rail Experience. The entire schedule by the Fort Wayne Railroad Historical Society has been extended to 30 total operating days compared to 10 from last year. A variety of events and excursions are offered to experience the "Super Power" 2-8-4.
Summer Schedule
June 17: Donuts & Dads Train and Summer BBQ Train departing Angola, Ind.
June 18: Tri-State Scenic Excursion from Edon, Ohio to Hillsdale, Mich.
July 13 – 15: Indiana Railcamp in Pleasant Lake, Ind.
July 15: Wine & Whiskey Train departing Angola
July 29 and 30: Railroad Open House in Hudson, Ind.
August 19: South Milford Memorial Dedication Train departing South Milford, Ind.
August 20: Tails, Ales & Rails departing Pleasant Lake
Visit the Indiana Rail Experience website for more information.
Reading & Northern No. 2102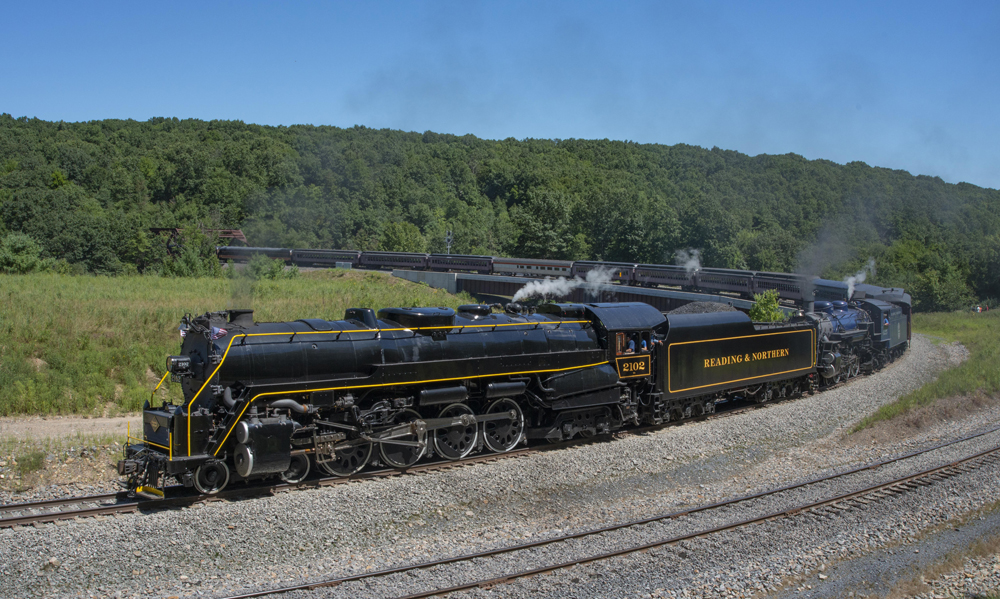 ---
Pennsylvania's Reading & Northern has put together an impressive passenger excursion operation over the years. The regional railroad's T-1 No. 2102 has been the cream of the crop since its 2022 debut. The brutish 4-8-4 will once again lug about 20 passenger cars unassisted from Reading to Jim Thorpe, Pa. as part of the all-day Iron Horse Ramble excursions. You don't want to miss the sights and sounds of this show-stopping performance.
Summer Schedule
July 1
August 13
September 2
Visit the Reading & Northern Passenger Department website for more information.
Union Pacific No. 4014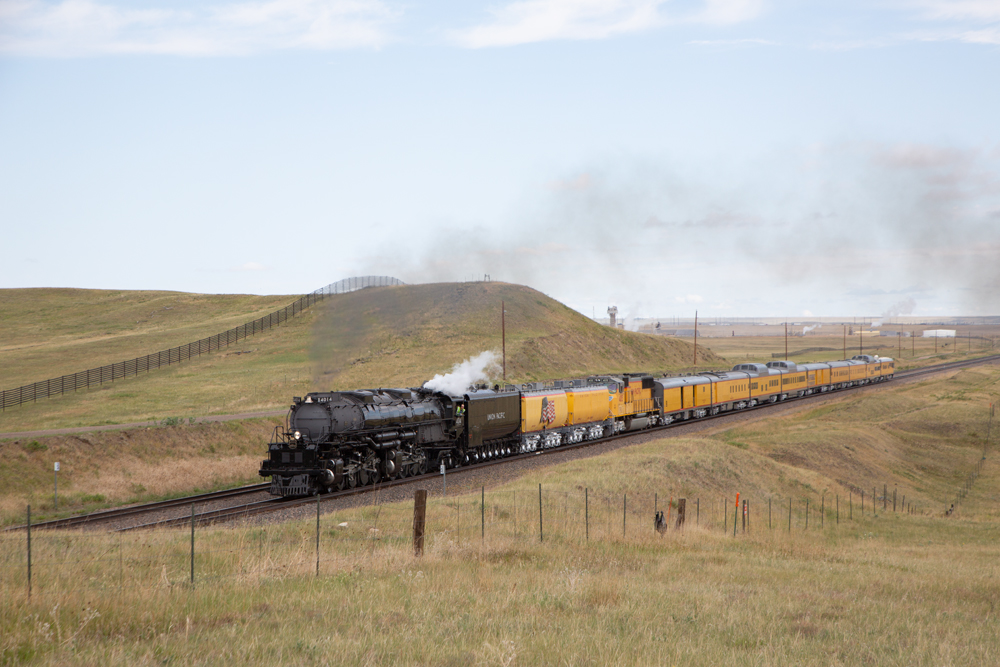 ---
By the time you're reading this article, Big Boy No. 4014 will already be heading the Home Run Express to Omaha, Neb. for the NCAA Men's College Baseball World Series. While passenger excursions aren't available for this trip – save for the cab ride auction – Union Pacific Railroad is offering multiple opportunities to safely experience the massive 4-8-8-4. A schedule of service stops and display days are included in this nearly month-long tour.
Summer Schedule
June 7: Cheyenne, Wyo. to Gering, Neb.
June 8: Gering to North Platte, Neb.
June 9: North Platte public viewing
June 10: North Platte to Grand Island, Neb.
June 11: Grand Island to Council Bluffs, Iowa
June 14: Council Bluffs to Omaha
June 15 – 26: Omaha public display and viewing
June 27: Omaha to Council Bluffs
June 29: Council Bluffs to Grand Island
June 30: Grand Island to North Platte
July 1: North Platte public viewing
July 2: North Platte to Sidney, Neb.
July 3: Sidney to Cheyenne
Visit the UP Steam website for more information.
Canadian Pacific No. 2816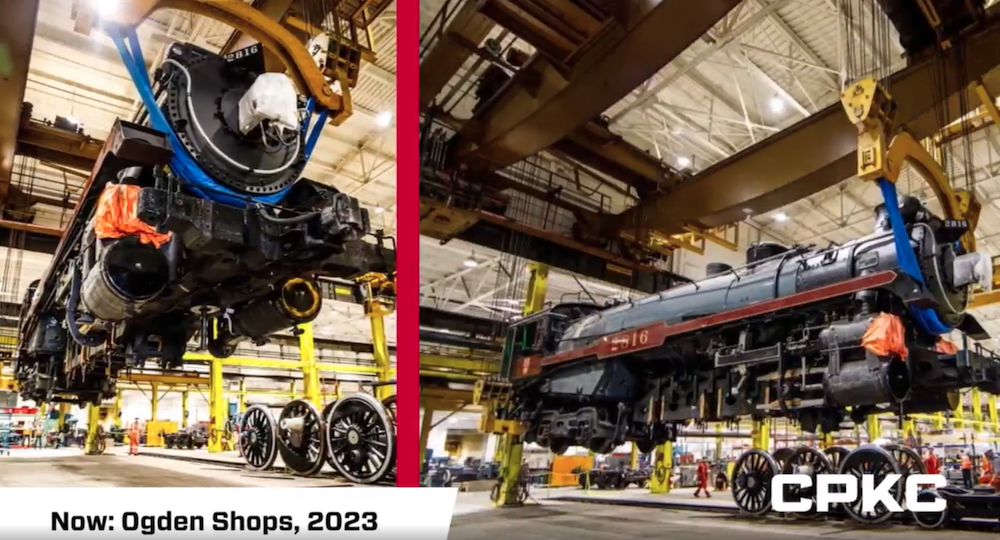 ---
The April merger of Canadian Pacific and Kansas City Southern into CPKC is leading toward a transnational celebration in the form of The Empress' return to the main line. A June 2 social media post showcased significant wheelwork to ex-CP 4-6-4 No. 2816 while teasing the proposed summer 2023 tour. While the official schedule has yet to be released, CEO Keith Creel states that No. 2816 will pull the railway's business train from Calgary to Mexico City. A trek of this size will no doubt highlight the 2023 summer of big steam.