Introducing The Empress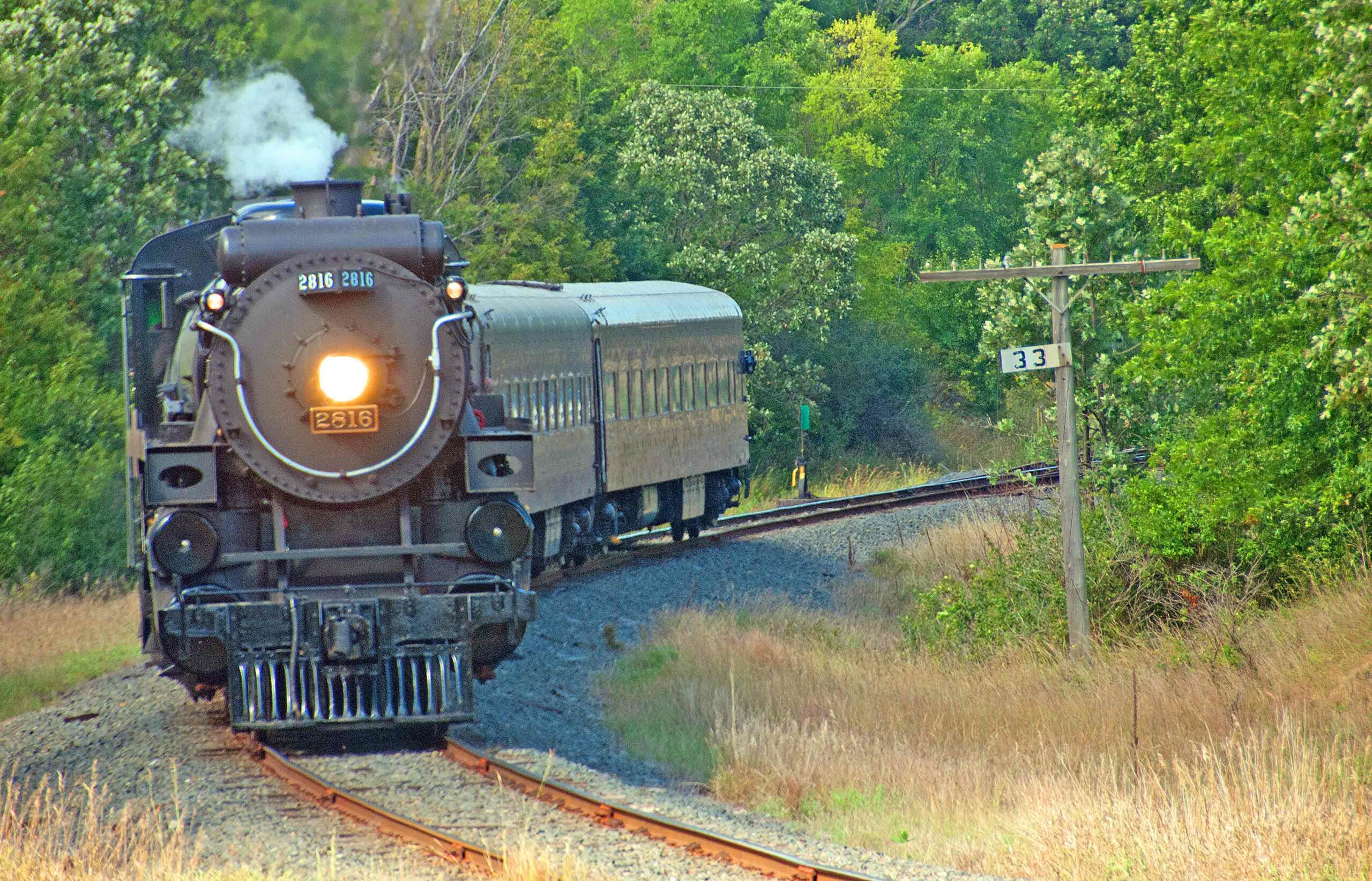 Canadian Pacific 2816 The Empress: Canadian Pacific President and CEO Rob Ritchie set the steam preservation world on its ear when in 1998 he revealed the railway's plan to repatriate CP H1b Hudson No. 2816 from its long-time home at the National Park Service's Steamtown museum and rebuild the 1930-vintage locomotive for mainline service. Impossible! Skeptics declared. The 2816 was a rusted derelict hulk. One of a half-dozen CP steam locomotives acquired in 1963 by Nelson Blount's Steamtown Foundation, 2816 had languished unprotected and unrestored in outdoor storage in New England and Pennsylvania for some 35 years. Critical components were damaged or missing. The cab was stripped of gauges and other appurtenances. Steel was rusted through in too many places to count. Ritchie was resolute: 2816 was coming home to Canada and would steam again.
Returning The Empress to Canada
The Hudson left Scranton, Pa., for Calgary, Alberta, on Sept. 12, 1998, on a special train drawn by Tuscan and grey CP FP7 No. 1400 along with GP38-2 No. 3069 and St. Lawrence & Hudson GP9 No. 8216. It was subsequently moved to the BC Rail steam shop in North Vancouver, British Columbia, where Al Broadfoot and the BC steam crew were contracted to rebuild 2816 from the rails up.
Overhauling 2816
This was to be no ordinary overhaul. The locomotive was completely disassembled, and every component, appliance, bushing, and bearing was reconditioned or replaced as 2816 was built back to better-than-new standards for 21st century mainline service. Work that couldn't be done in house was sent out. The boiler went to Doyle McCormack in Portland, Ore., for rebuild and the drivers were shipped to the Tennessee Valley Railroad Museum in Chattanooga, Tenn. Hundreds on smaller components that could not be rebuilt, everything from crown and rod brasses to superheater manifold and return bends, were recreated by local foundries and fabrication shops. The locomotive received an all-new cab and was converted from coal-fired to oil-burning.
CP invested more than $2 million in the three-year rebuild, a process that was not without angst, drama, and extraordinary dedication. Although the initial assessments of the 2816 were as accurate as possible and budgets set accordingly, disassembly revealed the locomotive to be in worse shape than expected. Time and money were running short and CP management was losing patience with the increasingly expensive undertaking. While the shop crew wrestled to deal with the extra work, Bill Stetler did double duty.  Stetler had come to know 2816 working as Doyle McCormack's lead man during the rebuild of her boiler, and had been brought up to North Vancouver as CP's newly appointed Manager of Steam Operations to manage the final reassembly of the struggling overhaul. Stetler worked logistical, strategic, and budgetary wonders to not only accomplish the extra work, but to allay fears that the dream might be scuttled. When No. 2816 emerged from the shop in August 2001 under steam for the first time in more than 40 years, Stetler stood among the many unsung heroes who'd made it possible. He would also be the locomotive's official engineer and share alternating turns at the throttle with Doyle McCormack as the 70-year-old Hudson made a triumphant five-day debut run from Port Moody, B.C. to Calgary.
Rewarding competent leadership
In the days leading up to her West coast departure, and after her arrival in Calgary, a number of CP executives took note of Stetler for his excellence and professionalism.  From running a lathe to managing the budget, to meetings with the CEO, back to the fireman or locomotive engineer's chair, along with his ability to mentor and lead, the decision was made that he would be the man to lead the program.
Christened "the Empress," a name rich in Canadian Pacific history, No. 2816 quickly set to fulfilling Ritchie's mandate that the locomotive be employed as an ambassador of community relations, for charitable and educational causes, and to celebrate the railway's proud history and heritage. The Empress was duly assigned to work school trips and benefits to raise funds and awareness to fight hunger, and in the ultimate of achievements worked a number of transcontinental tours.
2816's future
Still serviceable, the locomotive has kept a low profile in recent years and needs re-certification and other statutory work. Covid, too, has been a limiting influence. However, the Empress drew rave reviews from a worldwide audience for its appearance — under steam —as part of the virtual CP Holiday Train performance in December 2020.
Although four examples of CP's celebrated Royal Hudsons have been preserved, 2816 is the sole survivor of the 20 H1a and H1b standard 4-6-4s that preceded them. It is also the only CP Hudson in operating condition.