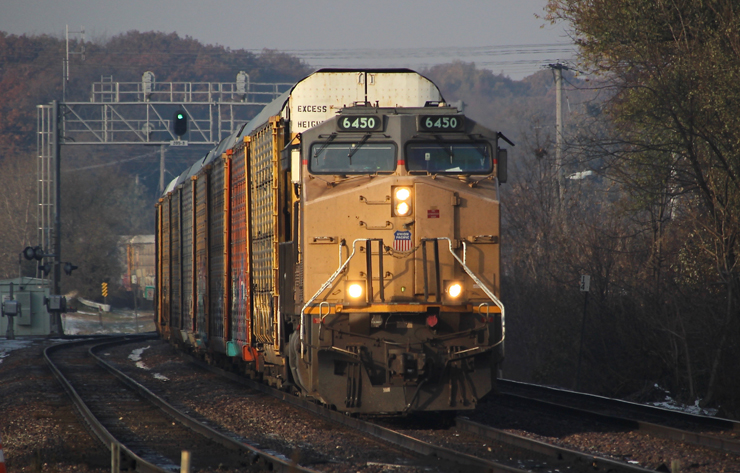 TRAINS: David Lassen
Union Pacific summary
Omaha, Nebraska-based Union Pacific Corporation is a railroad holding company for the Union Pacific Railroad Company (UP). It controls one of the largest railroads in the world and by certain measures, the largest private railroad in the world. The railroad's operations extend from Chicago south to Texas, west to Los Angeles, and north to the Pacific Northwest. The current company was incorporated in 1969, but the railroad traces its roots to Abraham Lincoln and the signing of the Pacific Railway Act of 1862.
Union Pacific is primarily an East-West railroad and competes directly with BNSF Railway for traffic. It connects with five other class I railroads in Chicago. Union Pacific also has cross-border interests in Mexico through its part-ownership of Ferromex.
UP operated over 32,340 route miles and employed an average of 37,500 employees during 2019.
History
UP began as the easterly link in the nation's first transcontinental route from Omaha to Promontory, Utah, near Ogden, completed May 10, 1869. The railroad later added lines serving Kansas City, Denver, Los Angeles, Portland, Ore., and Seattle.
UP acquired the Western Pacific in 1981 and the Missouri Pacific in 1982, extending its system to San Francisco and throughout the south central states. In 1988, it added the Missouri-Kansas-Texas ("the Katy"), linking Kansas City with Houston and San Antonio, Texas.
On June 23, 1995, UP acquired the Chicago & North Western, long its link from Omaha to Chicago and Minneapolis. C&NW's earliest predecessor dated from 1848. In the 1970s, C&NW subsidiary Western Railroad Properties Inc. began operating the lucrative Powder River coal line with competitor Burlington Northern.
On September 11, 1996, UP acquired Southern Pacific Lines, expanding its system by over 14,000 miles, and in the process, bringing the eastern and western halves of the nation's first transcontinental railroad under common ownership. SP arced around the U.S.'s western and southern perimeter from Portland, Ore., to New Orleans, plus the line from Sacramento, Calif., to Ogden, Utah, which was the Central Pacific portion of the transcontinental route.
Included in the acquisition were SP subsidiaries Denver & Rio Grande Western and St. Louis Southwestern (Cotton Belt), adding lines from Ogden to Denver, Kansas City, St. Louis and Chicago to the UP system.
Lance M. Fritz — Chairman, President and Chief Executive Officer
Printz Bolin — Vice President — External Relations
Eric Gehringer — Executive Vice President — Operations
Jennifer Hamann — Executive Vice President and Chief Financial Officer
Rahul Jalali — Senior Vice President — Information Technologies and Chief Information Officer
Scott D. Moore — Senior Vice President — Corporate Relations and Chief Administrative Officer
Clark J. Ponthier — Senior Vice President — Supply Chain and Continuous Improvement
Craig V. Richardson — Executive Vice President, Chief Legal Officer and Corporate Secretary
Kenny Rocker — Executive Vice President, Marketing and Sales
Beth Whited — Executive Vice President-Sustainability & Strategy & CHRO
History provided by Matt Van Hattem.