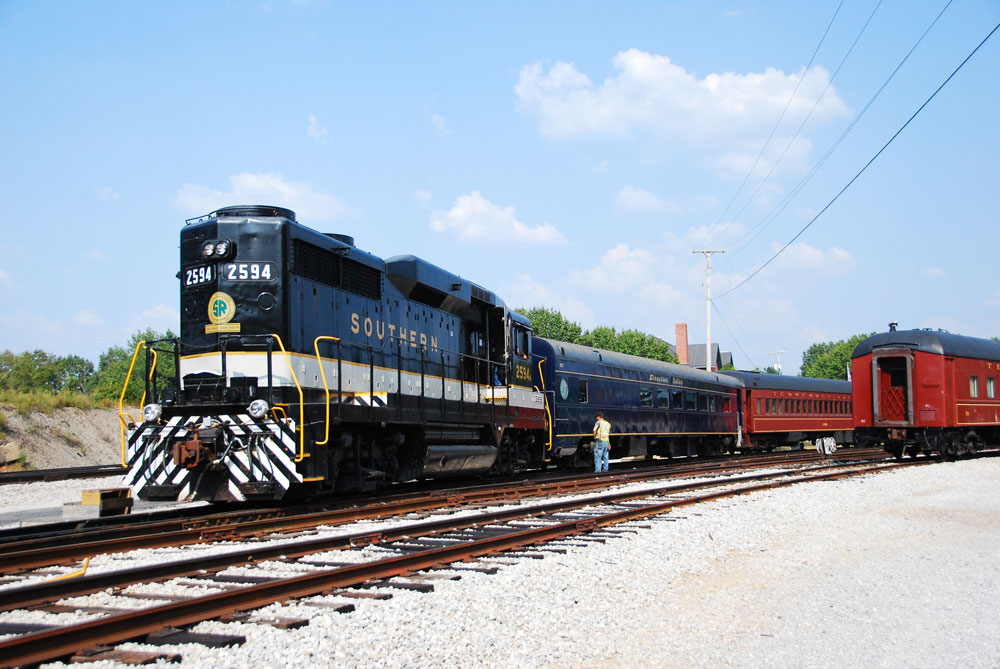 Southern Railway GP30 No. 2594 switches coaches in the yard at Tennessee Valley Railroad Museum. Photo by Trains: Jim Wrinn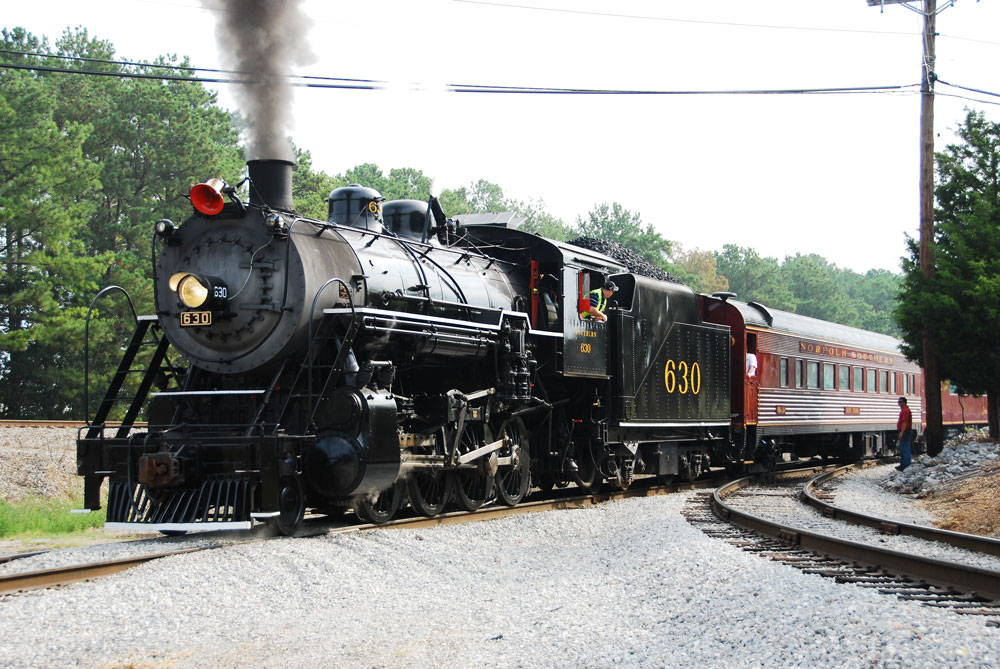 Southern Railway 2-8-0 No. 630 leads a passenger train into TVRM's Grand Junction depot. Photo by Trains: Jim Wrinn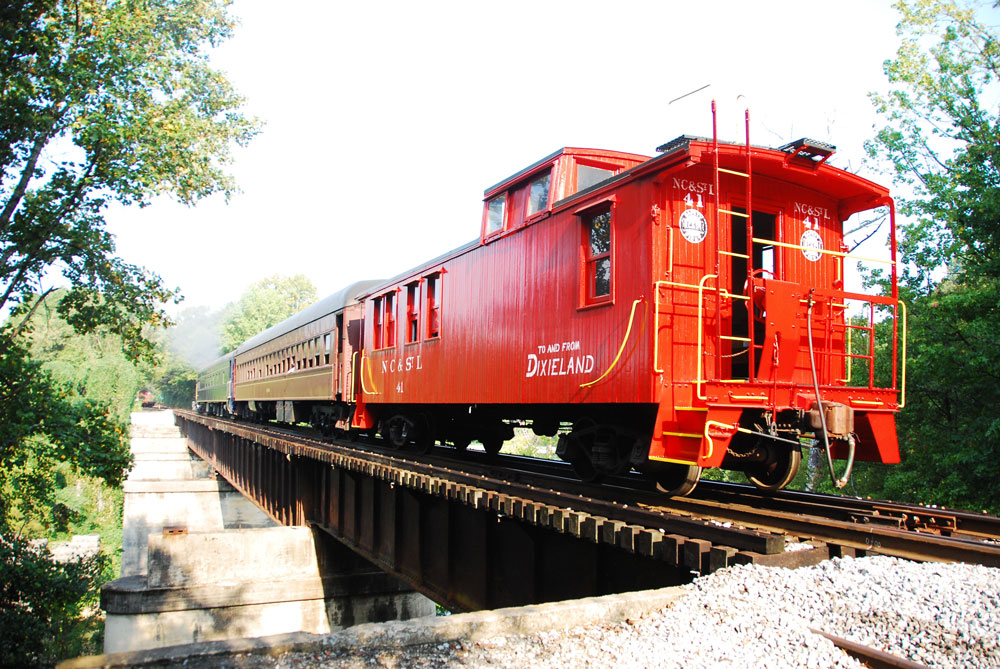 Nashville, Chattanooga & St. Louis wood caboose no. 41 trails a TVRM train over the South Chickamauga Creek in Chattanooga. Photo by Trains: Jim Wrin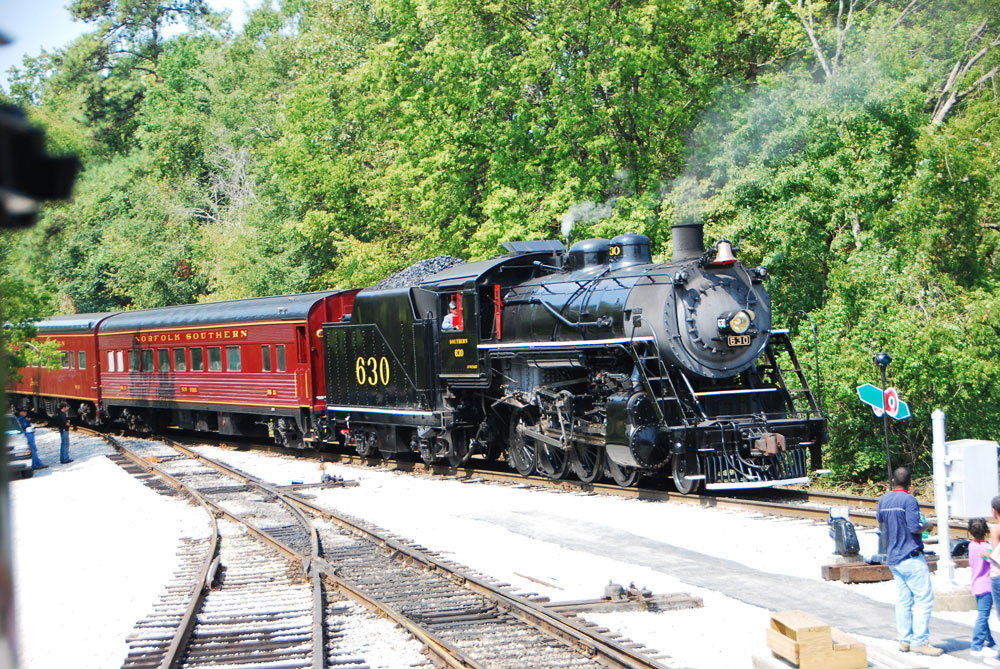 Southern Railway No. 630 pulls an excursion train into the Grand Junction depot. Photo by Trains: Jim Wrinn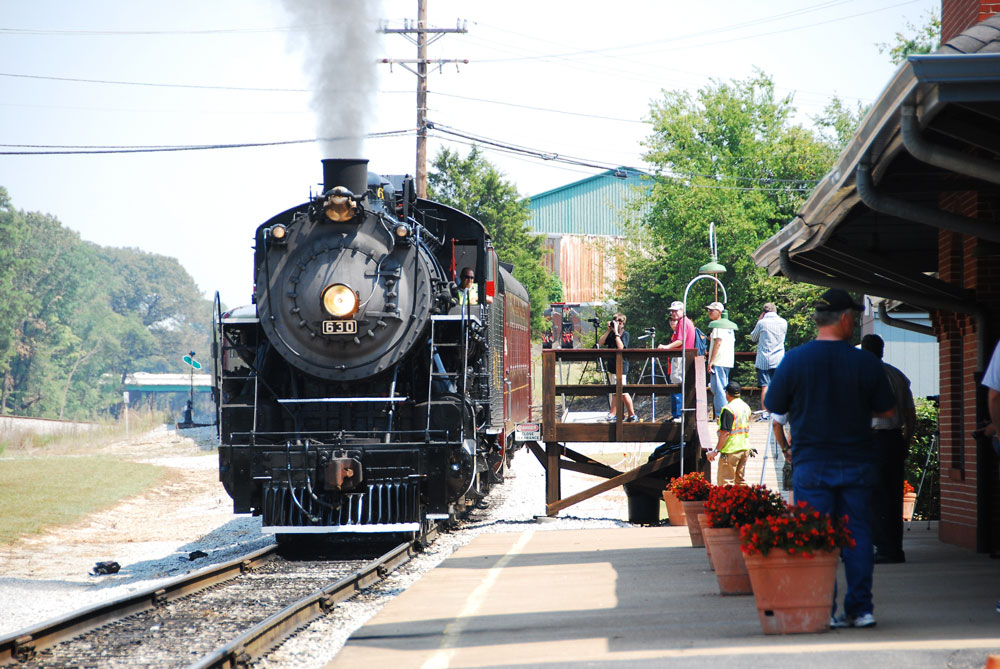 Southern Railway No. 630 arrives at the platform at TVRM's Grand Junction depot. Photo by Trains: Jim Wrinn

Visiting Tennessee Valley Railroad Museum
If you took a major Class I railroad in the early 1950s, shrunk it, and set it aside to show people today what a section of big-time, steam-era railroading was all about, you'd create Tennessee Valley Railroad Museum.
Set on a portion of Southern Railway's original main line into Chattanooga, and partly created from scratch since the 1970s, TVRM may be North America's most perfect preservation railway in a package that the public can appreciate and absorb. It's a short railroad, which is good for today's attention spans, but it packs a wallop into that: There's a major depot set inside a wye. There's a yard full of rolling stock to explore. There's a busy Class I railroad next door for train-watching. There are bridges, a tunnel, and another depot with a turntable and shop to explore. Best of all, the train looks like it should with a road engine and a mixture of traditional heavy and lightweight passenger cars. It gets up and moves at more than a walking pace. It hits all of the right buttons.
Given that it's located in an urban-to-suburban corridor, TVRM's route is nothing less than amazing for scenic beauty and a feeling of permanence. Short of the United Kingdom, where every tourist railroad feels like you just set foot into the 1950s or early 1960s, TVRM may be one of the most alluring standard gauge steam operations on the continent.
Locomotive highlights
In addition to the railroad's physical attributes that lend themselves to an outstanding experience, TVRM is home to some of America's most beloved steam locomotives that are in operation today: Southern Railway 2-8-2 No. 4501 and Southern Railway 2-8-0 No. 630. Both veterans of the original Southern Railway excursions from 1964-1994, the two have been everywhere, and their charm and appeal as basic freight hogs of the turn of the century is undeniable. The two plus a handful of historic diesels are usually on point.
In addition to the railroad with on-site excursions on a daily basis in season, TVRM operates longer weekend steam excursions into scenic north Georgia on its shortline partner, Chickamaugua & Chattooga, a Genesee & Wyoming line. These trips leave TVRM's normal route, pass through the industrial side of town, and emerge on the south side of the city, where they romp along in the countryside, passing small towns and through a Civil War battlefield. Destinations include Chick and for a day-long trip that includes a meal in the dining car, Summerville, Ga.
Where to stay and more to do
Best of all, TVRM is in a target-rich environment for the railroad enthusiast or the traveler. You can stay in a standard hotel in the city or enjoy the railroad ambiance of the Chattanooga Choo Choo hotel in the 1909 Terminal Station. Both Norfolk Southern and CSX have busy major main lines in town. The route  of the Great Locomotive Chase is just to the south, including Tunnel Hill. An incline railway runs to the top of Lookout Mountain. History lovers can look for abundant Civil War history. Foodies will love the traditions and twists on great Southern food.
More information is available online.