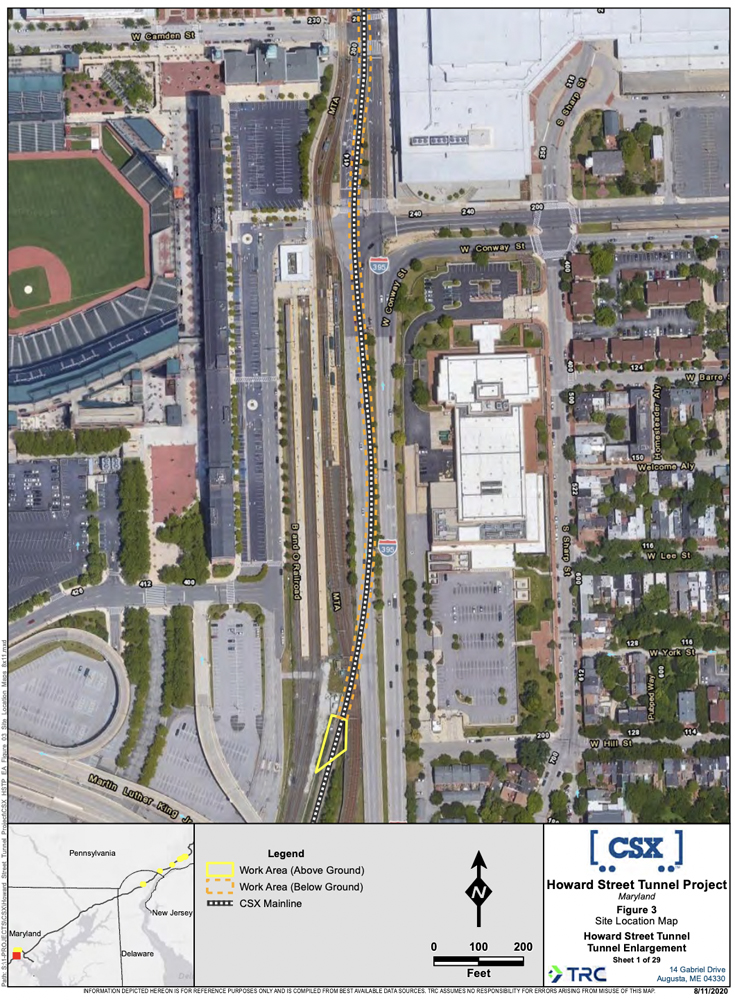 PHOENIX — There is A LOT going on in terms of capital projects for CSX Transportation — enough that Ed Sparks, the railroad's chief engineer, bridges, design & construction — had no problem running well past his scheduled 25-minute slot Saturday at the National Railroad Construction & Maintenance Association Conference.
Rest assured the audience did not mind. For the contractors in attendance, the 2022 projects represent potential business, and the 2021 work reviewed by Sparks represents jobs well done. For everyone else, they're an insight into the work that is sometimes required on a railroad with roots dating to the founding of the Baltimore & Ohio in 1828.
One good example: the long-discussed Howard Street Tunnel in Baltimore, along with related clearance projects which will allow double-stack container traffic to reach the Port of Baltimore.
With the lengthy funding and permitting processes complete, a ceremony for the start of work on the 1.4-mile tunnel under central Baltimore, which dates to 1895, was held in November [see "Groundbreaking set for Baltimore tunnel project," Trains News Wire, Nov. 29, 2021].
Contracts for the main tunnel project, which will lower the track and/or modify the arch of the stone tunnel, are expected to be awarded by mid-year, with construction starting before the end of 2022.
"It's the last main link on the core routes of our network that's not cleared for double-stacks," Sparks said, "and by 2025, it will be. … We run right under the street, and there's not a lot of cover there. And just to add to the difficulty, there's also light rail over top of us in that street, as well. If it was easy, it would have been done decades ago. It's not."
That's a theme of several pieces of the project. Another is the related North Avenue Bridge, where the CSX main line passes under the street of the same name. At first glance, it looks like a fairly straightforward, if aging, underpass featuring stone arch masonry.
"What you don't see is that inside what looks like a tunnel is a bridge that goes over Amtrak's tunnel," Sparks said. "Amtrak's Northeast Corridor goes underneath us; this is their B&P Tunnel "[itself a subject of replacement efforts. … So we've got road, railroad, and then railroad tunnel. And we need to get another four-plus feet of clearance in there.
"That should be easy," he joked. "A lot of smart people in this room, and the companies you represent, please figure this out, because we need to get that done by '24."
Two other bridges have to deal with water mains, and Sparks also shared a photo of eight other clearance jobs to be addressed as part of the southern portion of the project. "Those are all big deals, but it kind of becomes routine compared to some of the other, higher-profile projects nearby. And this is just all just for the Bayview South half of the project. We've also got the Bayview North half of the projects, thought the remainder of Maryland, Delaware, and Pennsylvania." Five of the eight clearance projects in that segment are expected to see construction bids awarded by the third quarter of 2022.
"The goal is to have achieved clearances in 2024 coming from the north, from Philadelphia and the Port of Baltimore," Sparks said, "and in '25, getting through Howard Street Tunnel to get to the Port of Baltimore from the South."
Other projects
Work is also proceeding in Virginia, where CSX and the commonwealth forged a landmark agreement in 2019 to create separate freight and passenger rights-of-way south of Washington D.C. [see "Virginia, CSX announce major rail infrastructure plan," News Wire, Dec. 20, 2019, and "Plans take shape for how Virginia-CSX agreement will reshape rail travel," News Wire, Jan. 27, 2020].
In all, projects worth more than $3 billion are taking shape in Phase 1. CSX is taking the lead on five of those — a fourth main track through Alexandria, a third track from Franconia to Lorton, and three sidings — valued at more than $1 billion. The Virginia Passenger Rail Authority is out front on $2 billion worth, including the Potomac Long Bridge, a Franconia-Springfield bypass, and six stations either proposed or set for upgrades.
The Alexandria main is in design and permitting, and will be contracted out as soon as those processes are complete.
"As soon as we get notice to proceed from Virginia for the various parts and pieces, we're entering into agreements," Sparks said. "Keep your eye on Viriginia; there's a lot going on in the railroad sphere."
Efforts are also continuing to advance CSX-related work that is part of Chicago's CREATE project, most significantly the South Side's Forest Hill Flyover (P3 in the CREATE naming system), which will address one of the region's most notorious bottlenecks, the cluster of diamonds where CSX and its Baltimore & Ohio Chicago Terminal cross the Belt Railway of Chicago and Norfolk Southern, the latter of which hosts Metra commuter service.
"This is a big deal for operations in Chicago. … When it's morning rush hour and evening rush hour, you don't run freight trains. You run the commuter trains." This is particularly difficult for CSX because its 59th Street Intermodal Facility essentially abuts the diamonds. "Imagine running a hotshot intermodal train from New York to Chicago. You can see the terminal. You just can't get there because it's commuter rush hour." That project will go out to bid in the first quarter of 2022 and be awarded in the second quarter.
Other ongoing CREATE projects include grade-crossing separation projects adjacent to the 59th Street facility; and Dolton Interlocking, which involves C&O and its B&OCT, Indiana Harbor Belt, Union Pacific, and NS, which should go out to bid later this year.
Also to come: "an aggressive capital campaign" on New England's Pan Am Railway, if the CSX purchase of Pan Am passes muster with the Surface Transportation Board; a new intermodal container yard at 63rd Street in Chicago, adjacent to the 59th Street terminal, which should be done this year; and five siding extensions, plus a project in Montgomery, Ala., including both a siding extension and work on Chester Yard.
 2021 in review
A number of intermodal projects highlighted work completed by the railroad in 2021. The long-discussed Carolina Connector in Rocky Mount, N.C., is one example [see "CSX Transportation celebrates ..," News Wire, Nov. 18, 2021], but perhaps not the project most reflective of current conditions.
"It's not a secret to anybody that the logistics challenges of the last year put a lot of strain on our intermodal networks," Sparks said. "The response to that has been a quick-to-market expansion where we could of container yards and parking."
On example was Avon Yard in Indianapolis, where a stub-end facility has been double-ended and extended, with expanded parking. That project will conclude this month. Other intermodal work came at facilities in Savannah, Ga; Bedford Park in Chicago; North Bergen and Kearny, N.J., Northwest Ohio, Memphis, Buffalo, and Nashville.
The railroad has also opened its new Tilford Transflo transloading facility at the former Tilford Yard in Atlanta, and is nearing completion of a new storage-in-transit facility for Shell Oil in McKees Rock, Pa.