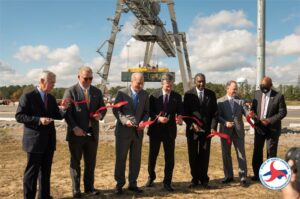 ROCKY MOUNT, N.C. — CSX hosted North Carolina Gov. Roy Cooper, N.C. Department of Transportation officials, and others at the official ribbon-cutting today for the $160 million Carolina Connector, the newest intermodal terminal on the CSX network.
Strategically located northeast of Raleigh, N.C., with easy access to Interstate 95, the new CCX terminal will help relieve port and highway congestion by adding rail-to-truck transfer capacity for domestic and international container shipments. The state of N.C. paid for 75% of the new yard. Its expected to generate 1,300 new indirect jobs in the state.
At the facility's grand opening Nov. 18, officials from CSX and the North Carolina Department of Transportation, which shared construction costs, hailed the terminal opening as a positive development for both the regional economy and the nation's supply chain.
"Millions of people live within 120 miles of this terminal," said Eric Boyette, NCDOT secretary. "The Carolina Connector will spur business development, divert thousands of trucks off highways and provide much needed jobs in this fast-growing region."
Located on 330 acres near the former Atlantic Coast Line shop town of Rocky Mount, N.C., on the CSX A Line, CCX features three wide-span, zero-emission electric cranes with a lift capacity of 110,000 containers per year. Most of the container handling will be fully automated with operators safely controlling the initial lift and final placement from inside the terminal building.
In addition to its remotely operated electric cranes, CCX maximizes safe and efficient truck movement through the facility with CSX's XGate technology that automates the in-gate process, streamlines traffic flows, and automatically inspects loads leaving the facility.
"CSX appreciates our partnership with the North Carolina Department of Transportation, and we thank the state for its contribution toward making this project possible," said Nathan Goldman, CSX executive vice president and chief legal officer. "The CCX terminal is a demonstration of how CSX is creating sustainable supply chain solutions for customers by expanding our intermodal network in Eastern North Carolina and connecting to the busy I-95 corridor. We are proud that this project will be a catalyst for economic growth and development in the region."
Norris Tolson, chief executive officer and president of Carolinas Gateway Partnership, commented, "The Carolina Connector is a welcome asset for North Carolina. This event gives us the opportunity to celebrate the hard work and cooperation between NCDOT, CSX, Carolinas Gateway Partnership and other partners. This collaborative effort will pay dividends to North Carolina citizens for years to come."
Plans for a massive Carolina Connector sorting hub were shelved when then-CEO E. Hunter Harrison scrapped the railroad's hub-and-spoke intermodal strategy for serving lower-density markets. The sorting hub, which would have been modeled after a similar facility in North Baltimore, Ohio, would have had capacity for 260,000 lifts, with up to 500,000 lifts envisioned with subsequent expansions.
Under the hub-and-spoke plan, the terminal would have served the broader Mid-Atlantic market as well as local traffic. But the hub-and-spoke system did not generate enough profit to be worthwhile, Harrison concluded, and also added a day to transit times.
— From staff and CSX reports