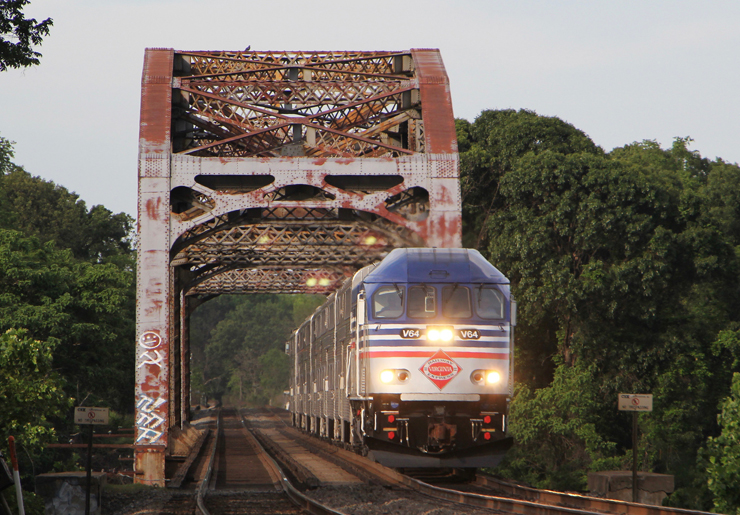 ---
ARLINGTON, Va. — The Commonwealth of Virginia and CSX Transportation have reached a deal on a $3.7-billion plan that will address rail congestion south of Washington D.C. by separating passenger and freight operations, allowing for a significant expansion of passenger and commuter rail services.
The agreement announced Thursday will create a new, state-owned Long Bridge over the Potomac River, for exclusive use by passenger and commuter rail; lead to state acquisition of more than 225 miles of track and 350 miles of rail right-of-way; and include 37 miles of track improvements, including a passenger-train flyover between Franconia and Springfield, Va.
Virginia Gov. Ralph Northam called the agreement "a once-in-a-generation opportunity to make our rail system work better for everyone, both in Virginia and on the entire East Coast." Katie Crisol, chair of the operations board for commuter service Virginia Railway Express, said the deal "will enable us to grow VRE to include new riders, new hours, and weekend service, thereby improving the quality of life and increasing economic opportunities for tens of thousands more Virginians."
Other aspects of the agreement, to be phased in over a 10-year period, include:
—  Doubling the number of Amtrak trains in Virginia, and provindg nearly hourly service between Richmond and Washington;
— Increasing VRE service by 75 percent along the Interstate 95 corridor, with trains operating on 15-minute intervals during peak periods;
— Increased Amtrak service to Newport News, Va., and an improved schedule for the third Amtrak train to Norfolk;
— Acquisition of the abandoned S-Line, from Petersburg, Va., into North Carolina, for future high speed rail service;
— Preserving an existing freight corridor between Doswell, Va., and Clifton Forge for future east-west passenger service.
The existing two-track Long Bridge over the Potomac handles 34 VRE trains, 24 Amtrak trains, and 18 CSX freight trains daily, and has long been a bottleneck for rail traffic out of Washington. [See "Highway tolls could help fund VRE, DC Metro projects," Trains News Wire, Dec. 18, 2019.] The new bridge will ease that problem, and is part of a package of infrastructure improvements that will also include a fourth track between Crystal City and Alexandria, Va.; a third track between Franconia and Lorton, and the Franconia-Springfield flyover.
Amtrak has approved a memorandum of understanding with Virginia supporting its role in the project. "Amtrak is thrilled to be supporting this game-changing rail investment program as an investor and partner," Stephen Gardner, Amtrak senior executive vice president and chief operating and commercial officer, said in the state's press release. "This program is a model for the nation of how to grow passenger and freight service together in order to relieve congestion, protect our environment, and enhance mobility."