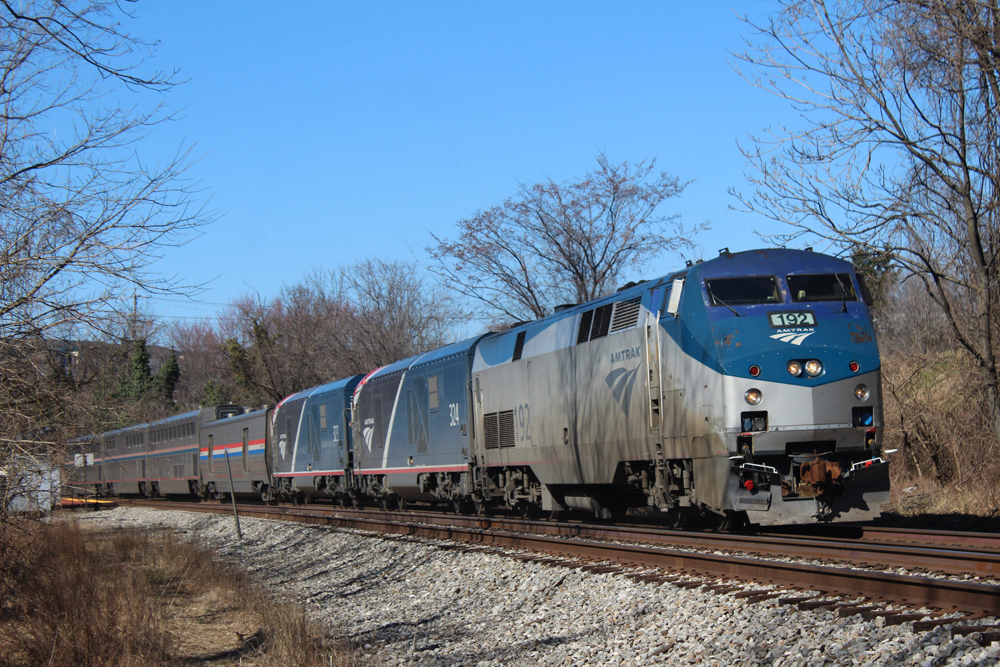 ---
WASHINGTON — For passengers on long-distance trains, compared to those on the Northeast Corridor, Amtrak is falling short of its pledge to "restore our business to pre-pandemic levels," as voiced by Vice President Dennis Newman at a public Board of Directors meeting in St. Louis last December.
Demand for long-distance travel was the strongest among the company's product lines as travel resumed following the pandemic, but capacity issues meant those trains could not fully meet demand [see "Analysis: coach sellouts hinder …," Trains News Wire, Jan. 4, 2021]. And the company did not sufficiently reverse the long-distance shortfall as it bulked up departures elsewhere.
Now, a Trains News Wire analysis of revenue and ridership trends shows that Northeast Corridor and state-funded routes have begun to show larger gains than the capacity-constrained long-distance network.
The long-distance capacity issues have their roots in the reduction of service from daily to three or five times per week (along with the suspension of the Silver Meteor for eight months in 2022). This permitted Amtrak to store much of the equipment and decrease the workforce necessary to run daily schedules. Though frequencies have been restored, management has not prioritized returning enough sidelined Superliners, Viewliners, and Amfleet II coaches to active duty. (Amtrak has regularly cited an ongoing shortage of maintenance personnel for the large number of cars still out of service)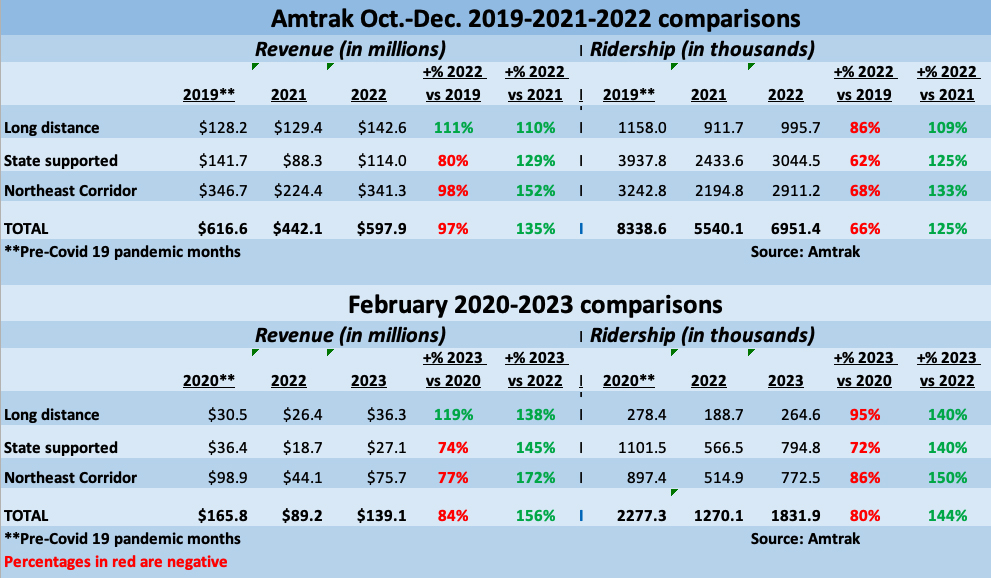 Even with reduced consists when frequencies were restored, long distance trains were able to retain a greater portion of their ridership and actually exceed the previous period's revenue than either the Northeast Corridor or state-supported categories.
But the numbers show those two services, without the same sort of caps on capacity, have been increasingly able to take advantage of a growth in demand between 2021 and 2022.
The diminished long-distance fleet has led to numerous sellouts, high fares for the limited available space [see "Amtrak long-distance capacity to remain tight …," News Wire, " Nov. 16, 2022], and a litany of mechanical breakdowns or outright cancellations when freight congestion or weather disruptions occur [see "Amtrak Chicago departure delays mount," News Wire, Feb. 4, 2023].
Coach seats on the Chicago-Washington Capitol Limited, the only daily train between the two cities, are sold out in both directions from April 1 through April 11, because the train carries only it two Superliner coaches. Similar situations continue to periodically thwart patronage on the Texas Eagle, California Zephyr, Southwest Chief, and Empire Builder.
The table shows management has to date succeeded in extracting more revenue from passengers in all categories, evidenced by the fact that revenue gains are outpacing ridership increases. Nevertheless, both state-supported and Northeast Corridor business segments can attract more people with cheaper pricing. The company recently introduced sharply reduced late-night and early-morning "Night Owl" fares on the Corridor, a route that offers both frequency and plenty of seats [see "Amtrak launches ultra-low fare promotion …," News Wire, March 17, 2023]
It makes sense to raise fares if capacity is limited when demand is high, since fewer passengers who want to travel can be accommodated. The expense of maintaining more equipment isn't incurred, although the opportunity cost of lost revenue is never realized and idle sleeping car and coach assets can't generate revenue at any price.
Funding debate
 However, providing national mobility is a key component of Amtrak's mission. This is what Congress had in mind when it developed funding authorizations — spending limits, not appropriations — for the 2024 fiscal year that begins Oct. 1.
"Our trains deliver travelers from city centers to small towns and everywhere in between — often serving as the only regular alternative to traveling by private car in various intercity markets and in rural areas across the country," CEO Stephen Gardner argues in his $3.65 billion appropriation pitch [see "Amtrak releases annual funding request …," News Wire, March 23, 2023].

The document contends that a higher percentage of those funds than Congress had intended should be transferred to the Northeast Corridor from the National Network, because the shift from business to leisure travel has reduced the ability of the premium-priced Acela category to contribute as much revenue as it did before the COVID-19 pandemic. With new trainsets coming, management is seeking to replace the missing money from federal coffers.
On the other hand, the immediate restoration of long-distance capacity to pre-pandemic levels is not specifically addressed in any line-item entries. Comparative revenue and ridership results confirm the need for more National Network investment to capture demand, not less.