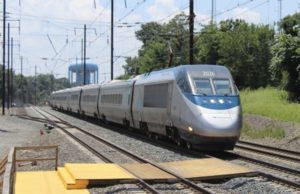 CHICAGO — In a period when the COVID-19 pandemic has made travel more of a last-minute decision than it has been in the past, a Trains News Wire review shows Amtrak passengers on the Northeast Corridor continued to purchase tickets throughout the New Year's holiday weekend. Such late decisions are not an option for passengers on many long-distance routes, where the move to triweekly operation has been exacerbated by limited coach-seat availability.
Although Amtrak has expanded sleeping-car capacity on some trains in an effort to meet increased demand, sellouts in coach are still depriving the long-distance segment of revenue and ridership. These are factors the company says it will evaluate on a route-by-route basis to determine whether to restore daily service.
Amtrak permits coach occupancy at no more than 50% capacity on all trains as part of its current health safety protocols. This means those not traveling with someone else are guaranteed to have a seat by themselves, greatly enhancing their onboard experience at a time when airlines and other public transportation providers have dispensed with previous commitments to guarantee social distancing. The company has repeatedly stressed this advantage in advisories, advertising, and social media posts. The percentage of each train's seats sold are displayed on Amtrak's website for the segment passengers seek to book.
Northeast corridor: Late bookings increase patronage

Trains News Wire checked throughout the New Year's holiday weekend to track available capacity for Jan. 3 on Northeast Corridor trains leaving Boston, New York, and Washington. This followed a similar effort in November for the Sunday after Thanksgiving [see "Amtrak sees only scattered Thanksgiving sellouts," News Wire, Nov. 29, 2020.
Early in the weekend, fares and percentages of seats sold for 22 southbound trains from New York and 19 northbound trains from Washington, both Acelas and Northeast Regionals, were generally lower than they had been on the post-Thanksgiving trains of Nov. 29. But as sales continued over the course of the weekend, occupancy rates and ticket prices both increased. This reflects the yield-management practice that encourages early booking while maximizing revenue.
With some exceptions at the beginning and end of the travel day, seats sold wound up in the 35-45% range (45% is the maximum displayed). This was also the case for the 11 New York-Boston round trips. The only trains with no coach seats available north of Washington on Sunday were the Carolinian to and from Charlotte, N.C., and the northbound Silver Star from Miami.
Long-distance: limited departures already sold out

Availability was far different on most trains operating only three times per week. News Wire recorded coach sellouts for at least a portion of 15 long-distance routes for trains departing Jan. 2-4, calculating where choke points occurred. In addition to expected sellouts near a train's terminals, there were some surprises, as indicated in this table.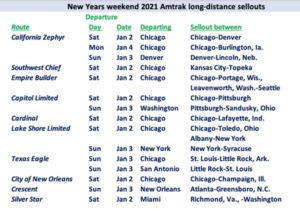 Amtrak has said that expanding consists for holiday travel adds operating costs for what management has repeatedly characterized as "one-off" occurrences. However, coach space on some trains — notably the Chicago-Emeryville, Calif., California Zephyr, Chicago-Washington, D.C., Capitol Limited, and New York-New Orleans Crescent — has been consistently sold out for days or weeks in advance throughout the fall [see "Analysis: Amtrak triweeklies with smaller consists see sellouts, higher fares," News Wire, Oct. 9, 2020].
While it is true that adding coaches would increase staffing, maintenance, and operating expenses, this would be offset by revenue gains. But adding a car also increases charges to the train under Amtrak Performance Tracking accounting system, which do not necessarily reflect the actual cost of operating that car. The accuracy and relevance of these charges have been disputed by state operating authorities [see "California corridors ask Congress to revise Amtrak cost formulas," News Wire, Dec. 11, 2020].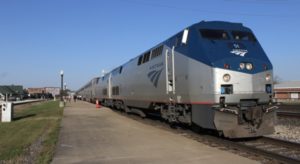 As travel uncertainty continues during the pandemic, last-minute cancellations will affect seat availability and fares on any given day. For instance, the eastbound Capitol Limited leaving Chicago had been sold out in coach through Jan. 11, when two seats to Washington, D.C., were priced at $201 each. But then one seat became available for the Monday, Jan. 4 trip at $105.
The pricing gyrations driven by limited inventory are also illustrated on the Southwest Chief. As of Jan. 4, Chicago-Los Angeles coach fares for the next three departures were $351 for Monday, $232 for Thursday, and $183 for Saturday. The higher fares can choke off demand as surely as the purchase of the last available seat between Chicago and Fort Madison, Iowa, leaving no space available for someone wanting to take a longer trip.
Many passengers who use, or would use, long-distance trains may not travel further than their Northeast Corridor counterparts, who have many more departure options. By increasing capacity on those long-distance trains, Amtrak could capture business today and be ready for increased demand in the future.