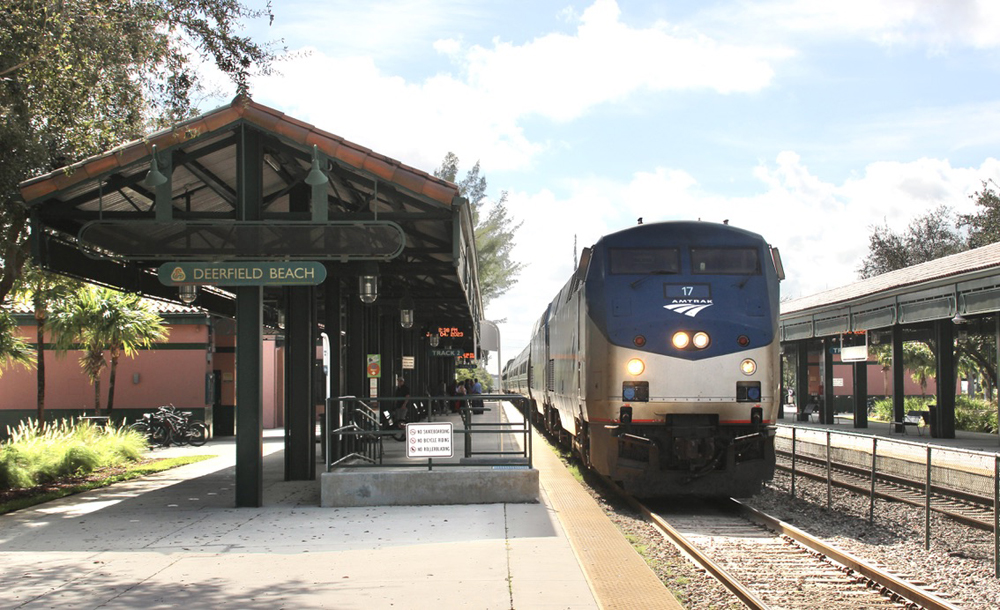 ---
WASHINGTON — Amtrak's annual funding request to Congress seeks $1.7 billion for the Northeast Corridor and $1.95 billion for its National Network needs in the coming fiscal year, as well as almost $9.7 billion in additional funding, according to the General and Legislative Annual Report and Fiscal Year 2024 Grant Request released this week.
The $3.65 billion in the annual grant request — a figure set by Congress in 2021 — includes a significant shift of resources from the 2023 version. A year ago, the company sought $3.3 billion overall, with one third ($1.1 billion) going to the Northeast Corridor and the remaining two thirds to the National Network. The allocation sought this year would devote 46.6% of the funding to the corridor.
The 129-page report including the request, available here, says this shift reflects costs associated with ownership of the Northeast Corridor, compared to the national network, where Amtrak owns little infrastructure; a slower recovery of business-travel demand following the COVID-19 pandemic, which has hurt NEC fare income, particularly on the high-revenue Acela service, "leading to a greater need for federal assistance;" and the NEC's greater reliance on ticket revenue for capital expenses, which means "the NEC has borne an outsized share of the resulting financial strain."
If Congress fails to provide less than base funding needed for the NEC, the report says, the company "will need to take action by either reducing/delaying necessary maintenance and capital work along the NEC, or else transferring funds between the NEC and National Network accounts" as permitted by law. Failure by Congress to provide substainlly less than the authorized $3.65 billion, Amtrak warns in the report, could mean "significant adverse conquences," including missed opportunites to expand and modernize service, as well as deferral or cancellation of maintenance "crucial to the railroad's long-term health."
Amtrak breaks both requests down into "base needs," such as operating and capital expenses, and "modernization," which includes specific improvement programs for both the Northeast Corridor and National Network, station programs for both areas, and other capital investment.
The largest modernization expense is $202.6 million budgeted for the Long-Distance Improvement Program, which the report says includes infrastructure investments to reduce trip times and improve on-time performance, expansion of in-demand services (such as dining-car access for all long-distance passengers), and investments in back shops and other facilities "to enable quicker returns to service for out-of-commission equipment."
The Northeast Corridor would see $200 million for the Trip Time and Speed Improvement Program, which could include projects such as "signal upgrades, curve realignments, and installation of additional higher-speed track within or near the existing NEC right-of-way."
Another $175 million is budgeted for the Chicago Hub Improvement Program, which seeks to make improvements at Chicago Union Station and on routes into and out of the city. Presumably, this would include many of the features envisioned last year when Amtrak sought, but did not receive, more than $250 million via federal Mega Program grant [see "Amtrak unveils infrastructure plan to transform Chicago operations," Trains News Wire, June 10, 2022].
The additional funding requests include some $3.053 billion in Federal Railroad Administration discretionary grants, led by $1.5 billion in funds from the Federal-State Partnership program. That is the program under which Amtrak is seeking funds to study infrastructure work necessary to launch a Meridian, Miss.-Fort Worth, Texas, section of the New York-New Orleans Crescent [see "Amtrak seeks expansion of Crescent …," News Wire, March 10, 2023]. Another $1 billion is sought under the Consolidated Rail Infrastructure and Safety Improvements, or CRISI, grant program. The Southern Rail Commission's $179 million request to fund infrastructure improvements on the planned Gulf Coast service between New Orleans and Mobile, Ala. [see "Grant seeks almost $179 million …," News Wire, Dec. 16, 2022] is an example of how Amtrak benefits from CRISI grants.
The additional funding also seeks some $3 billion under Federal Transit Administration Capital Investment Grants, $2 billion through the Mega Program, and $1.5 billion under the RAISE program. In earlier iterations as BUILD or TIGER grants, notable Amtrak projects funded under that program have included improvements to the route of the Southwest Chief [see "Stakeholders set sights on finishing 'Southwest Chief' route improvements," News Wire, March 12, 2019].