---
ROCKHILL, Pa. — Rail entrepreneur Henry Posner wants to make passenger service more affordable and more available. He calls it Pop Up Metro, and to do it, he's betting on batteries, remanufactured British multiple unit cars, and a bold business model to reduce the risk to potential rail operators.
If it were anyone but Posner, this project might be seen as a crackpot idea with little chance of success. But Posner is the co-founder of Railroad Development Corporation (RDC), which owns Iowa Interstate Railroad along with operations in England, France, Germany, Belgium, and Peru.
A German subsidiary, RDC Deutschland, this year won a contract to operate five routes in north Germany that will use new Stadler battery-electric trainsets [see "Railroad Development Corp. wins contract to operate battery regional trains in Germany," Trains News Wire, Feb. 16, 2021].
Posner spent three years developing the concept for Pop Up Metro, an affiliate of RDC. "We felt that it was the right time," he says. "One, because of the evolution of battery technology, and two, we felt that there would be an increased focus on the environment."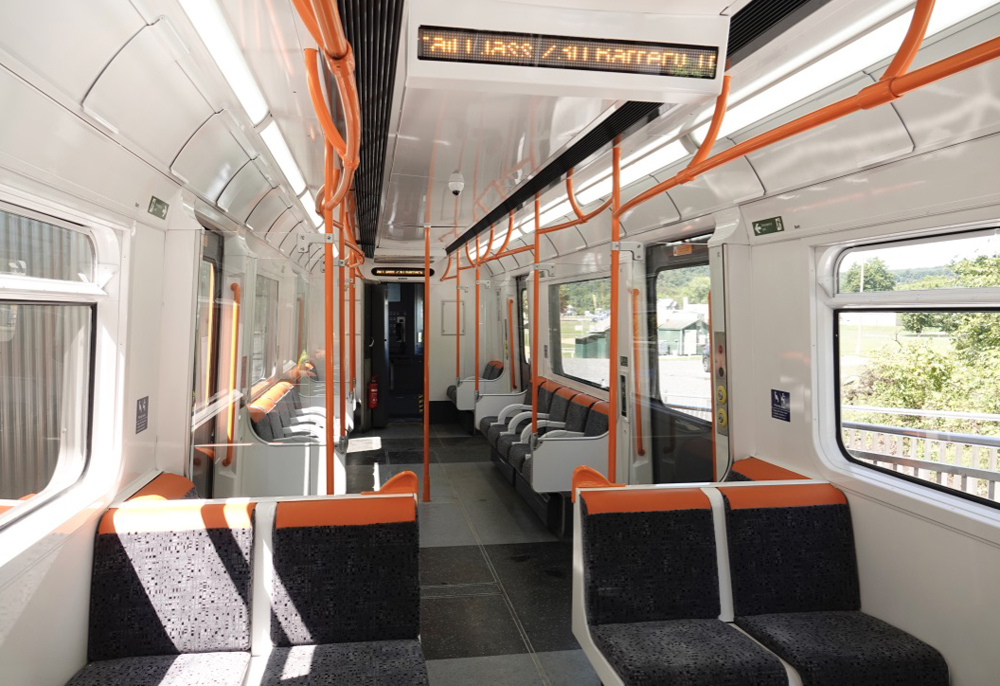 Trains News Wire met Posner in Rockhill, Pa., where Pop Up Metro has leased trackage rights on the Rockhill Trolley Museum's 1.8-mile line. In April, two remanufactured Vivarail 230 multiple unit power cars arrived from Britain.
These 60-foot rail cars, each weighing 36 tons, were converted to run on Lithium Iron Magnesium Phosphate (LiFeMgPO4) batteries. These batteries have a longer life cycle than lithium-ion batteries and are considered safer. Two battery rafts, each containing 60 cells, can run the train up to 60 miles on a full charge, depending on speed and grades. For now, the train is restricted to 15 mph on the Rockhill line, which Posner says will be upgraded to 40 mph.
Coasting and braking regenerates energy to charge the batteries, much like an electric or hybrid automobile. With a lineside fast charger at a station or rail yard, the batteries can be fully recharged in as little as 10 minutes. The traction motors are rated at 350 bhp.
Meg Richards, project manager for Pop Up Metro, was at the throttle for the demonstration ride. She has a computer science degree from Carnegie Mellon University, where she met Posner. He asked her for help with an electronics standard common to automobiles that he wanted to apply to the Vivarail train. "I found that if you just say yes to Henry, something interesting happens," she says.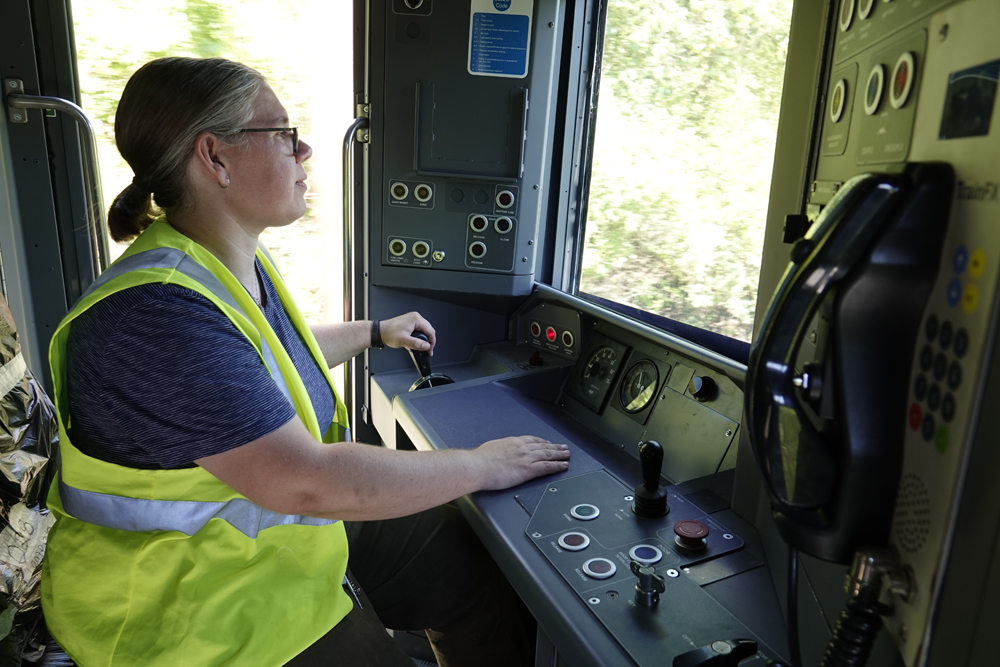 She learned to operate the two-car train, which requires a deft hand on the desktop single-lever throttle/brake controller, while keeping a foot pedal depressed at all times. Releasing pressure on the foot pedal activates the driver alert system (DRA).
Posner is awaiting two additional railcars, which will be trailer units. They will be coupled to each of the power cars to create two trainsets. The railcars can be transported by truck, which is the essence of Pop Up Metro's business plan.
The business model is to lease a complete package. "Pop Up Metro is the train, the platform, the temporal separation operating rules, and various other elements of support that will make it easier to get people from maybe to yes in terms of there being a demonstration operation," says Posner.
The Pittsburgh entrepreneur sees a variety of opportunities for low-cost passenger operations. A lightly-used branch line or short line railroad could co-exist with transit by running freight at night and passenger service during the day, a concept he calls temporal separation. Smaller communities and transit agencies, or larger agencies looking to extend service to less-populated areas, are candidates for Pop Up Metro.
Posner also expects interest from the private sector. Trains spoke to a commercial real estate developer in Maine who is excited about the concept as a way to stimulate transit-oriented development in some of the state's smaller cities.
"We think this fulfills an important role in the transit sector," says Posner, and large transit agencies in the U.S. appear to agree that battery powered trains have a future.
The Long Island Rail Road announced plans to test a two-car battery-electric train on its 13-mile Oyster Bay Branch [see "Long Island Rail Road announces plan to test battery-electric equipment," News Wire, April 20, 2021]. The train would switch from third rail power to battery power beyond electrified territory.
NJ Transit has also shown interest in battery-powered trains [see "NJ Transit awaits funding for plans to test battery-electric commuter equipment," News Wire, May 11, 2021] for its North Jersey Coast Line.
A passenger rail advocate from New Jersey, attending the demonstration in Pennsylvania, suggested NJ Transit's 2.7-mile Princeton Branch as a "perfect demonstration line for his technology."
"The most valuable is the design of the trains and the proof that the design works and works well in a North American environment," Posner says. "And that's what our demonstration operation is proving."