NJ Transit awaits funding for plans to test battery-electric commuter equipment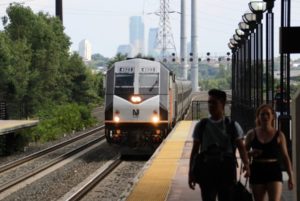 NJ Transit wants to test battery-electric rail equipment on its North Jersey Coast Line — if it can find the funding, NJ.com reports. The program would be similar to that announced last month by the Long Island Rail Road [see "Long Island Rail Road announces plan to test battery-electric equipment," Trains News Wire, April 20, 2021]. NJ Transit included the concept in a five-year capital plan released last June, with a projected cost of $46 million. It would allow a one-seat ride from Bay Head on the North Jersey Coast Line to New York, instead of the current change of trains from diesel to electric equipment at Long Branch. The test equipment — either retrofitted multilevel cars, or cars operating with a battery-support tender — would recharge on the electrified portion of the route, then operate on batteries between Long Branch and Bay Head. The plans remain contingent on obtaining funding.
MBTA moves to reduce penalties for fare evasion
The Massachusetts Bay Transportation Authority is moving to lower fines for fare evasion, although some members of the Fiscal and Management Control Board, which oversees the agency, aren't sure the MBTA is going far enough. The Boston Globe reports the agency — which has current fines of $100 for a first offense, $200 for a second, and $600 for a third — would decriminalize the penalty and reduce the fines to $50 for each of the first three offenses and $100 thereafter, in response to a law passed earlier this year that allows it to set its own fines. But some board members indicated they would like to see fines as low as $10. The change is in advance of MBTA plans to switch to an honor system of fare collection to be backed up by hiring of inspectors who would conduct spot checks to encourage compliance.
UP recognizes 63 companies for chemical safety
Union Pacific has recognized 63 companies with its 2020 Pinnacle Award for safe transport of chemicals by rail. The award honors those who have had zero non-accident releases of hazardous material shipments, and have implemented release prevention protocols and corrective action plans. "Union Pacific is committed to safely moving the chemical shipments that support our customers' supply chains," Jacque Bendon, vice president, Industrial, said in a press release. "We applaud this year's Pinnacle Award winners for their commitment to eliminating rail car chemical releases and thank them for their continued collaboration to safely move chemical products through the communities where we live and work." A list of the award winners is available here.