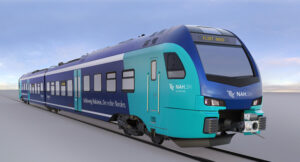 RDC Deutschland, the German subsidiary of Pittsburgh-based Railroad Development Corp., has won a contract to operate brand new Stadler-built battery-electric multiple unit regional trains on five routes in the north German state of Schleswig-Holstein. RDC won the contract over German national rail company Deutsche Bahn, which currently runs the routes.
RDC Deutschland's "RDC Autozug Sylt" business unit is already based in the north of Germany, where it runs car carrying and freight trains to the rail-connected island of Sylt, plus long-distance overnight services from Sylt and Hamburg to Salzburg in Austria. Four of the five routes RDC has won serve the state capital, Kiel, on the Baltic Sea coast; some cross the state to the North Sea coastal towns of Husum and Bad St. Peter-Ording. The RDC services start in December 2023, replacing existing diesel-powered multiple units. The contract runs until the end of 2035.
The contract was one of three –—known as the Akkunetz, or battery network (Akku is battery in German) — offered by state authorities to operate a fleet of 55 new two-car battery EMUs being built by Stadler, funded by the state, at a cost of around $725 million in a contract agreed in 2019. The state will lease the trains to the selected contractor-operators, with Stadler maintaining the fleet under a long-term contract. It is building a maintenance shop to service the trainsets at Rendsburg, in the middle of the network to be served.
Railroad Development and RDC Deutschland Chairman Henry Posner III told Trains News Wire, "The Akkunetz battery network contract represents a new step for RDC in Germany, as historically we have not been bidders for public-tender contracts … Recent years have seen our intercity business morph rapidly from a contract operation for Flixtrain, as part of a national intercity bus/ rail network (running, for example ,trains from Berlin to Cologne), to niche opportunities as the result of disruption to the market from the coronavirus epidemic. For example, we launched our overnight service between Austria and the island of Sylt last summer on 5 weeks' notice."
Asked why RDC had moved from just operating a small number of intercity trains to a large number of regional ones, Posner added, "The idea of bidding for this tender made sense because it is in our core territory of Schleswig-Holstein, and was another opportunity to demonstrate to the market the breadth of capabilities that we have built in our German organization. For RDC, this brings us a step closer to our goal of becoming the most respected railway company in Germany" [Posner's emphasis].
The battery-electric MU concept is new and the Stadler fleet will be one of the first to enter widespread service in Europe, as of 2022. The onboard batteries allow the trains to operate away from overhead power lines, although where these are available, they are used just like a regular EMU. The trains also recover and store energy when braking when running on either battery or EMU mode. [See "Development of hydrogen-powered trains continues, but battery-powered equipment making more inroads," Trains News Wire, Dec. 14, 2020.] Some of the routes RDC will operate are almost entirely free of electrification. It will be available only at some of the main stations, meaning the trains will be required to make round trips of around 90 miles using only the batteries before they can be charged again under the high-voltage wires.
RDC, majority owner of regional railroad Iowa Interstate, also has operations in Peru, France, England, and Belgium, as well as its German holdings.