Meeting the Electro-Motive Division SW1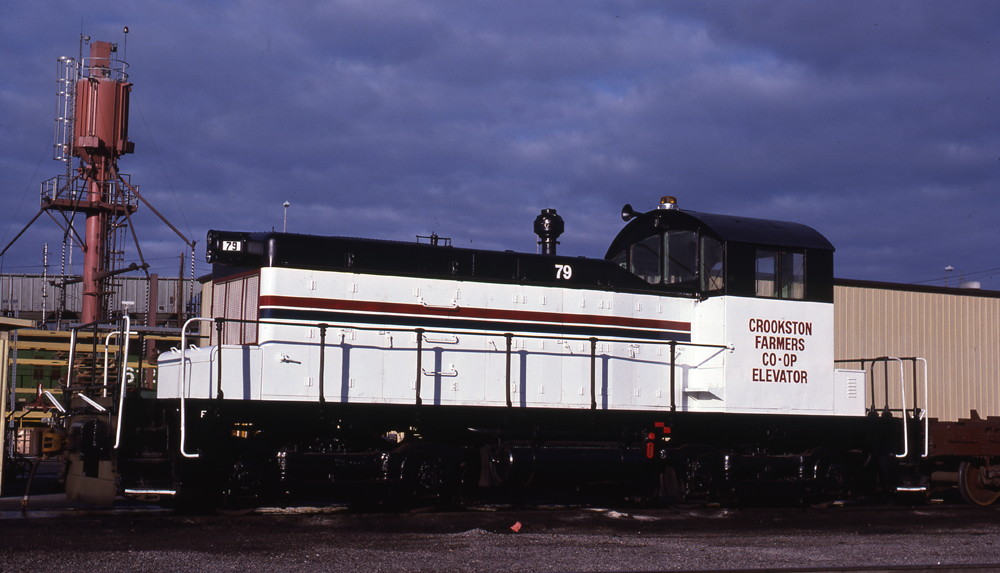 The time-tested Electro-Motive Division SW1 has long been one of my favorite diesel locomotives. My fascination with the 600hp end-cab switcher didn't start when the locomotives were earning their keep on the big railroads. Instead, my introduction came at the Crookston (Minn.) Farmers Co-op Elevator, less than a block from my childhood home.
October 1987 proved to be a memorable month. On the 25th the Minnesota Twins won baseball's World Series. Two days later I turned 8. It was also the same month Crookston Farmers Co-op Elevator SW1 No. 79 arrived in town. The locomotive showed up in fresh black-and-white paint. Red and dark blue stripes, parallel with the handrails, ran through the white field. The cab sides read "Crookston Farmers Co-op Elevator."
The stanchions on the unit had a twist near the bottom to get over the lip on the sill, a technique used on various Great Northern end-cab switchers. The locomotive's heritage was further confirmed by a small cast-metal GN class plate directly above the "F" on both sides.
Great Northern rostered nine SW1s. Two were built in February 1939, three were constructed in September 1941, and the balance rolled off the production line in January 1950. I couldn't find a frame number on the locomotive. However, based on the following features, I'd say the locomotive is from either the 1939 or 1941 group: arched cab windows, a two-stage taper between the hood and cab, early air tanks, closed step risers, and Phase I frame corners. Great Northern SW1 No. 5105 was renumbered 79 in 1943. It was sold to Truax Traer Coal Co. on Sept. 20, 1963. Is it possible this is the former GN 79?
Electro-Motive Division SW1 no. 79 today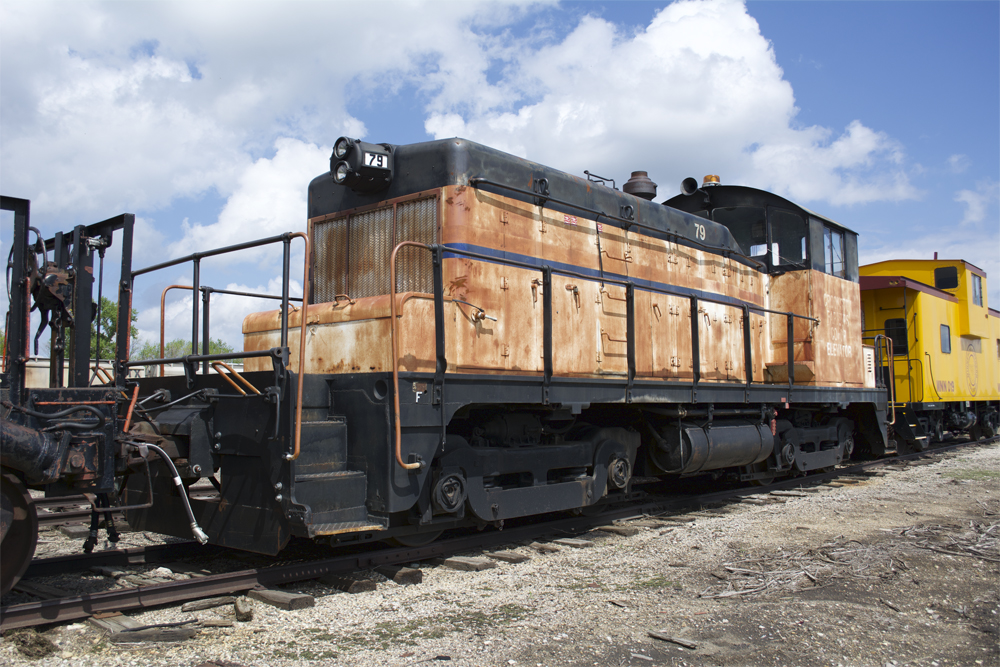 Crookston Farmers Co-op Elevator No. 79 operated at the elevator by my house and later the CHS Northland Grain (former Cargill) facility south of town. The current elevator now handles BNSF Railway grain shuttles, a big task for the light-duty SW1. The 79 was replaced by Independent Locomotive Service GP9u No. 1334 (ex-Canadian Pacific No. 1512). Today the SW1 sits behind the Minnesota Northern enginehouse in Crookston. The white paint has given way to rust, and the red stripes and lettering have faded. The unit's fate is unclear.
Electro-Motive Division SW1 history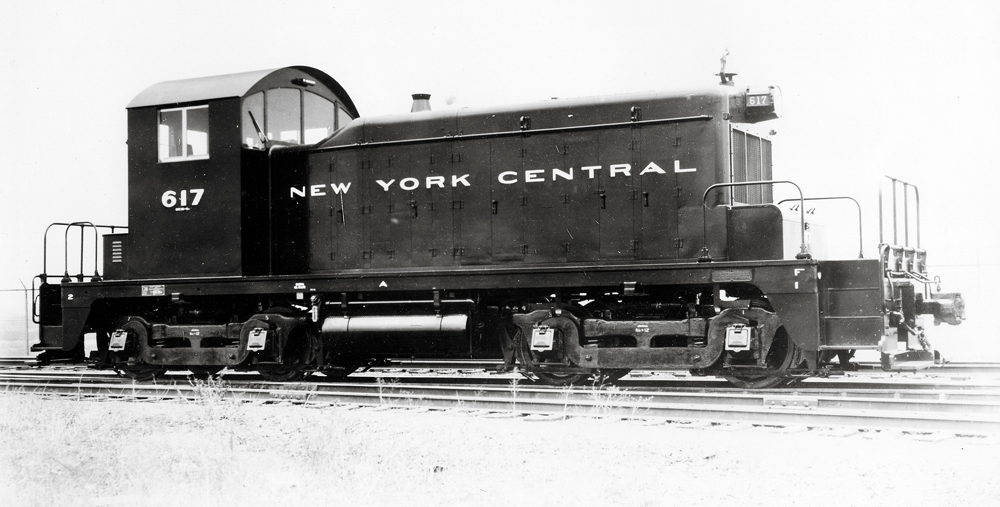 Electro-Motive Division produced the SW1 from January 1939 through November 1953. Production was suspended for three years (1942-1945) by order of the War Production Board. However, a few units were finished in 1942 and '43.
The 600hp SW1 was equipped with a 6-cylinder 567 or 567A diesel engine. As with most locomotives, changes were made over the course of the production run. Early units had a two-stage taper between the hood and cab, arched cab windows, closed steps, and a single-beam headlight. Later units had a straight taper between the hood and cab, rectangular cab windows, open steps, and twin sealed-beam headlights. Railfans refer to these differences as phases.
By the time production ended, 660 end-cab units were built for railroads in the United States. One switcher went to Mexico. None were purchased by Canadian railroads. New York Central and Pennsylvania Railroad were the two largest buyers of the SW1 with 105 and 85 units, respectively. Though SW1s have been gone from Class 1 rosters for a while, examples can still be found earning their keep on shortline railroads and at industries, museums, and tourist lines.
Whenever I hear a single-chime blat-type air horn, I will always think of Crookston Farmers Co-op Elevator Electro-Motive Division SW1 No. 79. Speaking of which, I have an HO scale SW1 to get started on. Now I just need to figure out a way to model those GN-style switcher stanchions.
Electro-Motive Division SW1 on your layout
The EMD SW1 is no stranger to the model railroad world. Brass models have been imported by Alco Models (HO scale), Oriental Limited (S scale), and Precision Scale Co. (HO and O scales). Plastic HO scale models were offered by AHM and Lindberg Models. Lionel is currently taking pre-orders for its O gauge Legacy line SW1.
The editors at Model Railroader and Classic Toy Trains have had the opportunity to review SW1s in various scales over the years. The items below are from the past two decades. Some of the models are out of production but may still be available at hobby shops, swap meets, and online auction websites.
If I've overlooked any SW1 models, please leave the manufacturer name and scale in the comments field below.
Check out Senior Production Editor Rene Schweitzer's Why I love the 2-8-4 Berkshire locomotive.
Check out Editor Eric White's Why I love the Pennsylvania RR GG1 electric locomotive.