The MTH RailKing SW1 locomotive is a model of a humble but evolutionary piece of machinery.
Steam locomotives truly were amazing transportation machines, but they basically shook themselves apart as they ran. As such they required lots of care and feeding to keep them service.
Accordingly, railroads needed substantial support networks including engine shops, turntables, water towers, and a virtual army of skilled and unskilled workers.
Even at the lower wages of bygone days, the costs were significant and baked into the cake. So, once various firms began fiddling around with internal combustion engines, it caught management's eye. Railroad management being inherently conservative, nobody wanted to scrap the prevailing system until the newfangled technology proved itself.
Enter the diesel
Electro Motive Corporation's (EMC) SW1 represented one small step in showing the efficacy of diesel locomotion. It was a compact locomotive; at 44 feet in length, it was just a tad longer than a typical boxcar. It had a 600hp prime mover with roughly the same size and output of a modern over-the-road truck.
The cost efficiency of operation was a major advantage over steam. Standardized parts and maintenance meant railroads no longer needed to employ an army of mechanics, boilermakers and pipefitters to service the switching fleet.
More than 600 SW1s were built from 1938 to 1953 for more than 60 railroads and assorted industries and public utilities. A handful are still in operational condition; others are preserved in museums.
Our O gauge sample from the RailKing line of MTH Electric Trains is lettered for Metra, the "heavy rail" portion of Chicago's Regional Transportation Authority, which inherited the commuter lines operated by such well-known carriers as the Chicago & North Western, Illinois Central, and Rock Island.
The paint and lettering reflect Metra's "1-spot" – an ex-Illinois Central unit that worked for the carrier until fairly recently.
Opening the Box
As a kid, I had only three Lionel locomotives: a no. 2018 2-6-4 steamer and two diesel switchers – nos. 41 US Army switcher and 6250 Seaboard NW2. The switchers were actually my main freight haulers, so I have a fond spot for them.
Oddly, this RailKing diesel switcher struck me as being both businesslike and cute at the same time.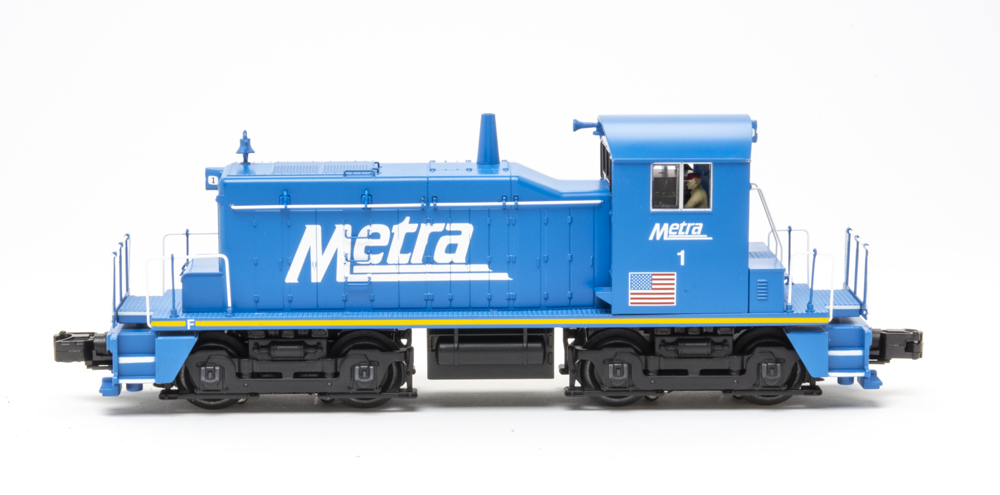 The MTH RailKing SW1 locomotive is spiffy and looks right on everything from handling chores on a 4 x 8 O-27 layout to shifting cars in a yard or factory on a three-rail empire that fills an entire basement. Measuring a modest 12 inches from coupler to coupler, it will stand out from larger switchers.
The crew faces the long hood for "forward," so the cab can be called the rear. Being a RailKing model, the pilot is fairly basic. The truck has cast-in grab irons and uncoupler arms. There's some nice cast-in rivet detail, and the brakeman's steps are smooth, as are the pilot's side steps. All the deck surfaces have safety tread, including the entry to the cab.
The cab is basic, with two crew figures. The head of a can-style motor fills most of the available space. Up above, the roof shows that familiar curved top found on most Electro-Motive switchers. On the long hood side, there are three large windows and an add-on horn mounted just below the roofline.
Checking the body
There are cast-in vents on the sides of the battery boxes. The sides of the hood have cast-in hinge and latch detail, and a white handrail runs the length of the body. About halfway up the hood, there are three wire grab irons leading upward and two angled grab irons on the hood roof. I nearly missed those details because being blue and not white they blended in with the livery.
Up top you'll find a single stack. There's cast-in rivet, seam, and latch detailing, presumably for maintenance access. There also are cast-in louver detail and a bell mounted just behind the headlight.
The front end mirrors the detailing of the cab end with handrails and headlights. The nose, however, has an intake with some very fine screen detailing. Just in front of the screen is a curved equipment box with two add-on grab irons. Painting and decoration are great – the wide, bright lettering makes it clear who owns the locomotive, and the Metra lettering contrasts nicely with blue. There's even a thin yellow safety stripe along the frame with "F" for front on the hood end.
On the test track
The RailKing SW1 has ProtoSound 3.0, which offers control via transformer or with the MTH Digital Command System handheld controller. You can also operate with the MTH app for smartphones and other devices.
The first time I powered up the model nothing happened. That wasn't a glitch because, as I've noted in previous reviews of PS3 locomotives, there's a delay. Just when you think something's wrong, it powers up.
In the end, there were no issues. I left the track power on at 18 volts for about 10 more minutes and then booted it up again. The engine started properly then and on subsequent on-off sequences.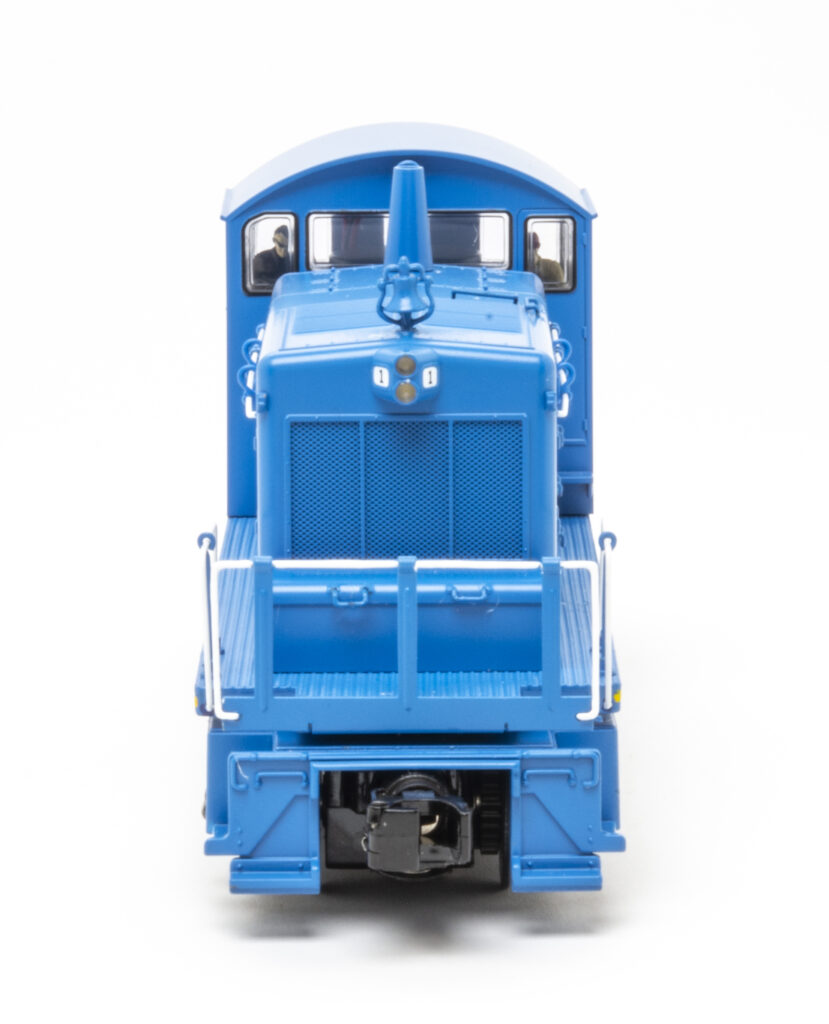 Impressive performance
The model has two can-style motors and remote couplers. Due to its diminutive size, there isn't room for a smoke unit, so don't pour fluid down the stack!
Operation was flawless. I ran the SW1 switcher with a mix of freight cars and illuminated passenger cars. In all cases it responded instantly. The remote couplers opened on command and otherwise stayed closed.
The model has four power-pickup rollers and ran smoothly, whether under transformer control or using the app.
Our conventional low speed was 6.2 scale miles per hour; the command low was 3.1 smph. Our high speed was 58, tempered by the fact that it was a loaner and I didn't want it flying off a curve.
Although the model is small, it puts out solid sound. It should as it uses a recording of an EMC 567 diesel engine. You get assorted crew chatter segments, too that liven things up.
The MTH RailKing SW1 shares the same production quality as more pricey Premier line products. It's a quality item that will be a great first or second engine on a brand-new layout!
Facts & features about the MTH RailKing SW1
Price: $359.95 (no. 30-20790-1)
Features: O-27 operation, two can-style motors, MTH ProtoSound 3.0 command and sound system, remote couplers, conventional capability, as well as DCS command control and access through the Remote Commander or the MTH App.
Low speed (cmd): 3.1 smph
Low speed (conv): 6.2 smph
High speed: 58 smph
Current road names: Chicago, South Shore & South Bend, Erie, Great Northern, Metra, Philadelphia Bethlehem & New England, Union
Website: www.MTHTrains.com