Industrial switcher locomotives add realism to any layout.
Don't believe me? OK, time for a show of hands. When you pass by a rail-served industry, do you take a quick glance to see if there's a switcher on the property? That's what I thought. I'm guilty of this, too. Today, thanks to satellite images on websites like Bing, Google, and others, you can scout industries for switchers before you head out railfanning.
Industrial switchers are interesting for a variety of reasons. From a railfan perspective, it's fun to see where old locomotives wind up. You can read about an Electro-Motive Division (EMD) NW2 that I came across in South Dakota after losing track of it for several years.
From a modeling perspective, I like to think about how I'd model each industrial switcher I come across. Would it be a strip, repaint, and decal project? Could I start with an undecorated or factory-painted model? Where would I find the decals? What detail parts would I need to model the unit faithfully? It's also interesting to ponder how I'd incorporate industrial switchers into operating schemes.
Of course, there are far more industrial switchers than I have time to write about here. Center cab switchers like EMD's Model 40 and General Electric's (GE) 44-, 65-, 80-, 100-, and 110-ton diesel locomotives; the various offerings from small builders like Davenport Locomotive Works, H.K. Porter Inc., Plymouth Locomotive Works, and Whitcomb Locomotive Works; and the bimodal Trackmobile have all served industries well over the years. For this article, I'll focus on units commonly used from the 1980s to the present.
First-generation end-cab industrial switcher locomotives
Though industrial switchers have been around for a long time, I first noticed them in large numbers during the 1980s when I was growing up in the Red River Valley of the North. This is when Class I railroads started to get out of the loose-car business and focus on unit trains. Time-tested traditions like running a chain from a tractor to the roping staple on a covered hopper or using a front-end loader with a knuckle welded in the bucket weren't going to cut it anymore. Suddenly, Electro-Motive Division SW1s, NW2s, and other first-generation end-cab switchers started appearing at elevators in the Dakotas and Minnesota.
Early end-cab switchers were popular choices for other industries as well, such as power plants, paper mills, and steel mills. Sometimes these units were painted to match the color scheme of the industry. Others had patches applied over the herald and/or road number of the previous owner. I've even seen the colorful schemes of leasing companies on switchers at industries that opted to lease instead of purchase a switcher.
Four-axle road unit industrial switchers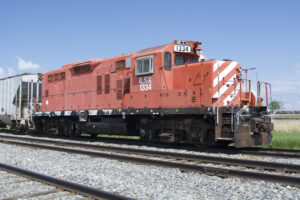 Though first-generation end-cab switchers continue to earn their keep at industries throughout the country, they're starting to be replaced by newer four-axle units. Reasons for this shift are that first-generation end-cab switchers are wearing out and replacement parts are becoming harder to find. To give some perspective, the EMD SW1 was produced from January 1939 through November 1953. That means the newest SW1 will be 70 years old in 2023.
End-cab switchers are few and far between on today's Class I railroads. Some industries that had early EMD or Alco switchers have stuck with end-cab units, acquiring or leasing newer EMD SW1000s and SW1500s. Others have upgraded to four-axle road units. Common EMD examples include GP7s, GP9s, and the myriad modified versions of them; GP15s; GP30s; and GP35s. I've seen pictures of a GE B30-7 used as a switcher at a grain elevator in Texas. There are even some Atchison, Topeka & Santa Fe Cleburne, Texas rebuilt CF7s serving elevators in the Dakotas.
Six-axle road units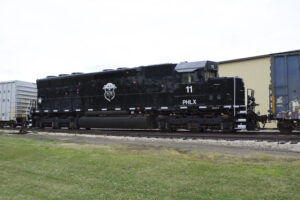 When I was in high school in the late 1990s, I started seeing six-axle road units working industries. At that time it was mainly EMD SD7s and SD9s, veteran units that were being spun off by the Class Is.
Fast-forward to the present day to find how industrial switcher locomotives add realism. You'll find an ex-Burlington Northern EMD SD40-2 switching covered hoppers at a grain elevator in Wisconsin, a pair of ex-Union Pacific SD40T-2R "tunnel motors" moving covered hoppers and tank cars around the balloon track at an ethanol plant in Minnesota, and two former Canadian National GMDD SD50Fs at a limestone plant in Montana. The six-axle road units have higher horsepower than four-axle units and end-cab switchers, making them ideal for moving large cuts of cars.
From reality to model
Most locomotives used as industrial switchers today are available in HO and N scales by the major manufacturers. Some companies offer locomotives painted in freelanced industrial paint schemes but unlettered, such as the WalthersMainline HO scale EMD NW2 and the Bachmann N scale GE 44-ton diesel locomotive.
If you want to re-create a specific prototype, consider starting with an undecorated model. Examples include the Atlas Model Railroad Co. N scale EMD GP7 and GP9, Broadway Limited Imports N scale EMD SW7, Rapido Trains HO scale EMD SW1200, and ScaleTrains.com HO scale EMD SD45.