Major 2010s steam locomotive restorations will take a look at five revived locomotives you have to know about. While preserved rail equipment is tweaked and repaired all the time, it is a rare event when a steam locomotive is overhauled and returned to service. Check out our list:
Southern Railway No. 4501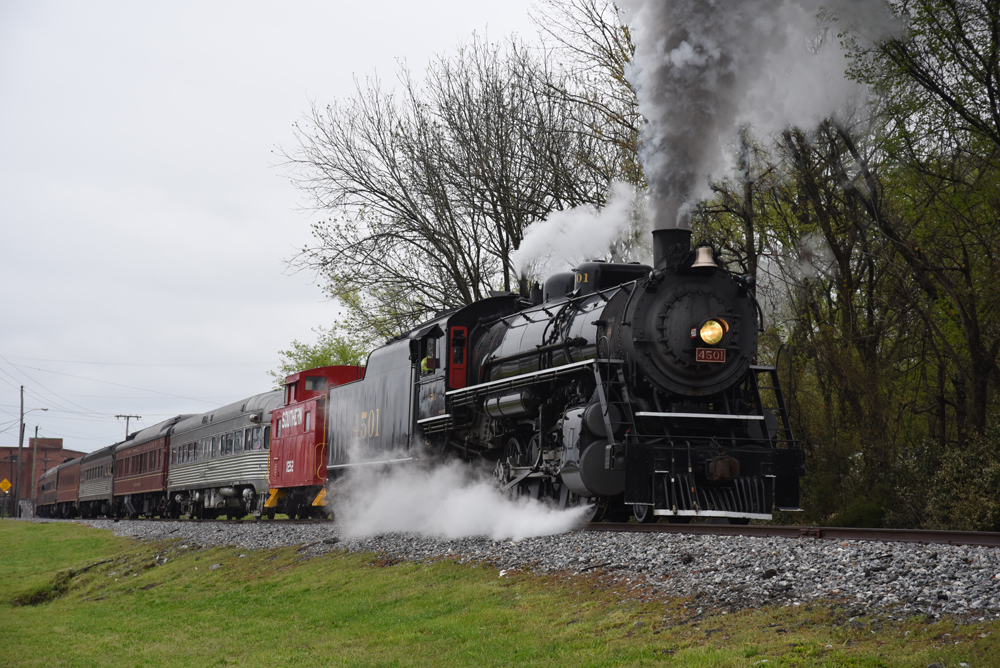 Restoration completed in 2014: As the very first 2-8-2 Mikado-type steam locomotive for the Southern Railway in 1911, No. 4501's first career was ordinary. The extraordinary came in 1966 when the Baldwin-built locomotive started the Southern's famous steam excursion program. For 28 years, No. 4501 crisscrossed the southeast in the railroad's iconic passenger-green color scheme. Even after the program concluded in 1994 and the locomotive was retired in 1998, its star power remained.
When Norfolk Southern introduced its 21st Century Steam Program in 2010, the stage was set for a 4501 comeback. Chattanooga's Tennessee Valley Railroad Museum began restoring the locomotive in 2011 with significant upgrades, including a powered stoker and feedwater heater. Emerging from the shops in 2014 with its original freight colors, No. 4501 once again took center stage the following year, heading excursions for NS. Though having a brief stint with the program, followed by a relaxed third career at the museum, the return to steam for No. 4501 reunited old friends and fans, while inviting a new generation along for the ride.
Norfolk and Western Class J No. 611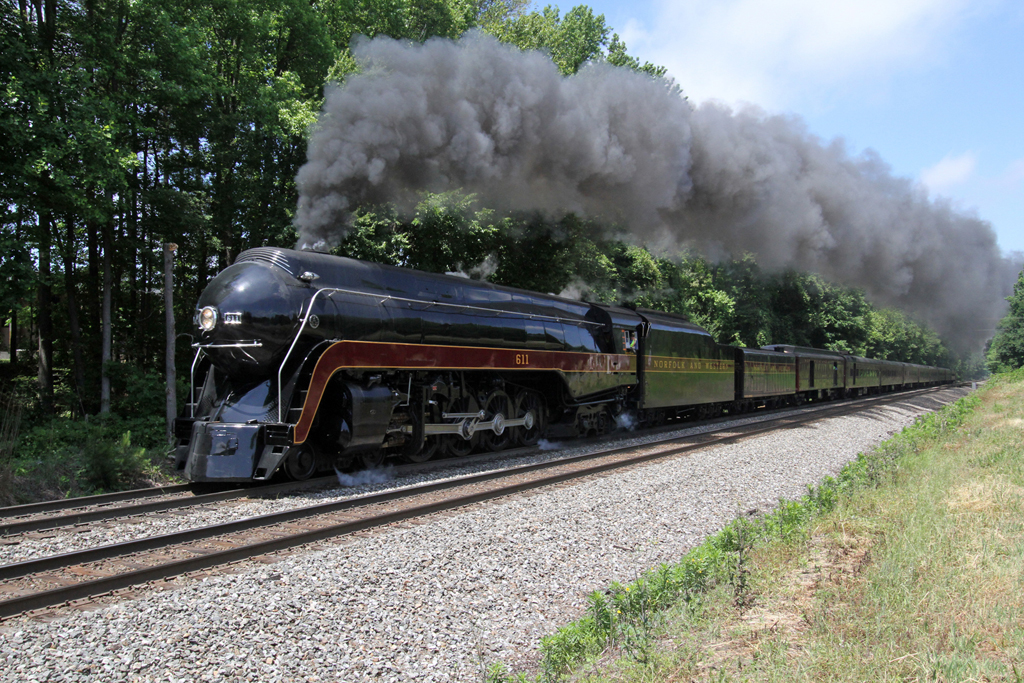 Restoration completed in 2015: Combining speed, strength and style, many would argue that the Norfolk and Western's J-class 4-8-4 steam locomotive was the premier passenger locomotive. No. 611 became the star of Norfolk Southern's original steam program beginning in 1982. Memorable excursions followed the 1950-built locomotive from its hometown in Roanoke, Va. to the Saluda Grade in Greenville, S.C. Then 1994 happened: the program concluded, and No. 611 returned home for display at the Virginia Museum of Transportation to never run again.
From 2010 to 2015, the stars aligned for what was an improbable 611 comeback. NS introduced its new 21st Century Steam Program in 2010, the Fire Up 611! Campaign was in full swing by 2013, and No. 611 was towed to the N.C. Transportation Museum in Spencer for restoration the following year. One can easily remember 2015 as "611 mania" with the restored locomotive once again hauling excursions. From the Blue Ridge mountains to the North Carolina Piedmont, passengers and crowds of people from around the world were on hand to ride the sold-out trains and to be trackside. It just goes to show to never say never.
London and North Eastern Railway Class A3 Flying Scotsman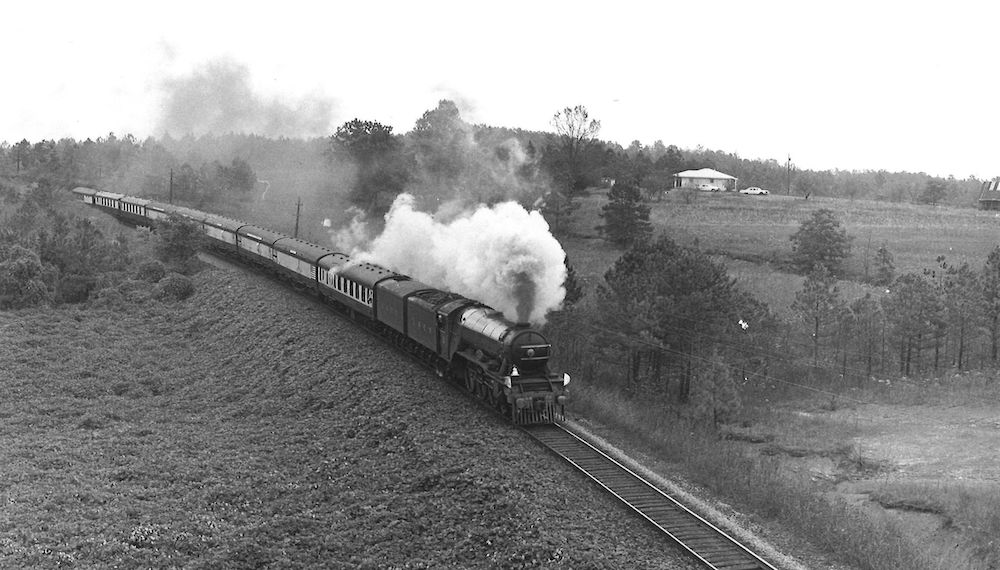 Restoration completed in 2016: It was the first to officially reach 100 mph, it holds the world record for a non-stop run of any steam locomotive, and it carries the name of an iconic passenger service from Great Britain. It's no wonder Flying Scotsman is celebrated as the most famous steam locomotive in the world, and why England's Doncaster-built 4-6-2 was granted salvation from the cutting torch. No matter where it went, whether it be throughout Great Britain or overseas to North America and Australia, the locomotive is still seen as a celebrity.
Beginning in 2006, the National Railway Museum in York had the locomotive completely overhauled with Riley & Son (E) Limited heading up the effort. Replacement of the boiler and sections of the frame were the major highlights of this project. Much like No. 611 in 2015, Flying Scotsman's return to service in 2016 made headlines with national media coverage. The locomotive continues to draw passengers and crowds wherever it goes, and with the 100th birthday celebration in 2023, that draw shows no signs of losing steam.
Columbia River Belt Line Railway No. 7 Skookum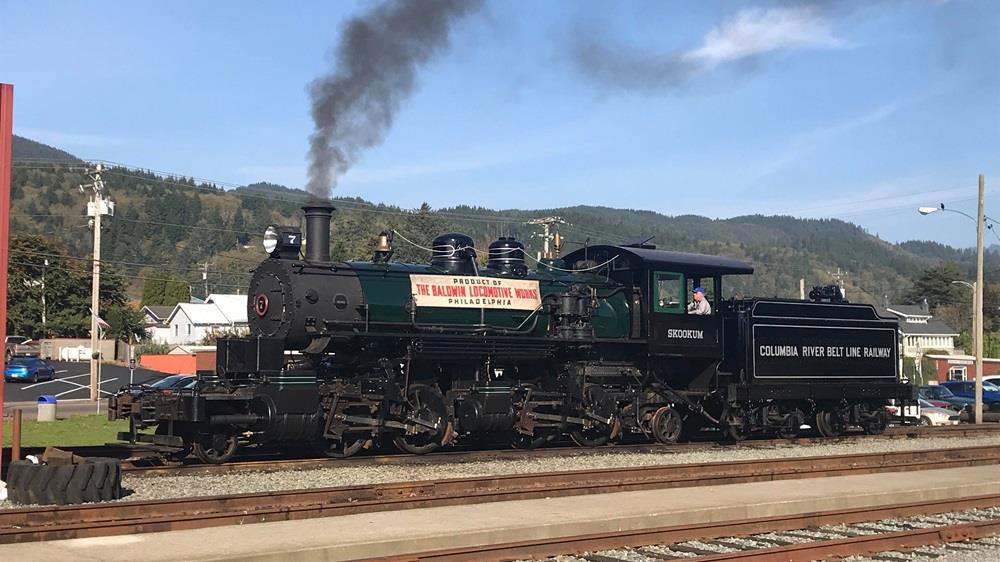 Restoration completed in 2019: Out of six articulated Mallet-type steam locomotives of the 2-4-4-2 wheel arrangement, only one survives. The Baldwin-built Skookum was first sent to Tennessee's Little River Railroad in 1909 before heading to the Pacific Northwest to serve multiple logging railroads. On February 23, 1955, the locomotive derailed on a trestle at the Deep River Railroad in Washington. It fell on its side and was left for dead.
In 1960, Skookum was recovered by rail enthusiasts, piece by piece, with hopes for a revival. Under the third ownership of Chris Baldo, and in partnership with Scott Wickert of the Oregon Coast Scenic Railroad in Garibaldi, Ore., the locomotive returned to service in 2019. The Niles Canyon Railway in Sunol, Calif. has become home to what was once a carcass left in the mud. The restored Skookum is a testament to what can come out of pure dedication and determination.
Union Pacific Big Boy No. 4014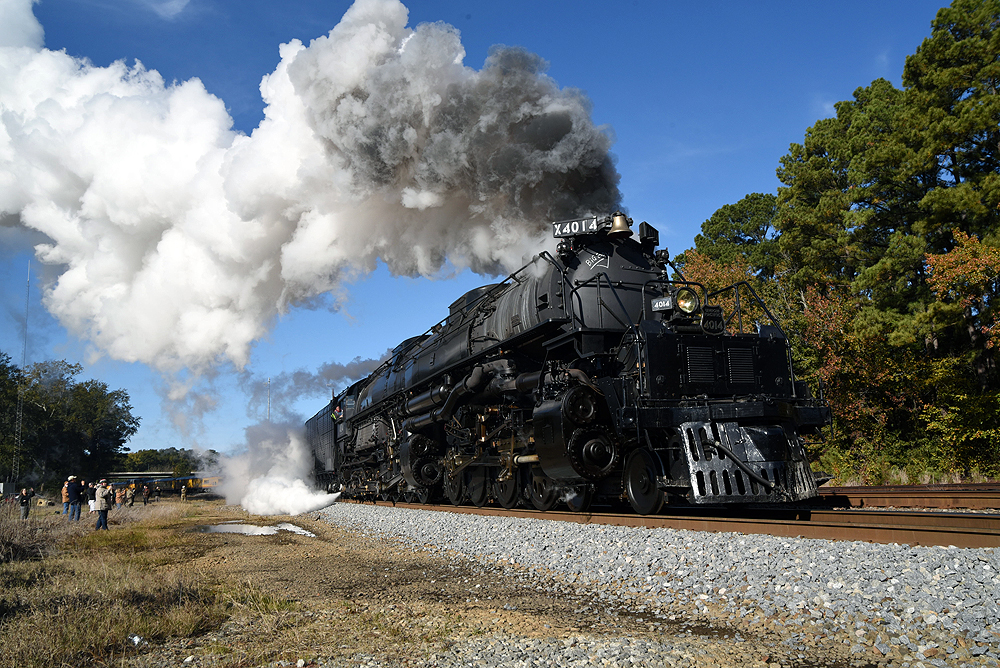 Restoration completed in 2019: Speaking of dedication and determination…  The Union Pacific's 4-8-8-4 Big Boy steam locomotives hauled heavy freight primarily over the Wasatch grade from Ogden, Utah to Evanston, Wyo. The nickname and overall size were a match made in heaven as these locomotives became increasingly popular long before retirement from regular service. While eight were preserved, the consensus for years that a Big Boy under steam and running again was viewed as impossible.
To commemorate the 150th anniversary of the first Transcontinental Railroad, the UP decided to achieve the impossible. In 2013, No. 4014 was reacquired from the RailGiants Train Museum in Pomona, Ca., and towed to the steam shop in Cheyenne, Wyo. After a multi-year restoration that included an oil conversion, the 1941-built locomotive departed Cheyenne in May 2019 for the big celebration in Ogden, Utah. What followed afterward has been a worldwide fanfare that continues to grow whenever No. 4014 tours the railroad as a goodwill ambassador. Not a bad way to cap off the major 2010s steam locomotive restorations.