Conrail locomotive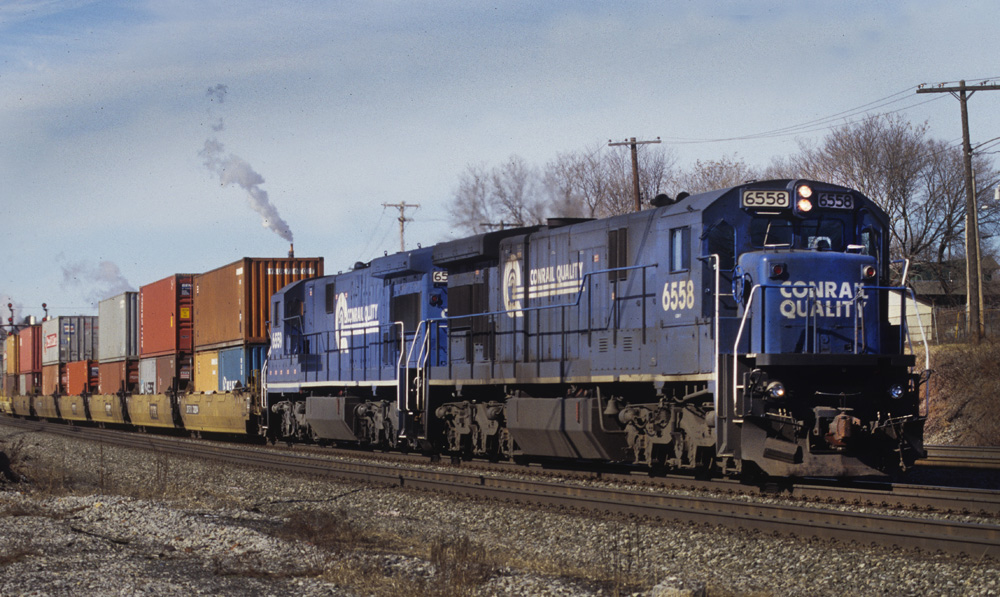 ---
Locomotives fascinate us, amaze us, and move us across landscapes — and our imaginations. A railroad selects locomotives based on factors that include operational need, affordability, maintenance cost, applicability for a certain service, and what models might be available at the time. Stories are woven throughout the industry's history of locomotive models that helped to change the operation of a certain route or even the whole railroad.
Conrail, a railroad that began operations on April 1, 1976, was a unique case. This was a new company, but one assembled by the federal government from seven bankrupt railroads, each with long and relatively independent histories. A new agency was established to reorganize the railroads and the result was the "Consolidated Railway Corp."— Conrail for short. The management team was charged to reinvigorate railroading in the northeastern United States and make Conrail profitable. While this sweeping directive required extensive rationalization of routes and sacrifice by labor and management, it also created an opportunity to reinvest in key infrastructure — and allowed for the purchase of desperately needed new equipment. Conrail went shopping for new locomotives to replace an inherited, ill-sorted mishmash; most of these units were in poor mechanical condition, suffering from decades of heavy use and deferred maintenance.
Meanwhile, changes were afoot in the locomotive business. General Electric, long the second fiddle to the Electro-Motive Division of General Motors due to reliability and maintenance concerns, had representatives and mechanical engineers spend extensive time with its customers in the early 1970s, asking questions and riding with crews to learn how to improve GE products. This effort resulted in a complete redesign of company offerings. A first batch of improvements was built into the last of the Universal (U) series locomotives, and a second and more extensive batch was included after 1976. This new group of units was fittingly cataloged as the "New Series" or "1977-series" locomotives.
While similar externally to older U-series locomotives and using the same 7FDL diesel prime mover and GE752 traction motors, several key spotting features set the new designs apart. Externally, a wider area on the long hood was required adjacent to the large radiator section with its telltale "wings." Internally, changes were extensive and far-reaching. Some of the more than 60 design improvements included replacing aluminum wire with copper wire and moving the high- and low-voltage components into two different control compartments — one above the frame behind the cab and the other below. These changes helped prevent corrosion and help improve electrical reliability and maintainability. Many mechanical changes were made, including moving the air compressor off the pedestal supporting the radiator fan gear box and out of the radiator compartment into a new small compartment of its own, and improving the arrangement and orientation of the lube oil filter, lube oil cooler, and engine water tank. This helped keep dust and grit out of the compressed air and improved reliability of the overall platform. Cab changes resulted in an improved experience for engine employees, and a labeling system was developed to aid in diagnosis and maintenance.
Conrail purchased many models from the 1977 line. Like other railroads, Conrail mechanical forces adopted a "-7" to denote the new locomotives on their roster. More than 100 4-axle B23-7 diesels arrived before 1980. Conrail was also looking for six-axle power. The initial six-axle offering in the Dash-7 line was the C30-7, with "C" representing three-axle trucks, "30" signifying 3,000 hp developed from a 16-cylinder 7FDL prime mover, and "-7" indicating it was part of the new line. The C30-7 was purchased in large quantities by Santa Fe, Norfolk & Western, Burlington Northern, Union Pacific, and Family Lines. It had only a small presence on Conrail, with 10 delivered in 1977 and rostered as 6600-6609.
Conrail returned to GE to order additional six-axle locomotives in the early 1980s, but GE  had moved on from C30-7 production. It had developed a platform using an updated 12-cylinder version of the 7FDL block that produced 3,000 hp, but used less fuel. GE had produced several orders of 4-axle power, dubbed B30-7A, with this platform for other railroads. It offered Conrail a six-axle version, with promises that the new package would outperform the older 16-cylinder C30-7 design, especially in fuel economy — a prime concern during the period's fuel shortages. The new diesel was designated as the C30-7A and was built at the massive GE plant in Erie, Pa. Conrail took delivery of 50 units, cab numbers 6550-6599, in May and June 1984.
Conrail's C30-7As were assigned to the shops at the massive former New York Central yard at Selkirk, N.Y., southwest of Albany. There the new locomotives quickly came to dominate road freights on former NYC main lines west to Buffalo and east to Boston. As years wore on, they became common across Conrail's vast system. C30-7As commonly were included in consists powering freights south to New Jersey and west across Pennsylvania, Ohio, and points west. C30-7As were also seen on other railroads as run-through power.
The new design was a success, yet Conrail ended up the only buyer of the C30-7A. Even as these units were delivered, GE was finalizing its research to start the shift towards microprocessor control in the Dash-8 series. The C30-7A and C36-7 models led directly to the C32-8, the first Dash-8 units, and the rest, as they say, is history. The Dash-8 offerings led to a GE market dominance that remains in 2023. The success of the C30-7A was more than a one-off: it was the right locomotive at the right time for its owner, and a bridge to the future for its builder.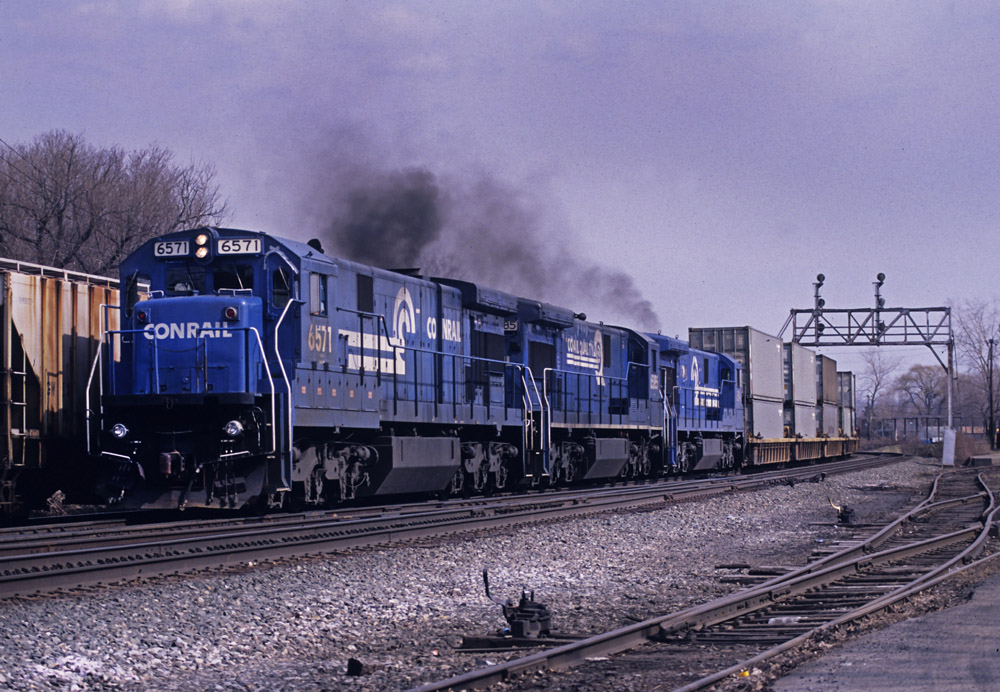 ---
Conrail's paint scheme: Changes over time
All Conrail's C30-7As arrived factory-painted in Conrail's original paint scheme. Conrail kept that scheme through 1989: blue with white step edges and railing ends, black walkways, pilots, and underframe, and white numerals on black numberboards. The scheme was applied to new locomotives and all repaints at Conrail's shop facilities. EMD deliveries and in-house repaints all shared the distinctive Futura Bold lettering font.  New deliveries from GE did too, except that the GE cab numbers were painted in a font that was less bold.
In 1989, new deliveries began to arrive with black numerals on white numberboards, and in-house repaints also had the new detail. The Federal Railroad Administration began to require reflective frame striping on new or repainted units nationwide in the early 1990's in an effort to increase visibility at grade crossings at night, and so Conrail added white reflective striping to the sills of all deliveries and repaints. Finally, in the spring of 1991, Conrail began a continuous-quality improvement program and advertised it with new 'Conrail Quality' lettering on GE C40-8W locomotives delivered new to Conrail. All further deliveries and eventually, in-house repaints of all units, including C30-7A's, followed suit.
Want to see more? Check out this Conrail locomotive photo gallery in Classic Trains.
More information on Conrail can be found here.
Dave Abeles is a manager at a major northeastern passenger railroad, and enjoys researching and modeling Conrail and its operations. Trains.com has a recent interview with Dave available at https://www.trains.com/vid/behind-the-scene/interviews/conrail-1980s-ho-scale-layout-discussion-with-dave-abeles/ and more information on Dave and his Onondaga Cutoff HO scale model railroad is available on the railroad's Facebook page at https://www.facebook.com/onondagacutoff/