Conrail history starts with Penn Central's bankruptcy in 1970, a collapse that upset the entire railroad industry. Something had to be done — Penn Central could not simply be liquidated. It operated one-third of the nation's passenger trains and was the principal freight carrier in the Northeast. Without PC, the industries of the area would die. Penn Central's management proposed reorganizing under certain conditions — abandonment of 45% of its track, reduction of its work force, and increased payment for operating Amtrak trains — but there was no confidence in PC management.
Carving up PC and parceling it out to its neighbors was out of the question. PC's western neighbors wanted nothing to do with the railroad, and its eastern neighbors had problems of their own.
The Central Railroad of New Jersey had been bankrupt since 1967. Neither Chesapeake & Ohio nor Norfolk & Western wanted the Lehigh Valley. It entered bankruptcy on June 4, 1970, three days after Penn Central. The Reading entered bankruptcy Nov. 23, 1971.
The creation of Erie Lackawanna and Penn Central changed traffic patterns, leaving the Lehigh & Hudson River with almost no business. It declared bankruptcy April 18, 1972. Although a Norfolk & Western subsidiary purchased the Erie Lackawanna (and also the Delaware & Hudson) in 1968, N&W offered no assistance when the EL suffered $9 million worth of damage in a hurricane in June 1972. EL entered bankruptcy on June 26, 1972. There were proposals to merge and reorganize the other bankrupt railroads to compete with PC, but those railroads, like Penn Central, had no money for much-needed repairs to track and rolling stock.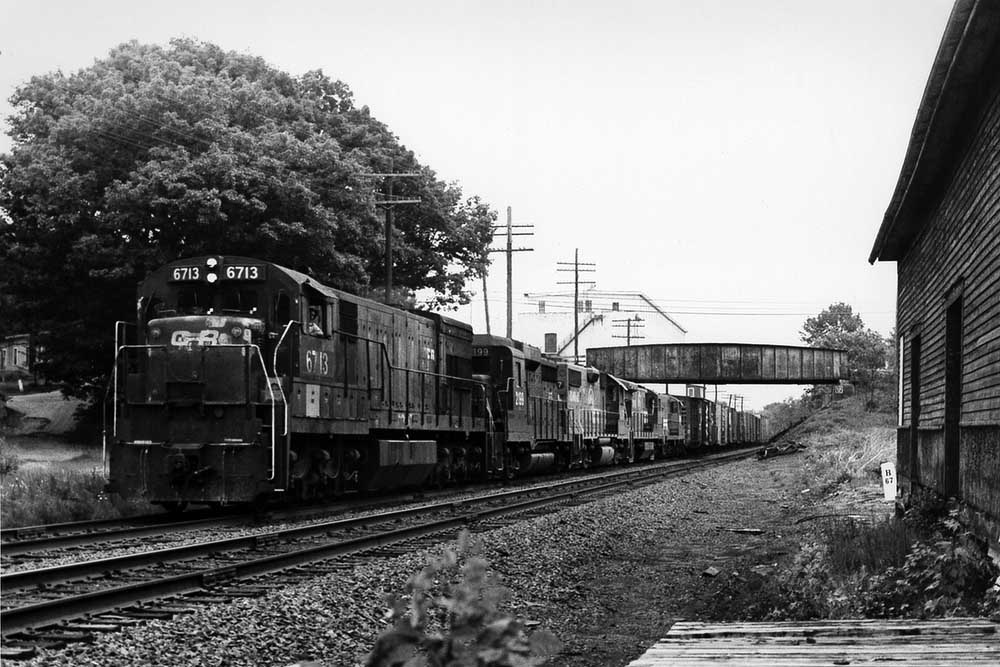 A new USRA
United States Railway Association, a federal government corporation, was formed to attempt a rescue. The USRA planned to parcel out portions of the Reading and Erie Lackawanna to Chessie System and Penn Central's lines along the DelMarVa Peninsula to the Southern Railway. A new railroad, Consolidated Rail Corporation, would acquire the rest. Neither Chessie nor Southern could reach agreement with the labor unions, so Consolidated Rail Corp. (first ConRail, then Conrail), took over the railroad properties and operations of Penn Central, Central of New Jersey, Erie Lackawanna, Lehigh & Hudson River, Lehigh Valley, Reading, and Pennsylvania-Reading Seashore Lines on April 1, 1976. PRSL alone among the seven railroads was not bankrupt, but it had almost no traffic and was on the verge of physical collapse.
Conrail started out with $2.1 billion from the U. S. government, which purchased Conrail debentures and preferred stock. The new railroad operated 5,000 locomotives on 17,000 route-miles of railroad; it had 162,000 freight cars, 95,000 employees, and 278 different labor agreements. It had excess plant; it had labor-protection agreements; and it had extensive commuter train operations serving Boston, New York, and Philadelphia.
Conrail identified 6,000 miles of railroad it did not need and abandoned those lines or sold them to short lines and state and local operating authorities. Conrail transferred ownership of the Northeast Corridor (Boston–New York–Washington, Springfield–New Haven, and Philadelphia–Harrisburg) to Amtrak. It began to catch up on years of deferred maintenance, rebuilding track and buying new locomotives and rebuilding old ones. It eliminated duplicate facilities and won a few minor concessions from labor unions.
In the second quarter of 1979 Conrail posted a modest net income, but an economic recession wiped out any chance of another quarter of profitability. Meanwhile, the USRA continued to consider Conrail's future.
In October 1980 U. S. president Jimmy Carter signed into law the Staggers Rail Act, which gave railroad companies freedom to set prices. Not long afterward the United States received a new president, Ronald Reagan, who intended to dismantle Conrail. Congress, however, allowed Conrail to discharge re­dundant employees and transfer its commuter services to state and regional authorities, giving Conrail a two-year reprieve.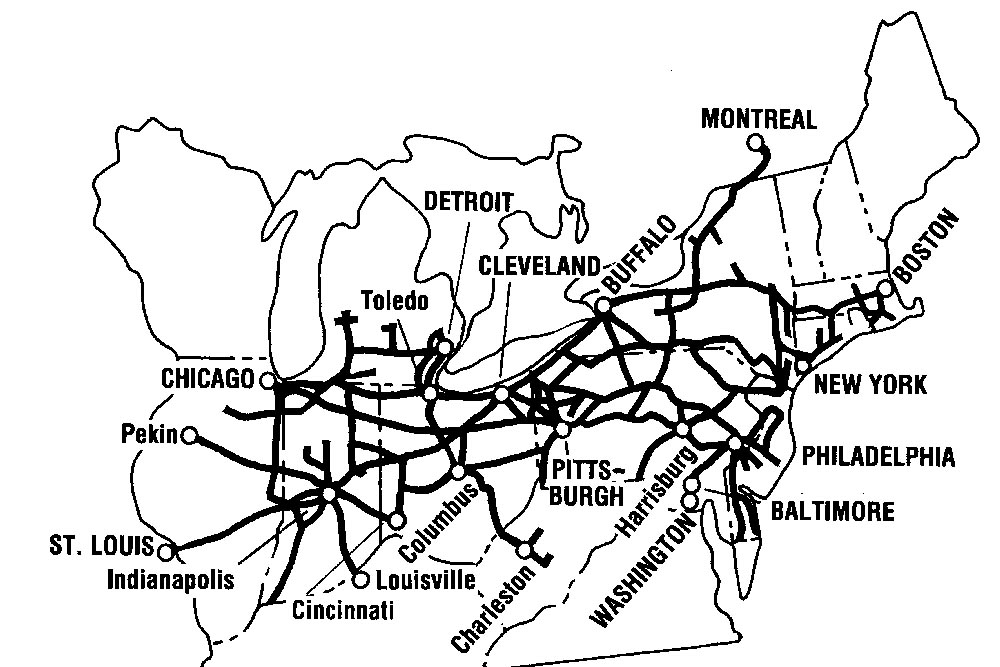 Profit!
Freed of commuter services and able to set its own rates and abandon track it no longer needed, Conrail started to become a profitable freight railroad. L. Stanley Crane assumed the presidency of Conrail at the beginning of 1981, about the time the Reagan administration proposed selling the railroad. Crane continued to trim Conrail's physical plant and payroll. He took advantage of deregulation; he improved the quality of Conrail's service; he sharpened Conrail's image.
Conrail posted a profit for 1981, and kept doing better, even as almost every other railroad was (a) bidding to purchase it at a bargain price and (b) protesting anyone else's doing so. Santa Fe and Norfolk Southern both expressed interest in purchasing Conrail, but Santa Fe soon turned its attention to its proposed merger with Southern Pacific (which was denied). Norfolk Southern continued as the favorite and won the approval of the U. S. Department of Transportation. In February 1986 the U. S. Senate voted to sell Conrail to Norfolk Southern. Numerous other railroads, CSX notable among them, protested. In August 1986 Norfolk Southern withdrew its bid to purchase Conrail.
In October 1986 President Reagan signed a bill changing the course of Conrail history by authorizing the sale of its stock to the public. It went on sale March 25, 1987, at $28 a share, the largest single initial public stock offering in the history of the New York Stock Exchange. It netted the government $1.6 billion, plus $300 million of Conrail cash and a return of $2 billion worth of tax credits. Conrail settled down to a stable existence as one of America's "Super Seven" freight railroads.
During the recession of 1990 and 1991 Conrail reacted quickly to the anticipated drop in revenue by cutting expenses, storing locomotives and cars, and restructuring its services, with the result that it was still able to declare a stock dividend. In 1990 Conrail bought back about one third of its common stock as part of a restructuring to thwart possible takeover bids. By the end of 1991 the price of Conrail stock had risen to $84.50 a share — an indicator of the company's robust health.
By 1995 the Super Seven had become five: Burlington Northern & Santa Fe and Union Pacific west of Chicago, CSX and Norfolk Southern in the Southeast, Conrail in the Northeast — and CR, CSX, and NS between the Allegheny Mountains and Chicago. In 1995 NS again expressed an interest in purchasing Conrail, but nothing came of it. Then came a surprising announcement on Oct. 15, 1996, that Conrail and CSX planned to merge. Norfolk Southern immediately made a counter-offer. In January 1997 Conrail stockholders voted to reject CSX's offer in favor of NS's. Then the executives of the three railroads met to discuss compromises.
The result was that CSX and NS together together acquired Conrail by a joint stock purchase, approved by the Surface Transportation Board on July 23, 1998. Norfolk Southern received a larger share of route-miles (about 7,200 to 3,800 for CSX). CSX acquired the eastern half of the former New York Central (Boston and New York through Albany and Buffalo to Cleveland) and the Cleveland–Indianapolis–St. Louis route (part NYC—or Big Four—and part PRR). NS received the eastern portion of the Pennsylvania, the former New York Central from Cleveland through Toledo to Chicago, and what little remains of Michigan Central.
But Conrail history lives on with the Conrail Shared Assets Operations, owned jointly by CSX and NS, still exists as a terminal operating company to serve customers in three areas: Detroit, North Jersey, and South Jersey/Philadelphia.