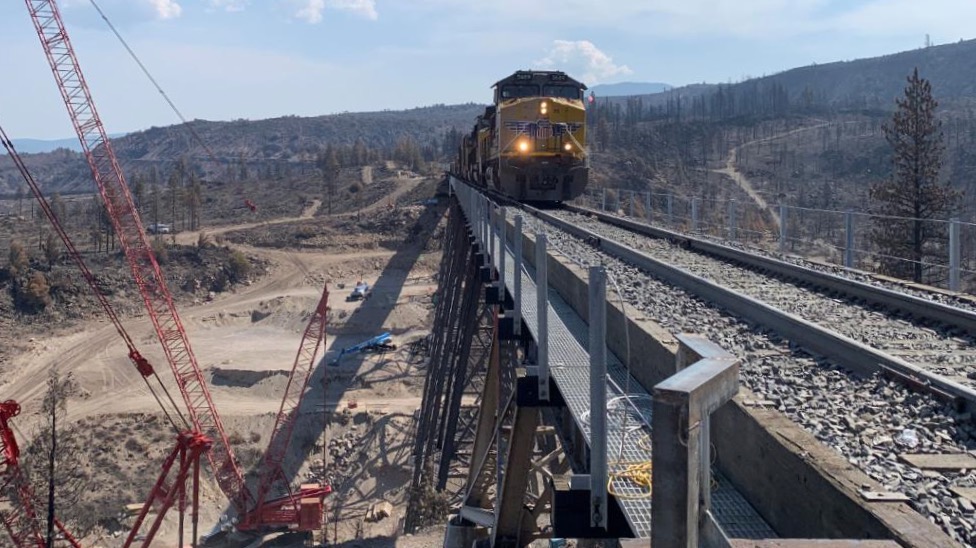 PHOENIX — Never underestimate the value of experience and institutional knowledge.
That's one of the many lessons from Union Pacific's Dry Canyon Bridge reconstruction project in 2022.
The project, which replaced a major fire-damaged trestle in Northern California in 2021 — about a month faster than was originally projected — has been much discussed and is justly held up as a matter of great pride by UP [see this article on the railroad website, and "Analysis: Union Pacific bridge repairs …," Trains News Wire, Aug. 10, 2021].
But Shane Keller, the railroad's senior vice president of engineering, provided some additional details on the work on Thursday during his presentation on UP's capital plan for 2022 at the 43rd National Railroad Construction & Maintenance Association Conference — like the information recalled by one veteran employee that helped speed the project along.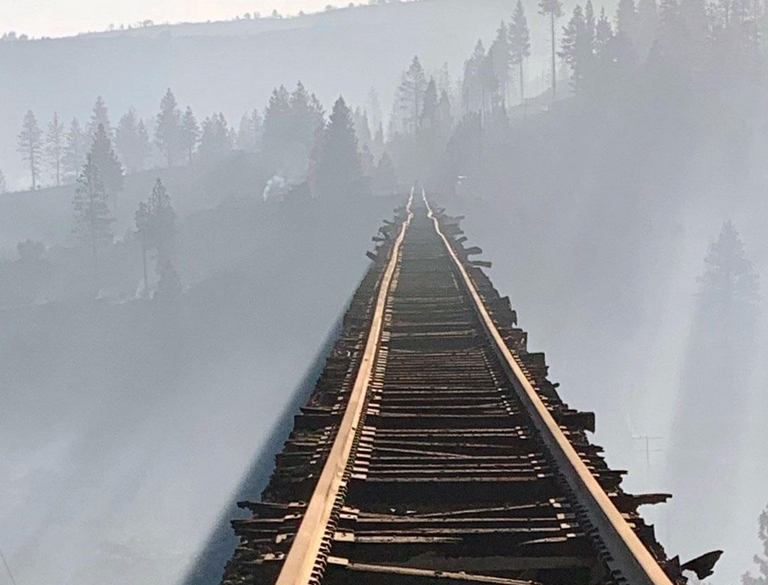 The project required replacing 18 of the 19 spans of the 1,200-foot-long, 150-foot-tall bridge. Those spans measured 80 or 40 feet. The 80-foot sections were rebuilt on site. But what about the 40-foot spans?
"One of our more seasoned individuals said, 'Back in the 80s, we took out this bridge in Nebraska,'" Keller said. "'And those spans are sitting in Cheyenne, Wyo., right now, in the weeds. And we were going to scrap those this year. Why don't we have somebody take a look at those?'"
A review showed those spans were still structurally solid. "We had to modify a few things," Keller said, "but we ended up taking the spans that we took down in 1980 and ended up reinforcing them and putting them up on this bridge. All the spans that are on top of the towers are actually from an old bridge we had a long time ago. We said it was going to take 60 days to get it open, and we did it in a little bit more than a month."
The around-the-clock operations faced any number of challenges. The railroad built a road to reach the site, so it could bring in … It faced a shortage of hotel rooms because firefighters had much of the available space. "We wanted to keep people on site as much as we could," he said. "We had food brought out to them. … This was fantastic work by everybody that was involved."
Three weeks after the bridge was placed in service, the railroad's chief inspector paid the facility a visit. "I said, I want you go out there and inspect the thing," Keller said. "I want you to walk the entire span, underneath, the whole nine yards.
"He came back and said, 'Hey, boss, that's as good as any new structure we've ever put up. That thing's going to be there for a long time."
2022 capital plans
UP is coming off a year with a capital spend of about $2.9 billion, with $1.9 billion of that for renewal projects — rails, ties, bridge replacement, and the like. While the capital plans are not yet ready for release, Keller said the renewal portion of the budget will be "similar" to 2021.
"We've probably gotten to the point on our capital spend for infrastructure where we're starting to hone things a little bit," Keller said. "We probably feel comfortable with the spend that we've got in each category.
"It's a little bit different because we used to say, at least on the engineering side, that we thought we were behind, and I don't know if that's the case. It is criminal to undermaintain your railroad. It is probably criminal to overmaintain your railroad as well. So the position we're really looking for right now is the sweet spot."
Plans for this year call for the replacement of 3.4 million ties, at a cost of $381 million (compared to 3.8 million in 2021); 496 miles of rail (versus 490 a year ago), at a cost of $255 million; 3.2 miles of bridges (compared to 3.6) and work on 3,100 miles of roadbed. The last figure is the same as 2021, but will include some 209 miles of undercutting work, at a cost of $52 million, after none was done in 2021.
Capacity projects will include ongoing siding extension work, to address the longer-train component of Precision Scheduled Railroading operations.
"Most of our siding extensions are 14, 15, 20,000 feet," Keller said. "Back in the day, we used to call that double track. In 2020, we did 36 siding extensions; last year we did 15, and for this year, we're looking at somewhere around the 20 range."
The railroad also will continue its work to improve Houston's Englewood hump yard, with the goal of being able to handle 3,000 cars a day [see "UP plans work on Houston's Englewood Yard …," News Wire, Dec. 23, 2021]. "It's where the cars want to go, it's where the customers are," Keller said. "That's where we're going to put our money."
Joliet's Global 4 intermodal facility is also seeing expansion, with five new rail-mounted gantry cranes to enter service this year, an additional 30,000 feet of track, a new stack able to handle 1,600 containers, and 400 more parking spaces.