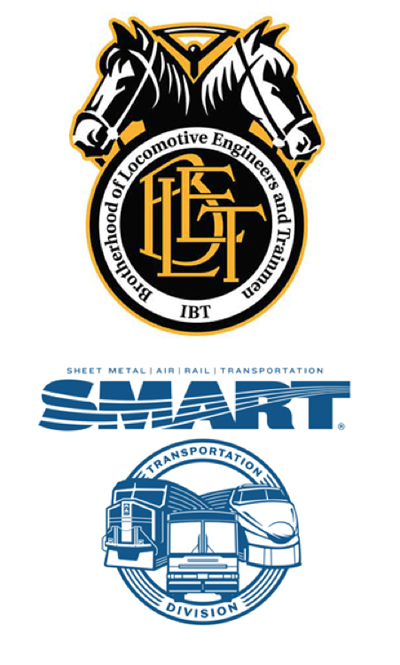 Leaders of the two major unions representing train crews have blasted the announcement by railroads that they would begin to embargo hazardous-material and other security-sensitive shipments as "corporate extortion" and "corporate terrorism" designed to force Congress to intervene in the current rail labor dispute.
Jeremy Ferguson, president of the Sheet Metal, Air, Rail, and Transportation Workers-Transportation Division (SMART-TD) and Dennis Pierce, president of the Brotherhood of Locomotive Engineers and Trainmen of the Teamsters Rail Conference, issued their statement Sunday. It follows announcements by the Association of American Railroads and several Class I roads that they would begin to embargo certain shipments, and that other forms of traffic could see disruptions as soon as Tuesday, to prepare for a possible shutdown. [see "Railroads begin embargoes …," Trains News Wire, Sept. 9, 2022].
The current cooling-off period for negotiations ends at 12:01 a.m. EDT on Friday, Sept. 16, at which time unions can strike or can be locked out by railroads.
The railroads' announcement came at the conclusion of three days of bargaining at the National Mediation Board. "It was abundantly clear from our negotiations over the past few days that the railroads show no intentions of reaching an agreement with our unions, but they cannot legally lock out our members until the end of the cooling-off period," Ferguson and Pierce wrote. "Instead, they are locking out their customers beginning on Monday and further harming the supply chain in an effort to provoke congressional action.
"The railroads are using shippers, consumers, and the supply chain of our nation as pawns in an effort to get our unions to cave into their contract demands knowing that our members would never accept them. Our unions will not cave into these scare tactics, and Congress must not cave into what can only be described as corporate terrorism."
Norfolk Southern Chief Marketing Officer Ed Elkins said in his message to customers on Friday that 10 of 12 unions involved in national negotiations have either reached tentative agreements (five have been announced) or are finalizing such agreements. SMART-TD and the BLET are the two holdouts, seeking changes in work rules and working conditions along with wage increases. "As such," the two union chiefs wrote in a Labor Day statement, "BLET and SMART-TD members are situated differently at this stage of the negotiations than the members of most other rail unions" [see "News report: Labor secretary joins rail negotiation session …," News Wire, Sept. 8, 2022].
"Our members are being terminated for getting sick or for attending routine medical visits as we crawl our way out of worldwide pandemic," Ferguson and Pierce wrote Sunday. "No working class American should be treated with this level of harassment in the workplace for simply becoming ill or going to a routine medical visit. Sadly, the Presidential Emergency Board recommendation got it wrong on this issue." [The board recommended further negotiation on work rules, followed by arbitration.] "As we have said from the day that they were implemented, these policies are destroying the lives of our members, who are the backbone of the railroad industry."
While a wide variety of industries are calling on Congress to intervene in the labor dispute, the two union presidents are asking the reverse: "These self-appointed titans of industry complain constantly about government regulation and interference — except now when it comes to breaking the backs of their employees. … Congress should stay out of the rail dispute and tell the railroads to do what other business leaders do — sit down and bargain a contract that your employees will accept."