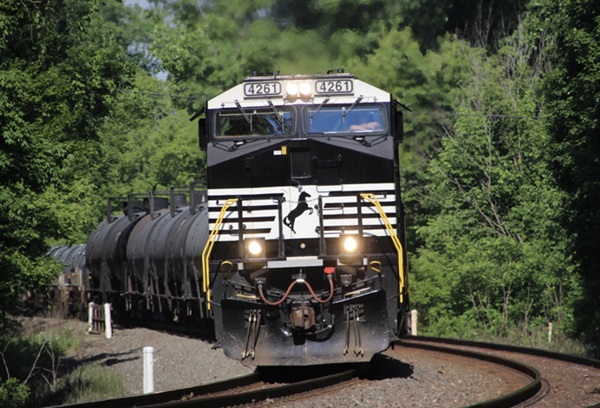 ---
Railroads have begun preparations to secure what they call "hazardous and security-sensitive materials" to make sure no such cargo is left on a train left unattended or unsecured in the event of a work stoppage, the Association of American Railroads, Norfolk Southern, Union Pacific, and BNSF Railway all said in news releases or messages to customers this evening (Friday, Sept. 9).
And they have indicated that other customers could begin to see service disruptions as early as this Tuesday, Sept. 13, as railroads prepare for a possible shutdown.
Ed Elkins, executive vice president and chief marketing officer at Norfolk Southern, wrote in a Friday message to intermodal customers that railroads "have reached or are finalizing tentative agreements with 10 of the 12 unions involved in negotiations." To date, five unions have announced tentative agreements [see "Two more unions reach tentative agreements …," Trains News Wire, Sept. 3, 2022].
"We asked the two holdout unions for a commitment not to strike so we could continue normal operations," Elkins wrote, "but they have declined."
That being the case, Elkins said, NS will begin embargoing certain types of shipments as of today, "which includes rail security-sensitive material and certain time-sensitive shipments outlined in the embargo." Other customers, including bulk unit trains, intermodal, and automotive, will see a curtailment of service up to 72 hours before the end of the cooling-off period "to prepare for a safe and orderly stoppage should there be a strike."
The National Carriers' Conference Committee, which represents all U.S. Class I railroads except Canadian Pacific, is continuing to negotiation with unions over a new national contract following the release of recommendations from a Presidential Emergency Board to address the ongoing labor dispute [see "Presidential Emergency Board issues rail contract recommendations …," News Wire, Aug. 16, 2022]. The 30-day cooling-off period triggered by the release of the board's recommendations ends at 12:01 a.m. on Friday, Sept. 16, at which time unions can strike or can be locked out by the railroads.
"If the position of the unions changes and the threat of a strike is retracted, we will seek to resume normal operations as quickly as possible," Elkins wrote. NS has also posted an update with some of the same information on its web site.
Union Pacific, in its announcement to customers, provided a link to the Association of American Railroads statement, which says, in part, that railroads "are taking all measures necessary to handle sensitive cargo in accordance with federal regulations to ensure that no such cargo is left on an unattended or unsecured train in the event of a work stoppage." It also warns that other customers "may also start to experience delayed or suspended service over the course of next week" as railroads prepare for a possible shutdown.
UP said it will begin to secure hazardous and other security-sensitive materials on its property as of Monday, Sept. 12, and will embargo new shipments of hazardous commodities included in a 15-page list. "This is a proactive measure we are taking ahead of any potential work stoppages due to an impasse in labor negotiations," UP said in its statement.
BNSF posted its own letter to customers later on Friday from Steve Bobb, executive vice president and chief marketing officer, saying it would begin to take action to address hazardous and security-sensitive materials as early as Monday, Sept. 12. Like the NS post, it urged shippers to contact members of Congress to "let them know the impact a rail service interruption would have on your business and your customers."
The NS, BNSF, and AAR statements all say that the moves "do not mean that a work stoppage is certain."
— Updated at 9 a.m. CDT on Sept. 10 to include BNSF message to customers.