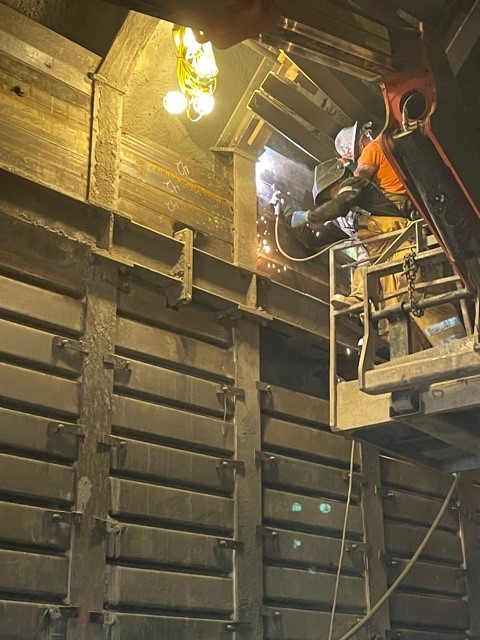 ---
PHOENIX — Extreme weather and natural disasters took a broad toll on railroads in 2021, and BNSF Railway was certainly not exempt.
"All of us in the industry," said Craig Rasmussen, BNSF's assistant vice president, engineering services and structures, "have realized that Mother Nature is not a nice lady. Sometimes she is really tough to work with."
Rasmussen, speaking at the National Railroad Construction and Maintenance Conference, outlined the challenges nature presented in Northern California in summer and fall 2021. There, the Dixie Fire —which burned over 900,000 acres and also disrupted Union Pacific operations — took out two bridges and led to the collapse of a tunnel that shut down the Gateway Subdivision, connecting Northern California and the Pacific Northwest, for almost three months.
"If you haven't had an opportunity in your career to rebuild a tunnel, I don't recommend it," Rasmussen said.
The 470-foot tunnel near Keddie, Calif., was shut down after a portion of the timber-lined structure collapsed. The route was closed in July, with tunnel repairs beginning in August and the route reopening in October [see "BNSF Railway hopes to reopen fire-damaged Northern California main …," Trains News Wire, Oct. 7, 2021].
"I'd liken this to trying to build a tunnel through marbles that are also a volcano," Rasmussen said. "Because it was still on fire as we were trying to restore the tunnel. Every time you'd take a scoop of dirt, the oxygen would hit it and it would flair back up again. Obviously, we went through all the precautions of having CO2 monitors. … Every time you'd have an air exceedance alarm, we'd evacuate out and made sure you'd get fresh air. … It's painstakingly slow."
Even with technology advances in the 80 years since the tunnel was built, he said, "it's a very manual process. … You think about working in these conditions for three months, the joy of seeing the first train come through, that is a sense of accomplishment."
At the same time, while the fire did knock out two bridges, Rasmussen emphasized that much more infrastructure was saved than lost, thanks to the efforts of BNSF employees, contractors, and Cal Fire, the state's Department of Forestry and Fire Protection.
"We lost two bridges. We lost the tunnel," he said. "But we saved over 30 other assets, by doing proactive work, fire management, sprinkling the bridges, signal infrastructure, and telecom infrastructure."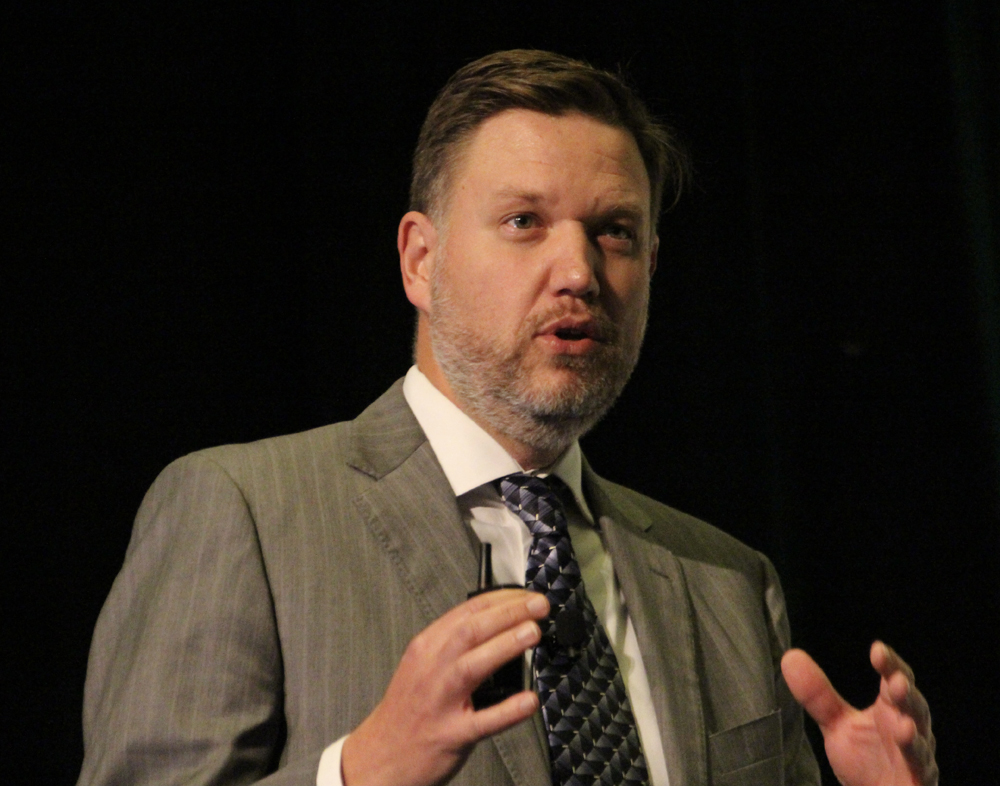 That included use of the two fire trains. "It's really pretty simple," he said. "You just keep water sprayed on them. The hard part is finding water. You have to have the bladders that are there; you have to keep them filled. It's not like at home where you can just turn on your irrigation system. … Running this train isn't just for a couple miles. This is for 60 miles up and down our Gateway Subdivision, as the fire continued to progress quickly. Getting up and down the track quickly, that's part of what it took to preserve the assets that we did."
2021 and 2022 spending
BNSF spent about $2.99 billion on capital projects in 2021, with $2.41 billion of that, or some 83%, reinvestment in the physical plant — rails, ties, ballast, signals, bridges, and the like. The railroad will announce its 2022 plans soon, but spending is essentially in a "steady state," Rasmussen said, displaying a chart that has had the railroad spending between $3.83 and $2.99 billion annual since 2016.
Among 2021's capacity projects are work in Kansas to complete double-tracking of the BNSF's Southern Transcon and the new Truxton, Ariz., flyover [both featured in the February 2022 issue of Trains Magazine]. The railroad has also begun work to add a third main line from Needles to Goff, Calif.,  where the additional track will help congestion at a crew-change point and river crossing. "This is similar to what we did three or four years ago at Belen, N.M., where almost the same phenomenon exists," Rasmussen said.
Long-term plans in California
A complex set of projects is under way or planned in California, involving not just BNSF's own plans, but projects involving Amtrak and the state's high speed rail project.
"It's about partnering with public investment," Rasmussen said. "it's about making sure we create win-win scenarios with agencies. … This is an investment partnership we have with the public and their desire to have increased passenger rail transportation and build out beyond our track or otherwise adjacent track."
In Northern and Central California, "over the next decade, this is about announced public development that essentially fills in all the of the seven remaining segments of single track that we have on our Bakersfield and Stockton subdivisions, and also eliminates an at-grade crossing that we have in Stockton with another railroad." [See "Digest: Stockton Diamond project receives $100 million …," News Wire, Dec. 4, 2020]. There's also work related to the high speed rail project which includes protective walls to maintain separation between the high speed and BNSF rights-of-way, as well a number of viaducts where the high speed route crosses the BNSF.
"Over the course of this project, we're going to set about 750 girders across our main-line track," Rasmussen said. "And by the way, some of these girders are not just small spans. We're talking 200, 220 feet long. … To get this done safely, it takes a tremendous, well-orchestrated process that makes sure it has checks and balances, and frankly, we are going to make sure you've got all your I's dotted and T's crossed before we let you set the girder across the main line."
Plans in Southern California over the next decade could see almost 100 miles of new track. "Again, this is all funded through public partnerships, as they have a desire to increase the reliablility and frequency of their passenger service, partnering together with that dual capacity." In all, the projects — in the final design phase — have an estimated cost of up to $8 billion, with a target date of June 2022 to start construction and June 2028 to finish. In all, it will include 50 miels of new main line, 47 miles of new non-main track, 15 miles of track shifting, 24 miles of track removal, 47 crossovers, and 111 additional turnouts. This is part of the SCORE program to increase transportation capacity by the 2028 Olympics.