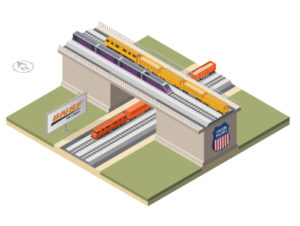 More Friday morning rail news
Stockton Diamond gets $100 million grant from California
The Stockton Diamond project, which seeks to replace a busy at-grade Central California rail crossing with a flyover, has received a $100 million grant from the California Transportation Commission. The Manteca Bulletin reports the grant will help fund a $237 million project that plans to place Union Pacific tracks on a bridge over the BNSF Railway line, not only easing rail congestion, but addressing roadway delays, as well. More information on the project is available here. The project previously was awarded $20 million as recipient of a federal Better Utilizing Investments to Leverage Development (BUILD) grant [see "Digest: Maryland says it could take six months …," Trains News Wire, Sept. 16, 2020].
LA Metro board approves environmental report for San Fernando Valley light rail line
The LA Metro board has certified the Final Environmental Impact Report for its East San Fernando Valley Light Rail Project, the 14-station line that will connected Sylmar/San Fernando Metrolink Station with the G (Orange) Line bus rapid transit route at Van Nuys. A Metro blog post notes the certification completes the state-required environmental review and leaves the environmental process in the hands of the Federal Transit Administration, which is expected to release a Record of Decision in January. The FTA decision will confirm that the project meets federal guidelines and is eligible for federal funding. Construction is expected to begin in 2022, with the line opening by 2028.
Company seeks to launch new Ohio short line
A new company seeks to reactivate a dormant Ohio rail line with a shortline operation, but the government agency that owns most of the right-of-way wants the route converted into a bike and hiking trail. The Akron Beacon Journal reports the Hudson & Southern Railway would reactivate 12 to 15 miles of rail line through Hudson, Stow, Silver Lake, and Cuyahoga Falls, Ohio, initially making its money by providing railcar storage. Jeff White, a co-founder of the company, says he has met with the Akron Metro Regional Transit Authority, which owns most of the route — Norfolk Southern owns a portion — although COVID-19 considerations had paused pursuit of the project. A Metro RTA official confirmed there had been a meeting about a year ago, but none since; more work has been focused on creating the bike trail, through discussions with officials in the communities involved.