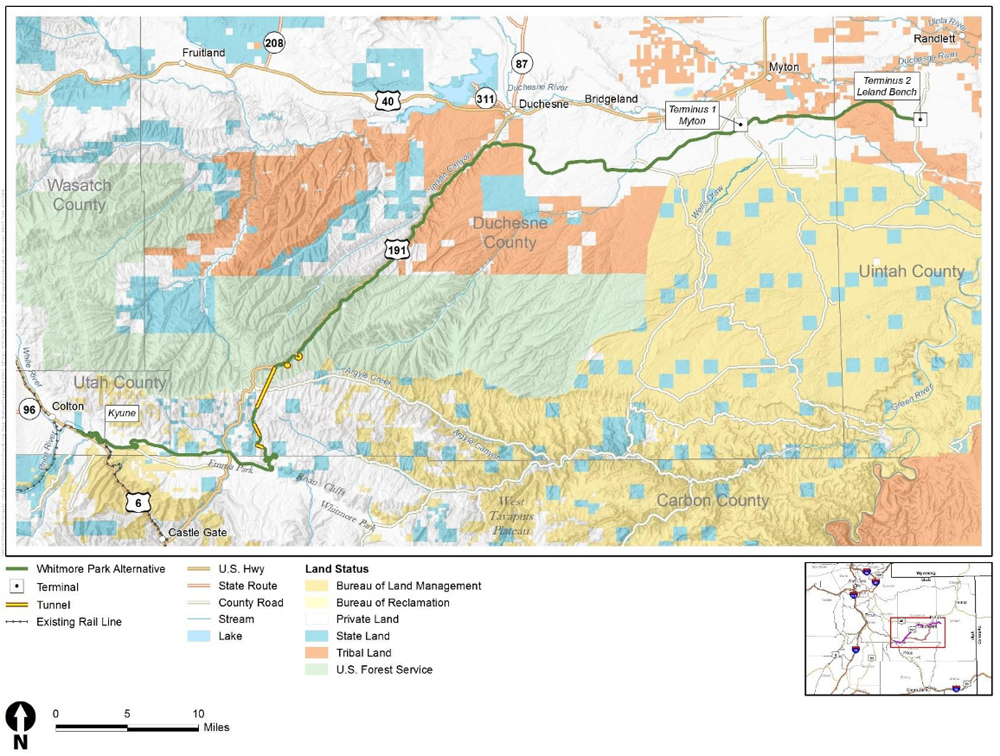 ---
WASHINGTON — A Surface Transportation Board decision has cleared the way for construction of Utah's Uinta Basin Railway.
In a decision issued Wednesday, the board granted the exemption sought by the Seven County Infrastructure Coalition to construct the 85-mile line to connect oilfields in western Utah to the national rail network at a junction with Union Pacific at Kyune, Utah, subject to environmental mitigation conditions proposed by the STB's Office of Environmental Analysis.
The coalition requested the exemption in May 2020 for a project it says will cost $1.2 billion to $1.3 billion, and will mostly be used to ship crude oil and frac sand. The project is supported by the state's two U.S. senators and five members of the House of Representatives, as well as the Ute Indian Tribe and a number of state officials. It has been opposed by a number of environmental organizations.
While noting that the project "is likely to produce unavoidable environmental impacts," the board found that the chosen route, the Whitmore Park Alternative, and the mitigation efforts, will minimize those impacts, and that the line will have "substantial transportation and economic benefits. … In sum, the transportation merits of the project outweigh the environmental impacts."
Wednesday's decision follows an earlier board ruling concluding the proposal meets the statutory standards for exemption [see "Digest: STB ruling supports transportation aspect of Uinta Basin project," Trains News Wire, Jan. 5, 2021] as well as issuance of the Final Environmental Impact Statement in August [see "Final environmental statement released …," News Wire, Aug. 6, 2021].