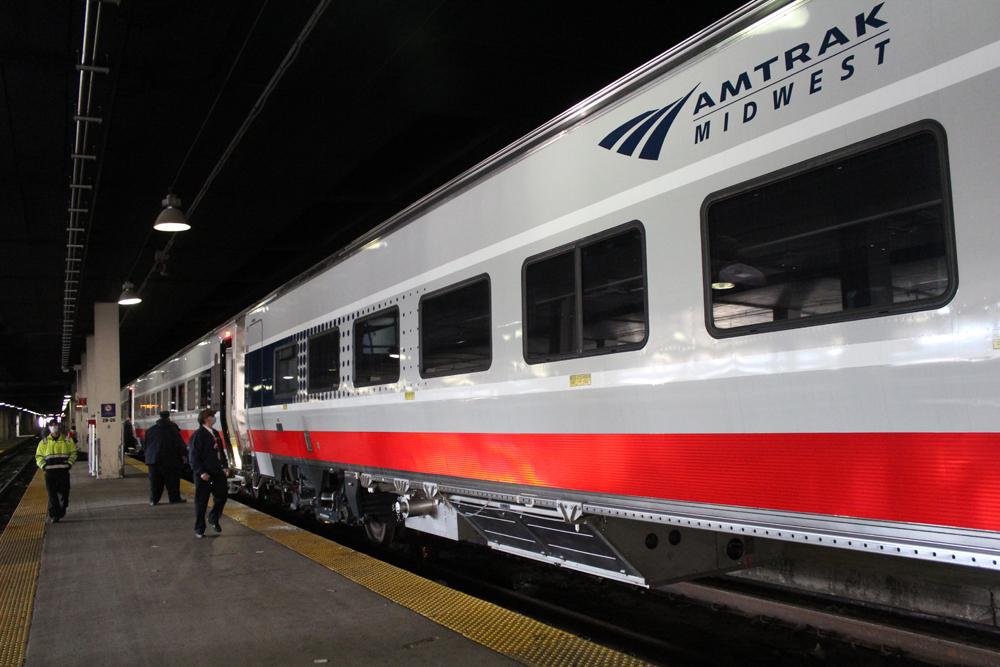 ---
First of two parts
CHICAGO — Delayed deliveries of new Siemens-built Venture rolling stock for Midwest and California routes have added to a cascading lack of equipment at a time of surging travel demand — a problem felt beyond the areas where the new equipment will operate, and extending into the long-distance fleet.
Cars in the Siemens order for coaches, business class, and café cars, purchased by the states, began arriving in summer 2020. After numerous delays caused in part by supply chain, testing, and manufacturing issues, four coaches finally began carrying travelers on one Chicago-St. Louis Lincoln Service trainset on Feb. 1, 2022 [see "First look: Siemens Venture coaches debut …," Trains News Wire, Feb. 2, 2022].
Cars withdrawn over table problem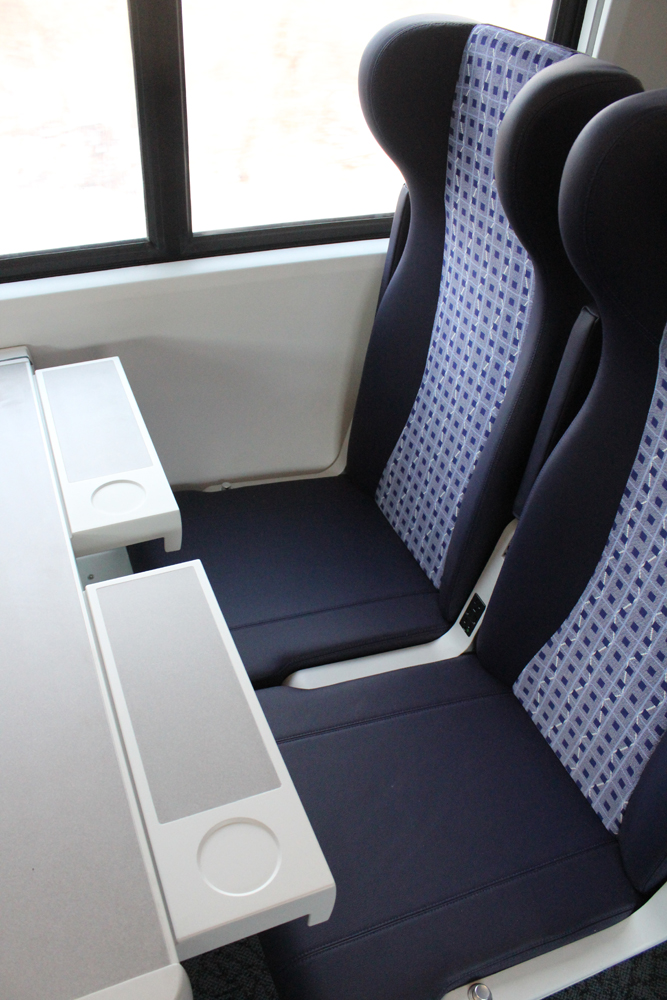 But the Siemens equipment has since been withdrawn from service after it was learned that magnets in the four-seat work tables in the coaches were disrupting operation of passenger smartphones and laptops. Those magnets are used to lock extensions on the tables.
"While there were some reported occurrences of the magnets on the tables causing electronic devices to shut down, we have not received any reports of the magnets causing damage to any electronic devices," says Scott Speegle, a spokesman for the Illinois Department of Transportation. "Out of an abundance of caution, the decision was made to take the Venture cars out of service and come up with a solution to the issue. We are working with our partners at Siemens and Amtrak to determine the best course of action and return the Venture cars to service as quickly as possible."
The tables are different from those in similar equipment delivered to Brightline in 2018. Sources tell News Wire that a short-term solution is to affix brackets that prevent riders from extended the outer flaps until correct-strength magnets can be substituted.
New cars continue to arrive. "Three (combination) business class-coach cars have been delivered and are in the process of being accepted by the Midwest states and Amtrak," Speegle says. This will have 36 business-class seats, double the seating available in the Horizon and Amfleet business class/café cars currently paired with the new equipment.
Still to come are the Venture cafés, which had always been planned as the final Midwest cars built.
This deployment setback is only the latest blow in an equipment shortage that has reverberated throughout the Amtrak network.
Domino effect
At the March 2020 outset of the Covid-19 pandemic, Amtrak and states sponsoring short-distance corridors began mothballing unneeded cars and locomotives to avoid inspection and maintenance costs. The move spread to the long-distance fleet that October, when most trains were reduced to triweekly departures. That is also when operating, maintenance, and onboard service employees at many locations were furloughed or encouraged to take employment buyouts.
Amtrak received generous federal funding contingent on a return to daily operation, but management did not invest enough of that money into the equipment and personnel needed to ramp up capacity. That made the company especially vulnerable to the nationwide trend of prospective workers, including those it had previously furloughed, choosing new careers.
Additional shortfall issues developed when the Washington Department of Transportation's Rail, Freight, and Ports Division opted to wait years for new state-owned Siemens coaches rather than continue what had become a fractured relationship with Talgo, Inc. This resulted in the abrupt 2020 retirement of four 22-year-old Series VI trainsets and cancellation of a maintenance contract with the builder. It also doomed use of three never-operated Talgo Series 8 trainsets, compatible with the two Oregon-owned sets which remain in operation on the Seattle-Eugene, Ore., Cascades corridor.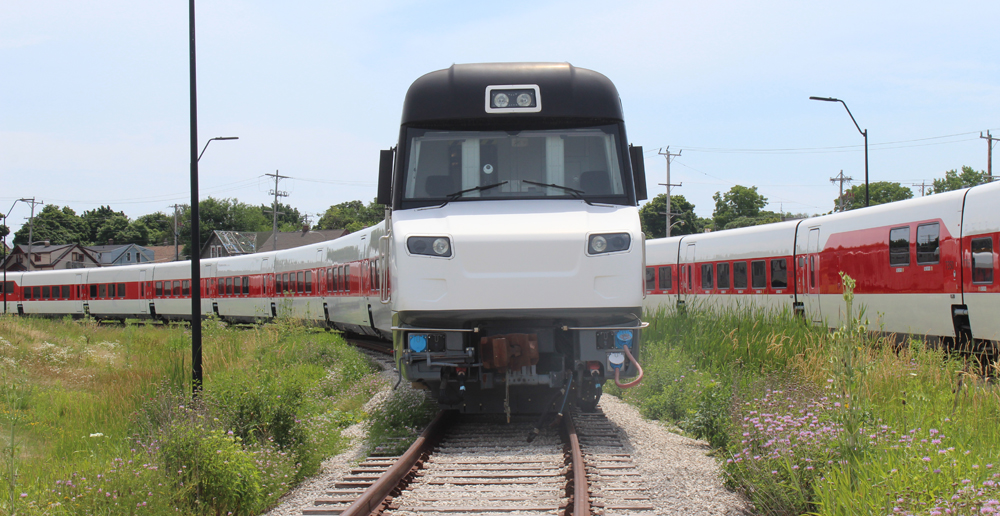 Amtrak initially pushed for — and paid to help facilitate — retrofitting the orphan Series 8s with upgraded Wi-Fi and positive train control at Talgo's Milwaukee facility that summer. This was meant to help fulfill Amtrak's commitment to furnish equipment to replace that lost in the fatal December 2017 derailment of a Cascades train at DuPont, Wash. But when WashDOT said it didn't want the brand new Talgos, Amtrak supplied 32-year-old Horizon coaches and business class/café cars. The Talgo trainsets were eventually sold for use in a new commuter operation in Nigeria.
Demand for Horizon cars remains
There was every reason to believe Horizons would become surplus once the Siemens equipment entered revenue service. As many as 12 coaches and five business class/café were sent to the Pacific Northwest to create four trainsets, but lately the active number is down to nine coaches and four cafe-business cars. With the two Oregon Talgos continuing to rotate among departures, this is just enough to protect three daily round trips north of Portland, Ore., to Seattle, and two that extend south to Eugene, Ore. Once Seattle-Vancouver, B.C., service begins, another trainset will be required, though no date for that resumption has been established [see "VIA's Canadian restores dome access …," News Wire, March 14, 2022].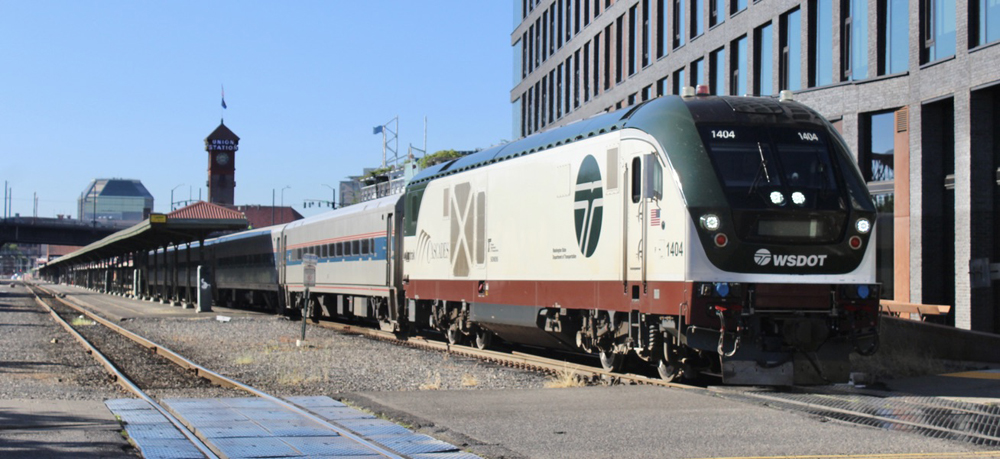 Financially, Amtrak benefits from the Cascades arrangement because Washington state is paying it to lease and maintain fully depreciated Horizon cars, instead of having the money go to Talgo, as had been the case since the 1990s. But Amtrak still must provide at least 14 equipment sets to the Midwest while dozens of Venture cars remain idle.
Some Horizon cars have been repatriated from California, which has not yet placed its Siemens cars in service for reasons the state has declined to discuss with News Wire. But the Amfleet 1 coaches and café cars currently working on the Northeast Corridor could help fill the equipment demand.
Coming Saturday, April 2: Solutions to fill the gap