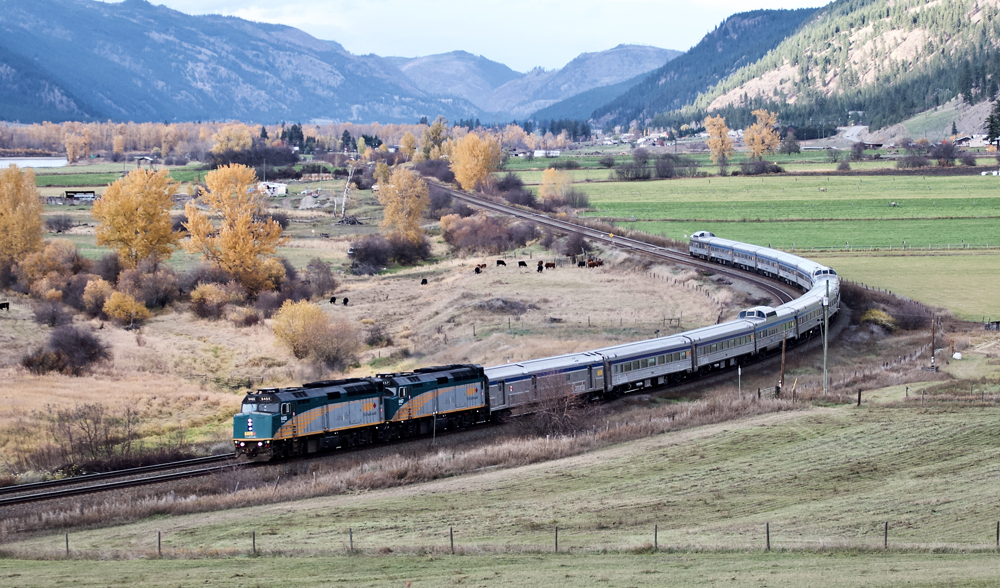 ---
MONTREAL — Without fanfare, VIA Rail Canada this week began allowing passengers on the Canadian and other trains to again sit under glass in dome car seats and have access to onboard lounge facilities. Both had been off limits as a result of health restrictions imposed by the carrier and various provinces since March 2020.
As of March 1, full dining service for sleeping-car passengers has also been restored to the Toronto-Vancouver, B.C. streamliner and the Montreal-Halifax, Nova Scotia, Ocean, according to VIA spokeswoman Jamie Orchard.
The Canadian will also regain a second weekly round trip. It has been operating one trip per week since December 2020, departing Vancouver on Monday and Toronto on Sunday. A second eastbound trip departs on Fridays beginning April 29, with a second westbound trip resuming Wednesday, May 4.
Also noteworthy is return of accommodations at both ends of the sleeping-car spectrum. As of April 4, the Canadian will again offer its high-end Prestige Class bedrooms, as well as upper and lower berths. Sales of open sections, the last vestige of a once-ubiquitous accommodation on every overnight North American passenger train, have already been restored to the Winnipeg-Churchill, Manitoba, trains, which have maintained regular weekly frequencies as a lifeline to rural communities.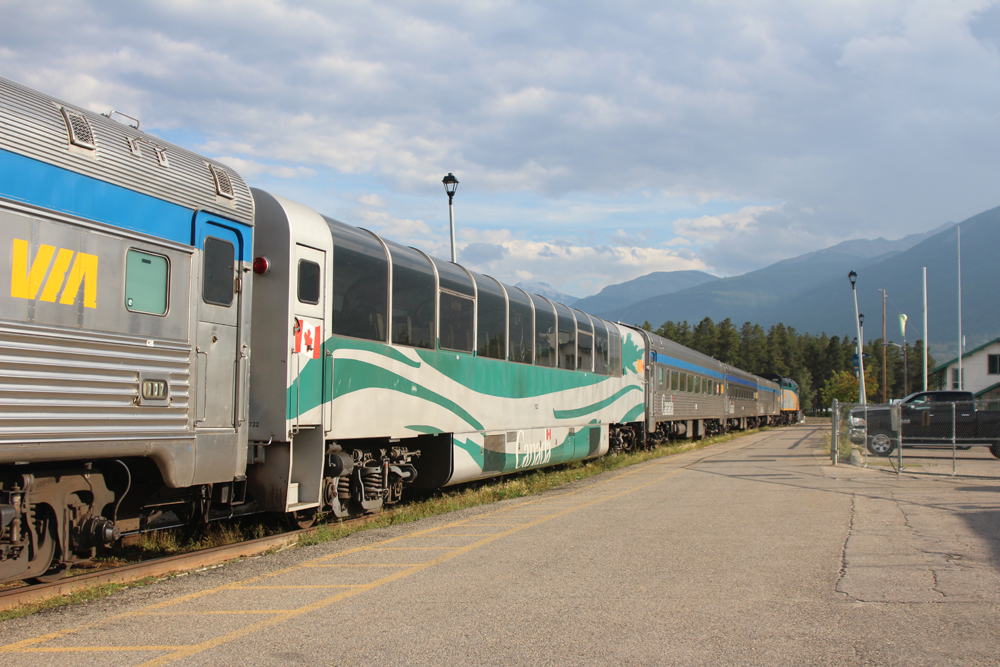 Elsewhere on VIA's system, more departures were added March 1 on the Quebec City-Windsor, Ont., corridor, a route that has seen fluctuations since the pandemic began. However, still stuck on once-a-week schedules will be three remote-service operations that were tri-weekly in 2019: Sudbury-White River, Ontario; Montreal-Jonquiere/Senneterre, Quebec; and Jasper, Alberta-Prince George, British Columbia-Prince Rupert, B.C.
The Canadian additions will create a same-day connection in both directions at Jasper for the once-weekly westbound train to Prince Rupert (once known as Skeena). Both these services previously featured full-length, single-level Panorama domes on some departures — packaged as the meals-included "Touring Class" on the Jasper-Prince Rupert train — but VIA's Orchard tells News Wire "there is no firm date for restoration of the Panorama cars at the moment."
Chateau sleepers return to Ocean
Orchard also says, "In the summer, we generally operate HEP-1 Chateau cars [ex-Canadian Pacific stainless-steel sleepers converted to head-end power] on the Ocean; this is scheduled to begin April 4."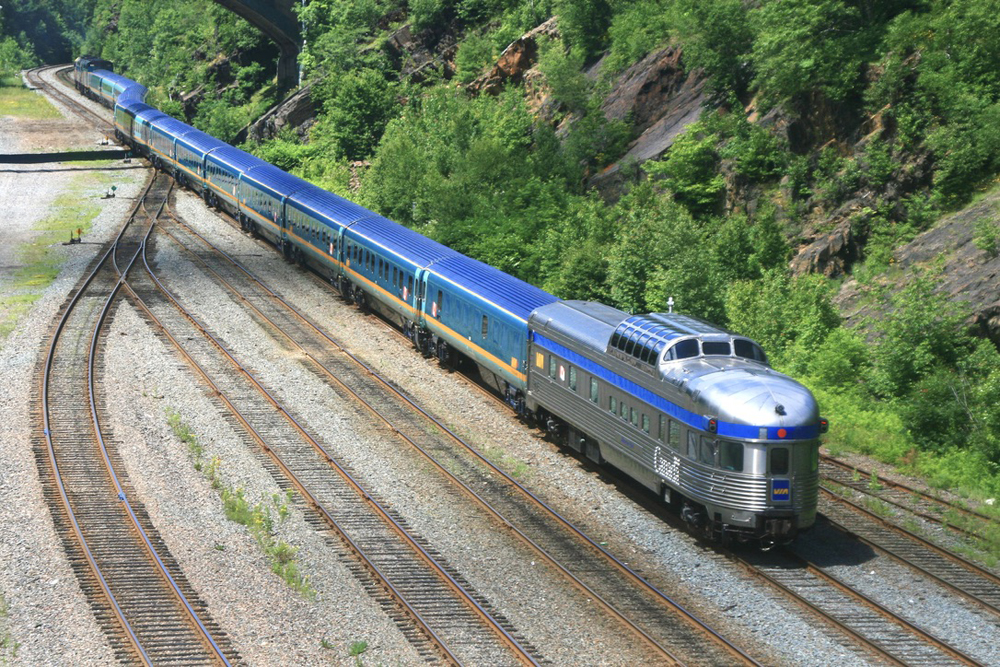 Sleeping car space in the regularly assigned, European-built Renaissance equipment is already showing as sold out on some days on VIA's website. The Chateau's accommodations, however, were not yet indicated on any dates recently spot-checked by News Wire. These cars offer berths, cabins for one (duplex roomettes), cabins for two (bedrooms), or a cabin for three (drawing room). However, Halifax contributor Tim Hayman says up to three Chateau sleepers for revenue passengers have been added during holiday periods in addition to the car now used for the onboard service crew.
Today's Ocean is a hybrid concoction of stainless steel Budd coaches and Renaissance service (snack bar-lounge), dining, and sleeping cars. This is because the train can no longer be wyed at Halifax and Renaissance coach seats can't be turned, although one accessible coach facing in each direction is included in every consist. The train also lost its Park dome observation lounge in VIA's capitulation to an operating reality it apparently was unable to contest.
It is unclear when, or if, the Ocean's Wednesday and Sunday departure days in each direction will be adjusted to restore a third weekly round-trip. With cross-province travel completely banned in the Maritimes for more than a year, the first frequency didn't return until September 2021, and the second until December. At that time, the company said a third round trip would start this June [see "VIA Rail to begin second 'Ocean' round-trip on Dec. 8," Trains News Wire, Nov. 9, 2021].
Planning a (pricey) trip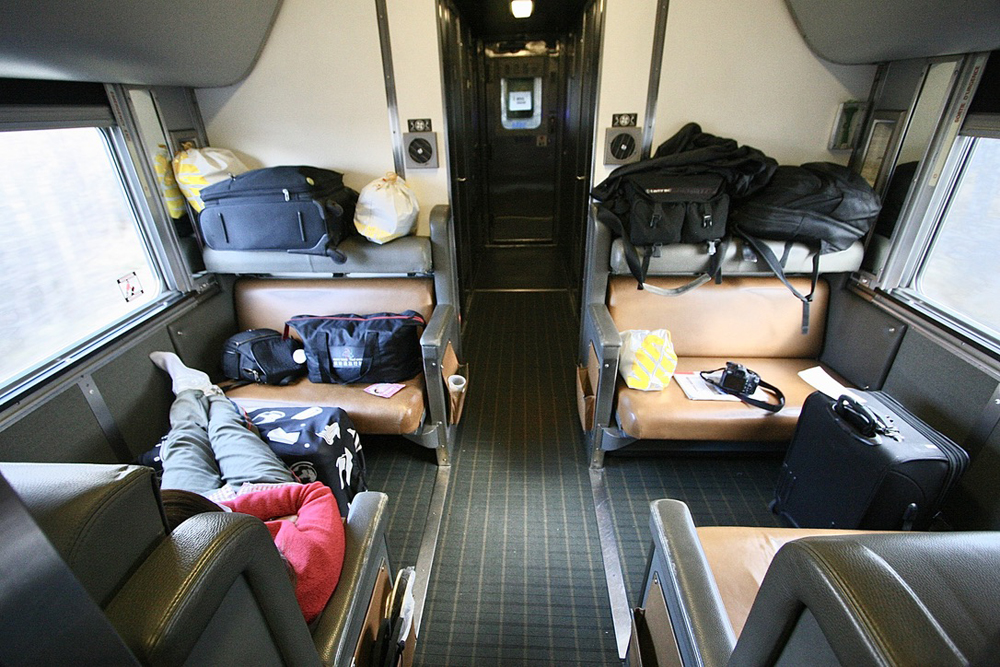 VIA can "increase train size to accommodate (more passengers) as much as our equipment allows," says Orchard. Permitting full dining service and access to domes has unquestionably restored value to the travel experience, but the biggest plus is opening upper- and lower-berth sales. Each of the Vancouver-Toronto train's Manor sleeping cars only have four "cabin for one" roomettes. With shortened consists, they have been unavailable for months in advance. There will now be an alternative on every departure, although the uninitiated may find privacy lacking, and upper-berth passengers are deprived of a window overnight.
Another consideration is price. Upper and lower berths on the Canadian are at the low end of what most people would consider a very expensive way to cross Canada. The U.S. dollar at this writing is worth about $1.28 Canadian, but the sample Toronto-Vancouver adult fares speak for themselves: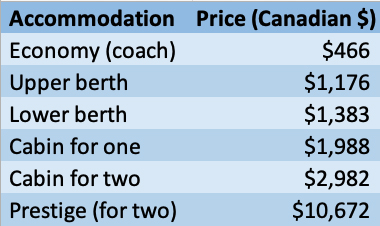 Unfortunately, VIA's management has chosen to make what had been a fairly informative — if complicated to navigate — website much less functional:
— Prices used to have a "taxes included" option, but now the GST/HST excises taxes, which vary by the Canadian province of departure, aren't added until a "continue" button is pushed. Thus, that lower-berth price above is actually C$1,452 eastbound and C$1,562 westbound, because Ontario's taxes are higher than British Columbia's.
— A more serious deficiency is elimination of easily printable, one-page schedules VIA used to provide. The company had thoughtfully supplied a succession of "temporary" schedules as service fluctuated following the March 2020 cutbacks, but hose have been dropped in favor of a contorted path requiring a visit to the Arrivals and Departures page of the website, followed by selecting "Timetables-accessible versions." The eastbound Canadian timetable provided here doesn't indicate when the additional frequencies will be added and has no description of the onboard amenities.
As of now, Canada requires anyone entering the country to prove that they are fully vaccinated; current requirements are available here. This may be one reason Amtrak has not yet resumed the cross-border Cascades to Vancouver, Maple Leaf to Toronto, or Adirondack to Montreal. Though the company won't specify any service resumption date, crew re-qualification has recently begun on the Seattle-Vancouver route.
As worldwide gas prices soar, VIA has an opportunity to enhance its Canadian transportation relevance through more frequencies, enhanced onboard service, nationwide promotion, and actively managed pricing that generates maximum revenue without chasing away prospective passengers. It is certain that "business as usual" will need to be redefined if VIA seeks to reach its full potential.