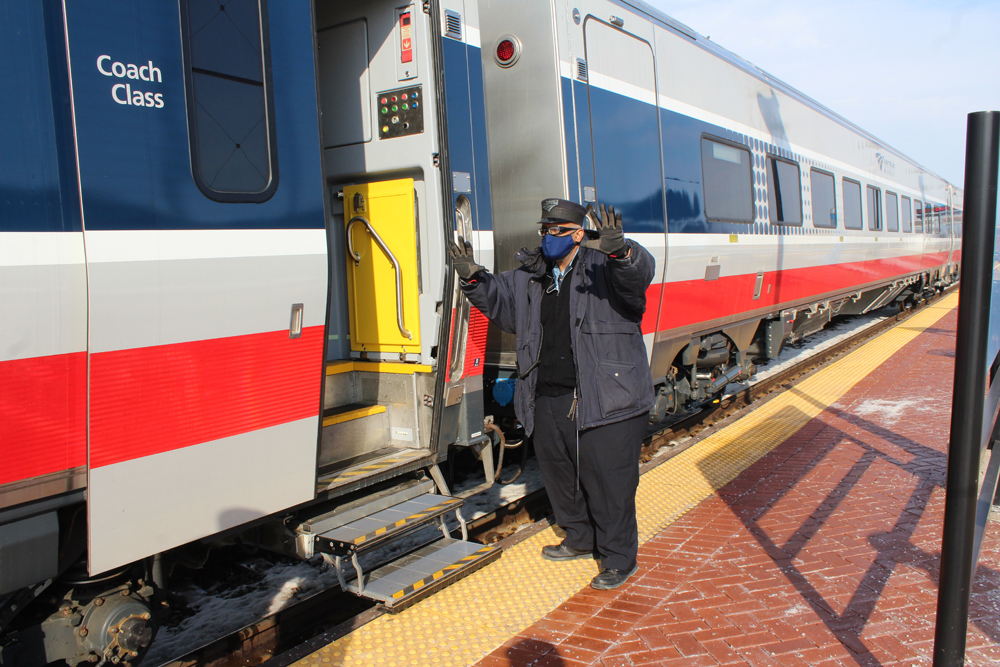 ---
CHICAGO — "Give yourself a big round of applause," conductor Erik Newsom enthusiastically announced over the public address system of Amtrak train No. 303 as it left Chicago for St. Louis on Tuesday morning. "You're the very first to ride Amtrak's new Midwest cars!"
Clapping followed, but that was the extent of the morning's fanfare as the Siemens Venture coaches made their first revenue trip. The announcement had been slightly delayed because feedback greeted the conductor's initial attempt — one reason plenty of technicians were aboard to solve such teething problems.
"We're planning an official grand opening in mid-February," explains Jennifer Bastian, the Illinois Department of Transportation's section chief of passenger rail rolling stock. "The first 'married pair' of a coach-cafe and business-class car is leaving Siemens in Sacramento this week, and we have to determine when it will fit into the next consist that we release." Until all arrive, a standard Horizon or Amfleet I cafe with a business class section will fill in, as was the case on this train.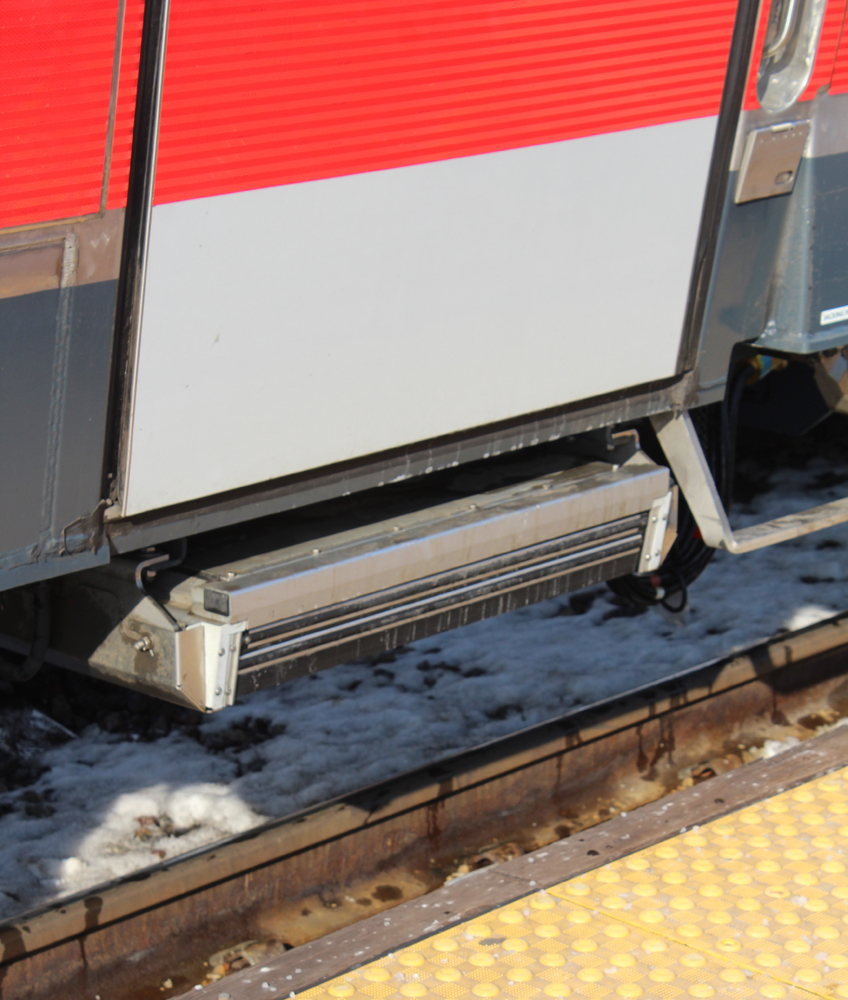 The semi-permanently coupled cars are integral to every consist because each has a built-in wheelchair lift. The married pairs were originally set to be completed after coaches for the Midwest and California's San Joaquins were built, but a series of production retrofits has delayed the revenue debut of the coaches. Trains News Wire will examine those delays separately.
The Midwest's new arrivals are clear derivatives of equipment Siemens first built for Florida's Brightline, which entered revenue service in South Florida in January 2018. But there are a few significant differences.
Boarding: Brightline uses extending bridge plates at each doorway to reach high-level platforms. That isn't possible with the Midwest's low-level platforms, but these cars have retractable steps.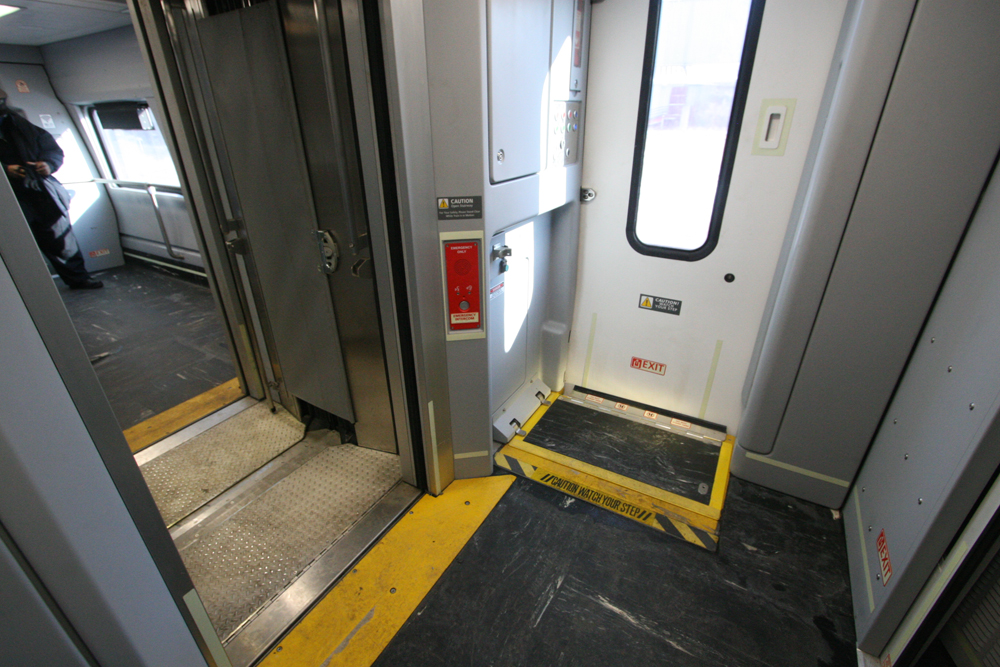 "The conductor can choose to extend one step or two, depending on the platform height, and choose which doors to open," Bastian says. "With [interior] trap doors in the upright position and train line capability, when we get to a station all of the appropriate doors open, and passengers can enter or leave as necessary." Before that happens, additional decals and warnings will need to be added around the interior doorways to advise passengers where they may not stand.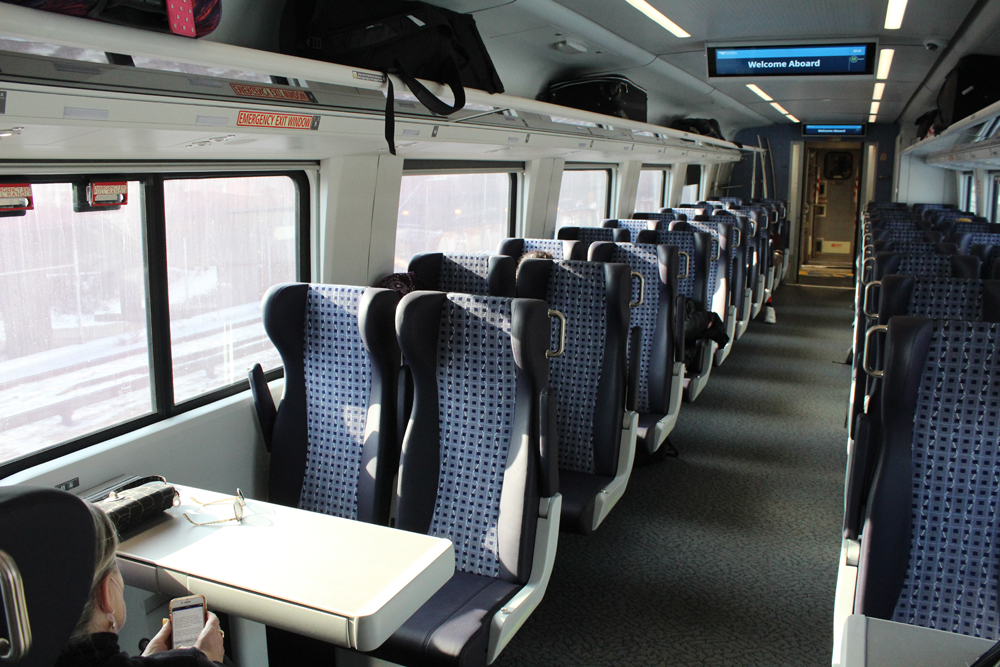 Accessibility:  Passageways around those interior doors, with clearly-marked and much smaller black and yellow traps, are spacious compared with the tunnel effect passengers experience on Amtrak's other single-level cars. The expanded width, similar to what Brightline equipment offers, allows wheelchair travelers to pass between cars when the train is stopped.
Bastian notes the coach-café and business-class married pairs will allow such passengers to move between at least those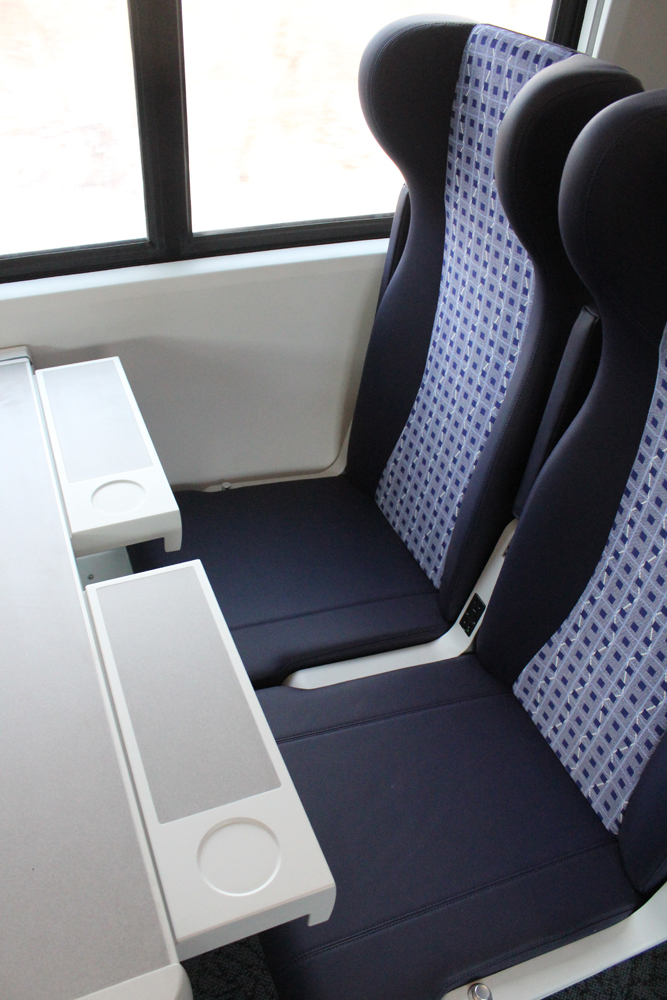 two cars at all times. Aisles in the coaches are wide enough to accommodate wheelchairs throughout.
"The reason we went with married pairs," Bastian says, "is that Amtrak's Chicago maintenance facilities are not set up yet for semi-permanently coupled trainsets. If they upgrade facilities in the future, we can change the couplers. The good news is that with lifts integrated into the cars, passengers will be able to access every wheelchair location in each car throughout the train."
Seating and storage: Seats are slightly narrower to make room for the wider aisles, and have a firmer feel with more lower-back support than seats in other Amtrak cars. They also recline differently, with the lower cushion sliding forward.
There are 17 rows of two-by-two seating, and an additional pair of seats opposite the combination luggage/bicycle rack at one end.
One innovation is a new, sturdier table design than the one utilized in Brightline coaches. This one has slide-out drawers. The new configuration required the adjacent emergency-exit window to be revised and re-tested, one cause for production delays, according to Bastian.
Bathrooms: The spacious facility at one end of each coach has touchless faucets and more space alongside a real toilet bowl. Gone are the outhouse-inspired commodes on Amfleet and Horizon cars.
WiFi and windows: Another implementation delay occurred to make sure the cars' entirely new WiFi system was working properly along the Lincoln Service route. The old setup had a single café-car-based server; Bastian tells Trains News Wire that the new system created by Icomera has three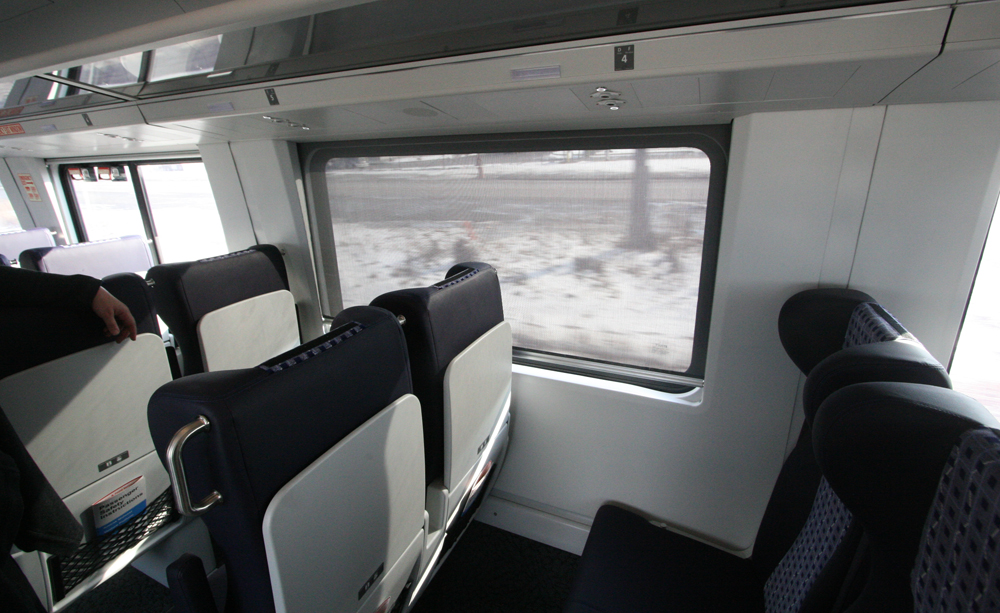 "brains" per consist, "capable of picking up signals at a much steadier rate."
Another innovation is a translucent, pull-down window shade in place of curtains. Although it does partially dim the bright sun, the new shades only exacerbate the typically dirty Amtrak window washing on the new equipment.
Update: Seat and aisle width
In a response to an additional inquiry, Illinois DOT's Bastian tells Trains News Wire that the seat-cushion width in the new Venture coaches is 19.1 inches. This compares with an armrest-to-armrest 19-inch width in Brightline Siemens coaches and an average of 21 inches for Amtrak's Horizon and Amfleet 1 seats, a Talgo Series 8 coach, as well as Brightline's "select" (business class) seating. She says the new Amtrak Midwest cars' business-class seat cushions are 26 inches wide. When those cars are delivered, their 2-1 seats will double the capacity in that class from 18 for to 36 passengers.
However, cushions are a bit wider than armrest-to-armrest measures, depending upon the way a seat is constructed, so the Venture coach's armrest-to-armrest measurement is marginally narrower. Armrests on the new cars do fold up, and Bastian says the seating configuration allows an aisle width of 35 inches through the car, reduced to 32 inches in the wide passageway between cars.
For further comparison, seats on Southwest Airlines are either 17 or 17.8 inches wide, depending on the model of airplane, according to Seat Guru. The most dramatic difference between rail and air seating is in seat pitch — the distance between one row and the next. That can be as little as 28 inches on some airlines, and varies from 31 to 33 inches on Southwest. In the Venture coaches, the pitch is 36.8 inches; in business class, it will be 39 inches.
Tentative roll-out plans
Bastian says the plan is to equip all Lincoln Service trains first, then move on to other Midwest routes at the rate of eight cars per month, "if Siemens can support getting the coaches ready." A total of 42 cars are being retrofitted in Chicago.
— Updated at 1:35 p.m. CST on Feb. 3 with seat and aisle width details; additional update at 2 p.m. with airline comparison.