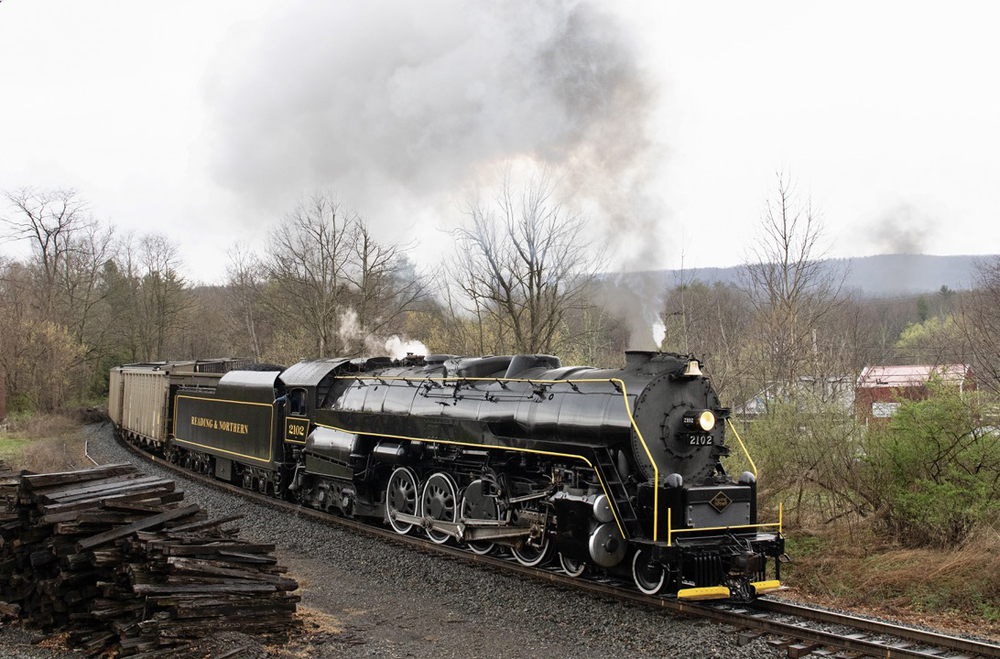 ---
PORT CLINTON, Pa. — This is turning out to be the summer of steam on Pennsylvania's Reading & Northern Railroad.
Less than a week after a spectacular doubleheaded public excursion [see "News photos: Doubleheaded 'Iron Horse Ramble' …," Trains News Wire, Aug. 14, 2022], the railroad's Passenger Department has posted on social media that R&N Class T-1 4-8-4 No. 2102 will handle freight duties on Friday, Aug. 19.
Initial details are slim, but postings announce, "Take off this Friday and chase 2102 in revenue freight service," further advising that the engine will depart the railroad's Port Clinton, Pa., headquarters mid-morning.
When R&N owner and CEO Andrew M. Muller Jr. announced that the rebuilt 2102 would first work in freight service [see "Rebuilt Reading & Northern 4-8-4 to debut on freight trains," News Wire, Jan. 27, 2022], steam enthusiasts presumed that he meant it would work just enough to show it was ready for several advertised passenger trips. Test runs with empty and loaded coal trains in April and May proved the big Northern was ready to haul 19-car passenger consists, and it has done that three times already. So this latest announcement comes as a surprise, and has fans scrambling to return once again to R&N territory.
Muller always stresses that his railroad's primary focus is serving its growing number of customers. The seeming lack of a specific destination and schedule on Friday may be evidence of that service ethic. R&N serves a multitude of anthracite coal loading facilities both west and north of Port Clinton. It is likely that the big engine will be picking up customer cars at one of R&N's yards to start their journey to the Norfolk Southern interchange in Reading, or perhaps deliver cars received from NS.
Trains News Wire will post updates if and when more information on Friday's train becomes available.