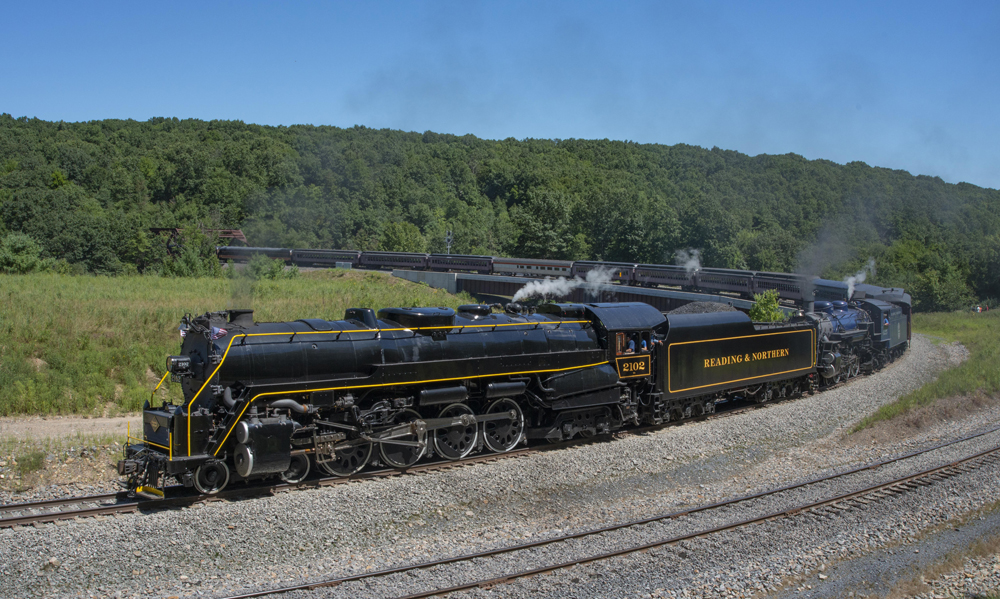 ---
READING, Pa. — A doubleheader of 4-8-4 No. 2102 and 4-6-2 No. 425 made the Saturday, Aug. 13, Reading & Northern Iron Horse Ramble — the third of four scheduled — even more of a special event for railfans in the Northeast, drawing large crowds to see the sold-out excursion.
It was the first Reading & Northern steam doubleheader since 1988. Reading & Northern owner Andy Muller decided to run the event as a doubleheader to mark his 75th birthday, which also fell on Saturday. Muller, who was onboard the excursion, told Trains News Wire that the two locomotives operated flawlessly, and that passengers applauded as he walked through the train.
The train, with 19 cars, ran from R&N's Reading Outer Station to Jim Thorpe, about 67 miles, where passengers had several hours for tourist activities or lunch. Matching SD50 diesels, in the special paint scheme to promote the railroad's North Reading Fast Freight, pulled the train back to the wye at Nesquehoning Junction/Jim Thorpe Junction, turned it, and brought it back to Jim Thorpe. There, the steam locomotives were cut off, and stairs were set up to allow public cab visits.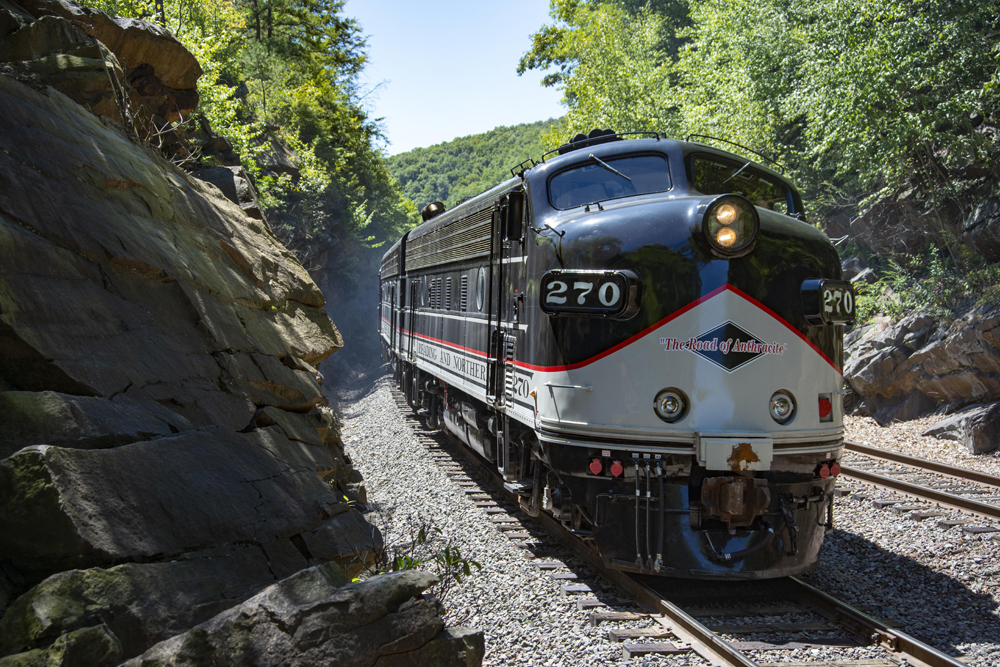 Also operating from Jim Thorpe on Saturday were R&N's former Norfolk Southern F7A and B units, which were pulling the railroad's trains through Lehigh Gorge which operate several times a weekend. Normally, these are pulled by GP38-2s or GP30s.
With the steam locomotives reattached, the train made a run-by in Jim Thorpe, then departed on the return leg. For operational reasons, the steam locomotives were cut off in Port Clinton, Pa., home of the railroad's steam shops, with the SD50s providing power for the final 20 miles to Reading.
The last of the summer's Iron Horse Rambles is set for Saturday, Sept. 3. Like the others, it is sold out. The R&N also plans to run some fall foliage trips with No. 2102 later this year.
More photos from the trip are below.
— Dan Cupper and Scott A. Hartley contributed to this report.