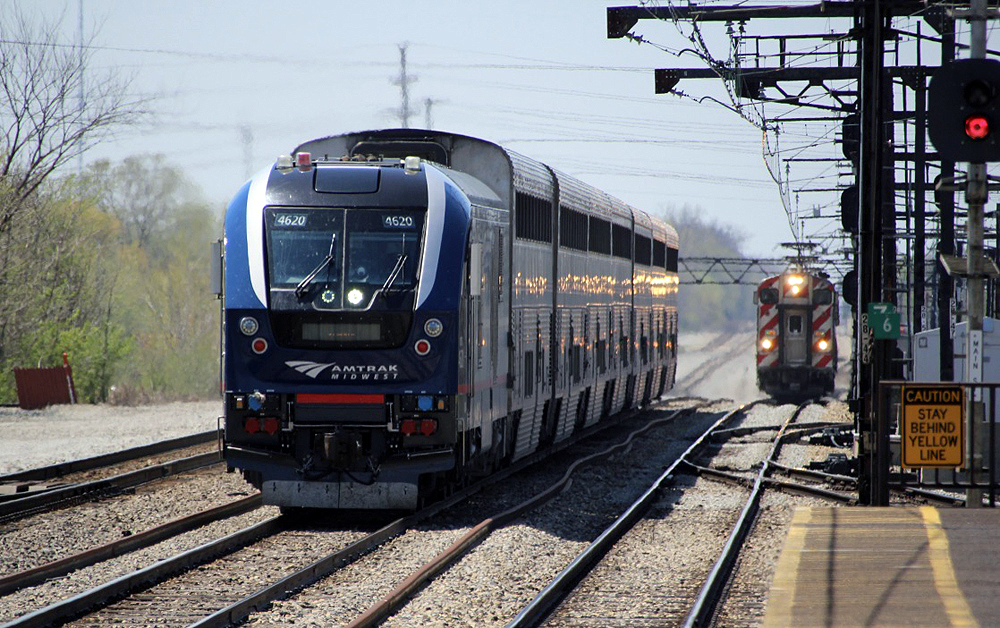 ---
Second of two parts. Part 1 is available here.
CHICAGO — Amtrak's ability to meet increasing customer demand has been hampered by a shortage of equipment on both short-haul and long-haul trains. State-supported trains in California and the Midwest are still awaiting the Siemens Venture cars, even though the first cars were delivered in 2020. Production issues including a recently discovered problem with magnets in tables affecting electronic items such as cellphones and laptops have caused the delay. And that has had a domino effect elsewhere in the system.
Long-distance trains, meanwhile, have been short of equipment because some of the fleet was put into storage during the pandemic, and managerial decisions and a shortage of mechanical personnel have slowed their return.
But there are moves available that could help ease the strain on capacity
Amfleet cars could bolster Horizon fleet
The 32-year-old Horizon cars are currently used on three Amtrak Cascades trains in the Pacific Northwest and many Chicago-based Midwest trains. But additional substitutes  for the 14 sets of equipment needed to provide service could be more Amfleet I coaches and café cars now used on the Northeast Corridor.
These recently refurbished, nearly 50-year-old workhorses provide 12 weekday Washington-New York departures; those endpoints also see eight daily Acela trips. Including Pennsylvania-sponsored Keystones, there are 20 New York-Philadelphia trains each way, while seven Amfleet Northeast Regional and seven Acelas run north of New York to Boston.

Northeast Corridor schedules have seen marginal reductions, including ill-advised morning rush-period cancellations into Washington. However, enough trains remain to give Corridor passengers adequate time and price choices, while the rest of the system sees frequent sellouts and broken connections from less-than-daily service.
Equipment is gradually being refurbished, as evidenced by the trickle of cars moved from the Beech Grove, Ind., shops to Chicago on the triweekly Cardinal. But sending more Amfleet cars to the Midwest would allow other rational changes to beef up capacity and onboard amenities, allowing the company to handle increased demand and capture more revenue.
Redeployments could aid capacity needs
Among available ways to increase capacity, Amtrak could:
— Reassign Amfleet II coaches: A number of these increased-legroom, long-distance cars have been spotted on Illinois Lincoln Service round-trips. They belong on often-sold-out, single-level national network trains like the Lake Shore Limited. It has been running with as few as three Amfleet II coaches total between its Boston and New York sections.
— Remove Superliners from Illini-Saluki: One of two daily Chicago-Carbondale, Ill., round trips have been shelved indefinitely. The remaining round trip now operates with five Superliner coaches, one coach-baggage car (though the train does not offer checked baggage service), and one coach-cafe. Canadian National requires that all passenger trains on the route have at least 32 axles, which requires seven coaches and one locomotive. Previously, aging baggage cars and even unused heritage diners had provided extra axles. But for most of the last year, Superliners have been diverted from revenue-producing, long-distance operation to run empty for 309 miles twice each day. On these short-haul trips, Amfleet I coaches and cafes would easily suffice.
— Restore Empire Builder coach-baggage cars: The Portland section of this train usually has one Superliner coach-baggage car along with a coach equipped with lower-level seating, a Sightseer Lounge, and Superliner sleeper. But that section has recently been running with an unstaffed, unoccupied transition sleeping car used only to hold checked luggage. Although not accessible from the adjacent Superliner, even a Viewliner baggage car would be an expedient choice, because it is only worked at four stations between Spokane, Wash., and Portland, Ore.
— Bring back transition sleeping cars: While the transition sleepers run on the Builder, they have been dropped from four trains — totaling 15 Superliner sets — that had them as recently as September 2020. The equipment remains stored while the Southwest Chief, Sunset Limited, Capitol Limited, and Texas Eagle endure constant sleeper sellouts or astronomically high pricing that effectively chokes off demand. Use of the transition sleepers would mean onboard staff no longer needs to occupy revenue space, which further cuts capacity. It would also allow sale of up to four roomettes serviced by an attendant from the adjacent sleeper. Once more staff is available if additional coaches are added, up to 10 roomettes in the transition sleeper can be sold while still accommodating employees. Cars from the Empire Builder are immediately available; getting the rest in service must be a priority.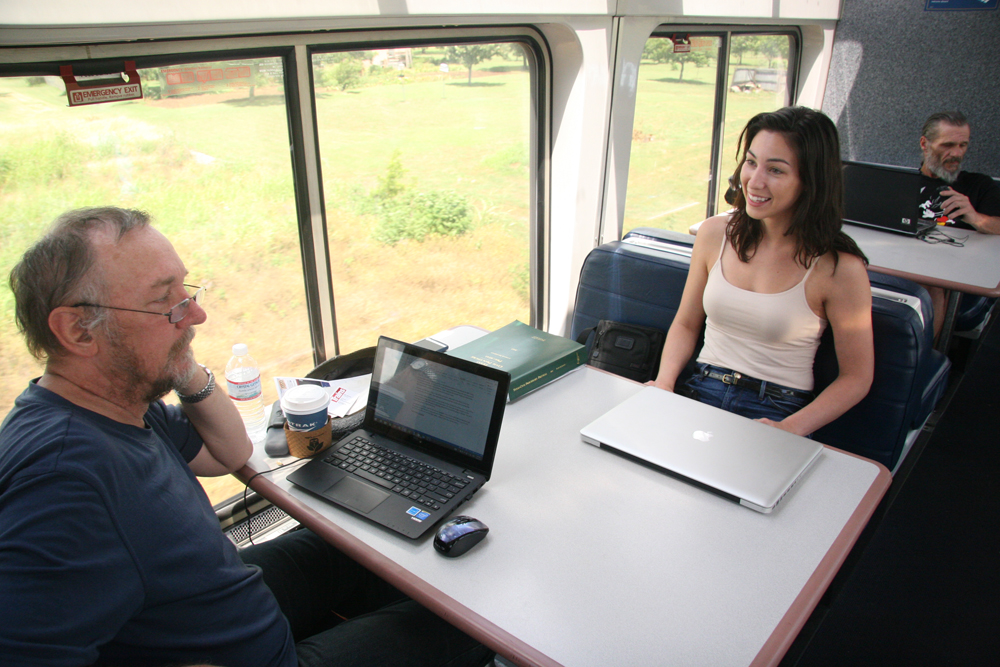 — Reinstate Sightseer Lounges on the Eagle and Capitol: It's a similar story for these one-of-a-kind feature cars. Sidelining Sightseer Lounges to mitigate health concerns initially might have been justified. But continuing to keep them off the Capitol Limited and Texas Eagle clearly illustrates how a cost-focused management places no revenue potential on a train's ability to differentiate itself from seat belt-restricted travel modes.
Amenities matter, along with capacity
The Eagle and Capitol routes include corridors that may or may not have state-supported service, such as Chicago-St. Louis-Little Rock, Dallas-Austin-San Antonio, and Chicago-Toledo-Cleveland. City pairs like these are touted in Amtrak's forward-looking ConnectsUS plan. Unfortunately, company leaders and its lame-duck Board of Directors refuse to acknowledge the value of travelers who might prefer and pay more for walk-around amenities instead of being stuck in one place, even if they ride shorter distances on a train that travels more than 750 miles that states don't pay Amtrak to run.
Under the newly implemented sharing of Eagle and Capitol rolling stock [see "Equipment run-through a factor in return … ," Trains News Wire, March 25, 2022], the six Sightseer Lounges needed to serve both trains could dramatically improve their onboard offerings.
Amtrak will continue to be hampered in its ability to fully address its potential for patronage until it can overcome limitations in hiring and training staff, both in mechanical and onboard positions. Five-day-a-week operations may lessen the strain on maintenance but introduces revenue loss and inefficiencies because with few exceptions, equipment remains captive to the route where it is assigned and therefore is idle on the other days.
The moves outlined above could add at least some capacity to cross-country overnighters. Additionally, the final run of Amtrak's Winter Park Express occurs on Sunday, April 3. This means seven Superliners — three coach-baggage cars, three standard coaches, and one Sightseer Lounge — will become available after they are given a mechanical once-over in Chicago. Heavy patronage in that seasonal excursion's Sightseer Lounge provides ample evidence that such cars don't only belong on "experiential" trains, as short-term Amtrak CEO Richard Anderson once implied.

With travelers now evaluating spring and summer booking alternatives, Amtrak must target a standardized capacity and amenity minimum goal for its intercity overnight trains. The City of New Orleans provides a blueprint. Though still stuck at five days per week and bereft of the blackened catfish and bread pudding its dining car once offered, the Chicago-New Orleans train has a transition sleeper, Superliner sleeping car, Sightseer Lounge, and three coaches. That collection fulfills CN's axle count requirement, but a management seeking to maximize mobility and passenger comfort shouldn't need that regulation to determine what to provide.