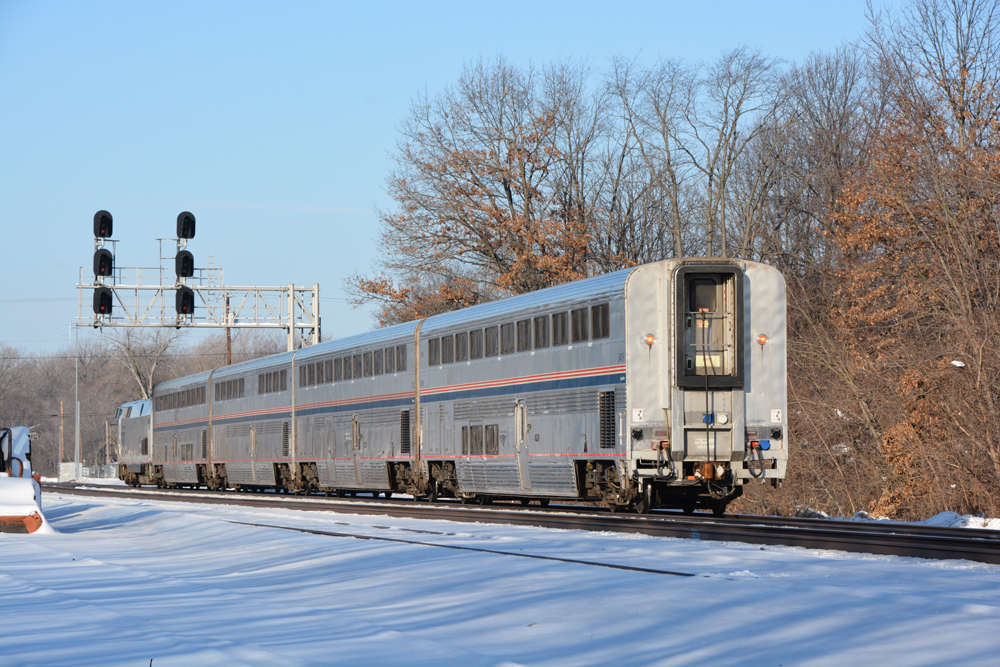 ---
CHICAGO — Shared trainsets, running through between Washington D.C. and San Antonio, Texas, via Chicago, are part of the plan when the Texas Eagle and Capitol Limited resume daily operation on Monday, March 28. This will end a reduction to five-day-a-week departures that began in January.
The Eagle, between Chicago and San Antonio, and the Chicago-Washington Capitol will join the Seattle-Los Angeles Coast Starlight in returning to a daily schedule.
Amtrak announced earlier this month it was continuing five-day-a-week operation for six other trains, as well as the complete suspension of the New York-Miami Silver Meteor [see "Amtrak extends cuts to seven long-distance routes …," Trains News Wire, March 3, 2022]. The reservation system at the Amtrak website currently shows daily service on those routes returning the week of May 23, although there is no guarantee that will happen.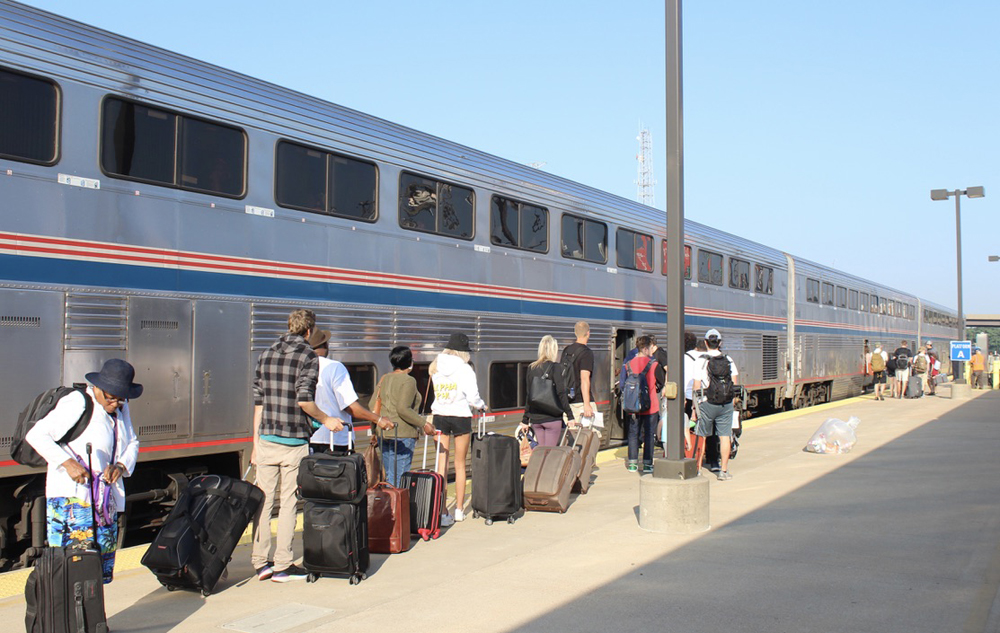 Aiding the run-through plan, the Eagle and Capitol are similarly equipped Superliner trains. Currently, each has two coaches (a third coach is added in both directions to the Eagle between Chicago and St. Louis), one sleeping car, and one Cross Country Café, with a dining section for sleeping car passengers on one side and a snack bar on the other.
When daily operation begins, the inbound equipment from one train will become the other's same-day outbound set. So Superliners arriving from San Antonio or Los Angeles (a coach and sleeping car connect with the triweekly Sunset Limited) will head east a few hours later to Washington, D.C. instead of being inspected, cleaned, and restocked in Chicago. Westbound, Capitol Limited cars arriving in the morning will continue to Texas and California. The two trains will retain their separate numbers, and passengers passing through Chicago won't be allowed to stay onboard.
The move reduces the number of equipment sets the trains need for daily operation from seven (four for the Eagle and three for the Capitol) to six by effectively moving the Eagle's eastern overnight servicing layover from Chicago to Washington, D.C. There,  the Capitol Limited's arrival and departure times allow 24 hours for servicing before the trainset heads west again. Thus, the Superliners will forego pit inspections of their running gear for 3,500 to nearly 4,200 miles, depending on whether cars turn at San Antonio or Los Angeles.
Operating challenges
Amtrak implies that efficiency derived from creating this run-through makes possible the return of daily operation for both trains. But the change introduces operating challenges and potential service-degradation issues for passengers.
These include: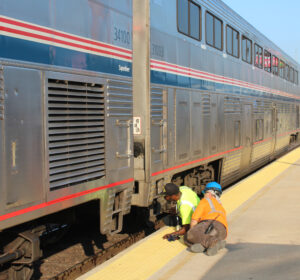 — A 2-hour St. Louis layover. The federally required 1,500-mile inspection of the trains equipment moves from Chicago to St. Louis. To allow sufficient time for this, a lengthy layover has been created there. With the Eagle's St. Louis-San Antonio timings unchanged in both directions, and because the train no longer has a Sightseer Lounge car, this means through passengers must either leave the train or are confined to their seat or sleeping accommodation for 2 hours, 10 minutes westbound and just under two hours coming east. Today, a half-hour dwell time allows the Chicago-St. Louis cut-off coach to be switched. Similar mid-route inspections on Chicago-West Coast trains range from 20 to no more than 40 minutes.
— Capitol Limited timekeeping. While the train from Washington, D.C. is scheduled into Chicago at 8:45 a.m., Norfolk Southern freight congestion in Indiana often pushes it back much later. In the week ending March 24, Chicago arrivals ranged from 10:21 a.m. to 10:43 a.m. The Eagle's new departure time is 11:55 a.m., but since March 1, the Capitol arrived after noon three times, including at 1:30 p.m. on March 7. Presumably, up to 10 minutes will also be added to facilitate a back-up move into the Union Station that will allow locomotives or defective cars to be replaced, if needed, and the St. Louis coach to be added or dropped.
— Spotty servicing. There won't be enough time to move the train to the Chicago maintenance facility, which in any case has been plagued by late departures for reasons that Amtrak has repeatedly declined to specify. "No-service" departure days on the five per-week schedule eliminate two long-distance train starts every day, and this change takes out up to two more.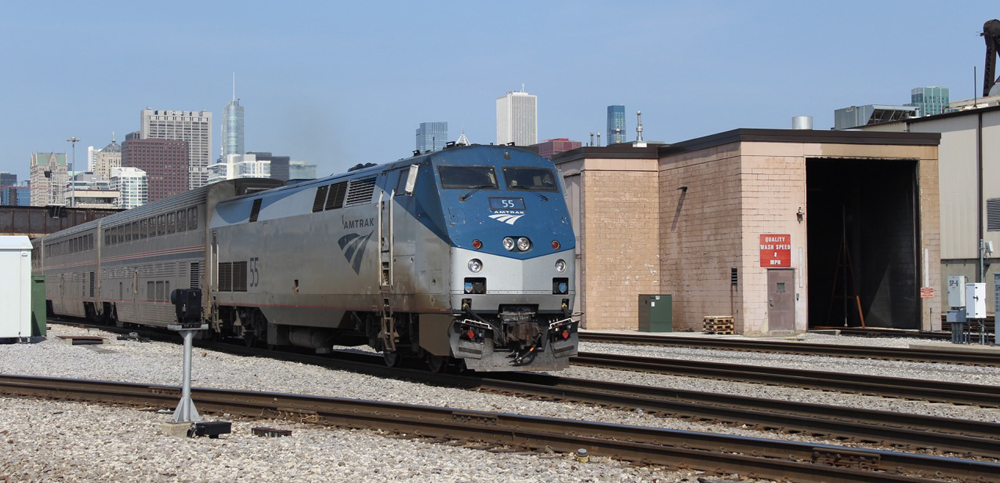 Cleaning of run-through trains in the station has been attempted twice before when Amtrak briefly operated a combined Capitol Limited-Southwest Chief (through ticketing was offered), and later when the Eagle's equipment was paired with the City of New Orleans. Coach cleaners routinely give corridor trains a once-over in stations, but it remains to be seen whether mechanical issues that may develop over days of continuous travel can be satisfactorily rectified in the limited time and resources available.
Of course, there are no plans to move trains through the Chicago car washer, though Amtrak has only offered excuses as to why this is rarely done today anywhere on the system even when equipment spends the night.
Connections increase
On the plus side, any resumption of daily service will have a positive impact on the company's revenue and ridership through enhanced connection options. Currently, anyone wishing to travel from, say, Little Rock Ark., to Pittsburgh on these two trains can only depart Saturday through Tuesday. If the destination is Syracuse, N. Y., via a five-day-per-week connection in Chicago with the Lake Shore Limited, departure day options will expand from Friday through Sunday to Wednesday through Sunday.
At least it's a start.