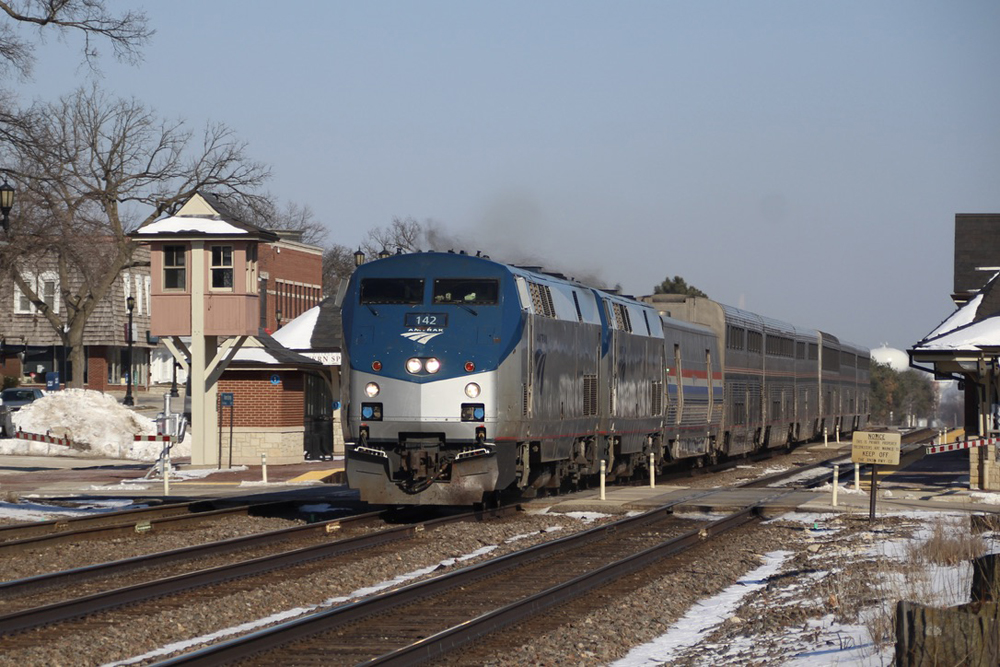 ---
WASHINGTON — Travelers already booked on some Amtrak long-distance trains in April and May are being advised today (Thursday, March 3) to rebook their trips as the passenger carrier extends its frequency reductions on seven routes.
Amtrak had cut service from daily to five days a week on most of its long-distance routes in January, making the change on less than a week's notice [see "Amtrak to decrease service on most routes …," News Wire January 14, 2022].
At the time, it said the cuts would be effective through March 27. The company had offered no details on further cancellations before it began notifying passengers, but in a midday Thursday email to Trains News Wire, said it was extending service reductions to the Silver Meteor, Empire Builder, California Zephyr, Southwest Chief, Lake Shore Limited, City of New Orleans, and Crescent beyond that date.
Thursday's announcement, unlike the one in January, offered no tentative dates to restore daily service. "We continue to work on further frequency additions for the coming months as staffing and other resources allow," today's statement reads. The company used similar language in announcing the January reductions, inferring that some trains might return before March 27, although none did.
Daily service will return March 28 for the Capitol Limited, Texas Eagle, and Coast Starlight. In addition, all seven Chicago-Milwaukee Hiawatha weekday round trips and full weekend service will be restored, as will nine weekday trips each way between New York City and Albany-Rensselaer, N.Y. Other state-supported and Northeast Corridor cuts announced in January are to continue indefinitely.
While Amtrak has not set a date for restoring daily service on the remaining five-day-a-week long-distance routes, online booking on the Amtrak website allows ticket purchases before Memorial Day on all seven routes, as of these dates:
—Silver Meteor: Monday, May 23 northbound; Wednesday, May 25 southbound.
—California Zephyr and Southwest Chief: Monday, May 23.
—Crescent and Lake Shore Limited: Tuesday, May 24.
—Empire Builder: Thursday, May 26.
—City of New Orleans: Saturday, May 28.
However, that does not constitute a commitment by Amtrak to operate those trains, as those who had purchased tickets for April and May trips have learned.
"This is our spring schedule," spokesman Marc Magliari tells News Wire. "We will announce details of a summer schedule at a later date."
Asked to clarify whether the May return dates were definite, Amtrak responded with this statement: "These restorations follow frequency reductions resulting from staffing and hiring shortages for skilled technical employees caused by the pandemic. We are working towards further frequency restorations on other impacted routes in the coming months as our hiring, training and staffing levels advance."