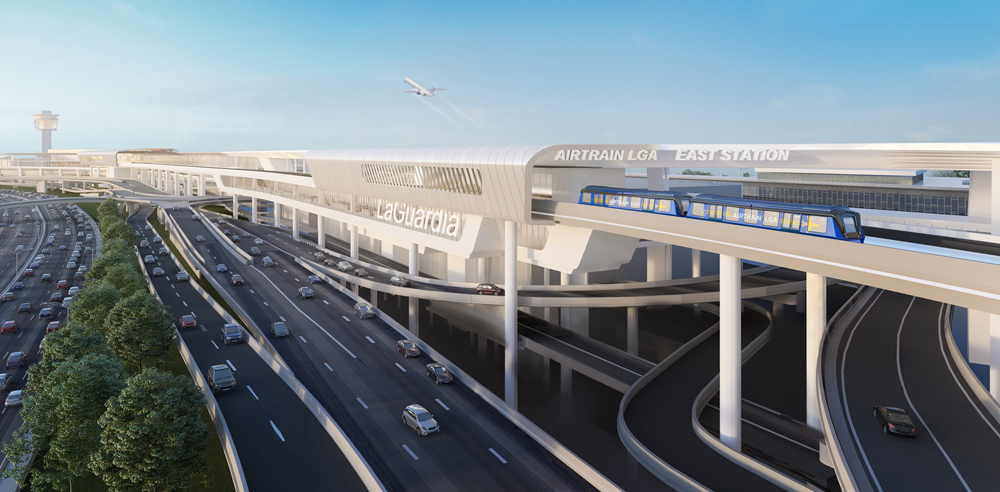 ---
NEW YORK — The long-discussed plan to build an AirTrain rail link connecting La Guardia Airport to the New York City Subway system and Long Island Rail Road has been scrapped.
The New York Times reports that Gov. Kathy Hochul said today (Monday, March 13) she would follow the recommendations of a panel reviewing the project, which recommended increased bus service, including a shuttle between the airport and subway stations in northern Queens.
"I look forward to its immediate implementation by the Port Authority in close coordination with our partners at the MTA, in the City of New York, and the federal government," Hochul said in a brief statement.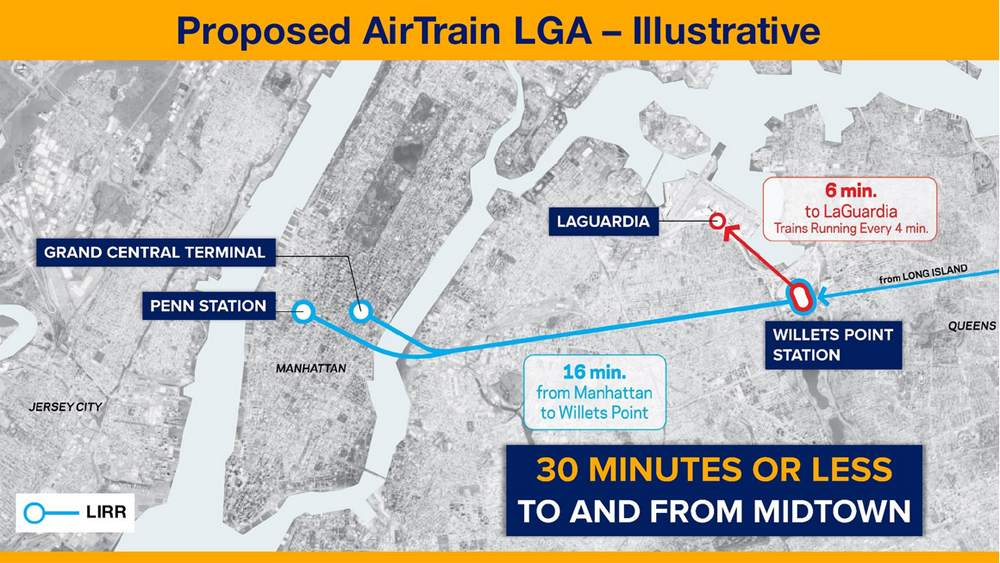 The three-person panel said the best public-transit solution for the airport would have been to extend a subway line to La Guardia, but engineers could not find a realistic way to do so. Even if they had, the panel concluded, such a project would have taken at least 12 years and cost as much as $7 billion.
The bus option can be enacted more quickly and will be far less expensive than the AirTrain proposal, the cost of which had risen to $2.4 billion. Former Gov. Andrew M. Cuomo had said the project would cost $450 million when he first proposed it in 2015.
The AirTrain concept had long been criticized for its circuitous route, which would have sent passengers to the southeast to catch a subway or LIRR train to go west to Manhattan [see "La Guardia AirTrain project gets FAA approval," Trains News Wire, July 21, 2021]. It was also strongly opposed by residents; two Queens community groups, along with an environmental organization, had sued to stop the project. Hochul eventually called for a review of the proposal, which was placed on hold by the Port Authority of New York and New Jersey [see "Plan for La Guardia AirTrain to be reviewed," News Wire, Oct. 13, 2021].
Instead, an estimated $500 million will be spent to develop the shuttle between the airport and the last stop on the N-W subway line in Astoria; making that station, at Astoria-Ditmars Boulevard, fully accessible to those with disabilities, and creating dedicated bus lanes.